Profile: Ahd Allah Islamic Movement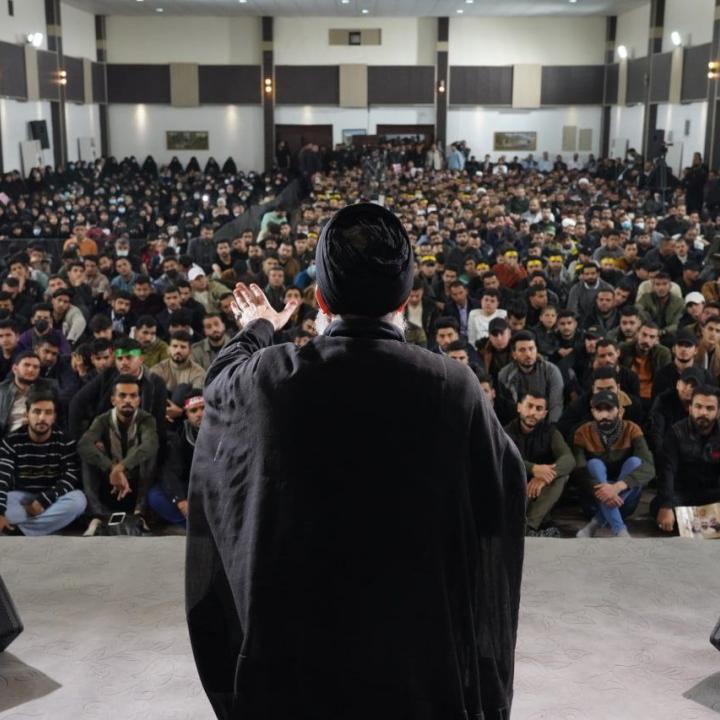 Ahd Allah Islamic Movement is a social and cultural movement built around Kataib Hezbollah ideologue Sayyed Hashem al-Haidari.
Name: Harakat Ahd Allah al-Islamiya (HAAI), Ahd Allah Islamic Movement. (This profile was last updated on March 19, 2023).
Type of movement: Social organization. Nonkinetic social and cultural operations, domestic counter-political/social moderate operations, domestic and foreign counter-U.S. operations.
History and objectives:
HAAI was established on November 3, 2020, by Sayyed Hashem al-Haidari, an influential muqawama ideologue. He was secretary-general of Kataib Hezbollah (KH) between 2016 and 2018. HAAI "believes in velayat-e faqih (guardianship of the Islamic jurists)" and "that Imam Khomeini revived Islam."

HAAI's activities revolve around Haidari's beliefs as expressed through his speeches, which propagate: 

velayat-e faqih

the ideologies of Ayatollahs Khomeini and Khamenei

anti-U.S. and anti-Israeli sentiments

the idea of taking up arms against the United States and Israel to prepare for the advent of Imam Mahdi

HAAI mainly targets the younger generations, exposing them to Islamist ideologies and providing them with passionate speeches. It uses both traditional Shia mediums (e.g., muharam speeches in mosques) and social media.

HAAI is a continuation of similar projects by Haidari that targeted the younger generation in cultural camps in the past.

HAAI announced that it will also take up some charitable activities to help people in need, but so far no evidence of that has emerged.

HAAI runs Shabakat al-Rashad (al-Rashad Network), which consists of a few like-minded mainly young Shia clerics working under the leadership of Sayyed Hashem al-Haidari. As al-Rashad Network's main target audience is the younger generation, its members heavily use social media to disseminate their message which revolves around political Islam and the promotion of the Islamic Republic and its supreme leader Ayatollah Ali Khamenei.
Chain of command:
Clear and convincing evidence shows that HAAI is controlled and operated by Office of Preservation and Publication of the Iranian Supreme Leader, Ali Khamenei which is part of Khamenei Office.
Affiliate relationships:
Haidari seems to be the only Iraqi muqawama leader who has been interviewed by the official website of Iran's Supreme Leader.

Haidari is reported to be close to Hassan Nasrallah, the leader of the Lebanese Hezbollah.
Subordinate elements:
HAAI has social media channels on Telegram and YouTube as well as a Facebook page.
A few social media platforms under the name "Jeem", which stands for the first letter in the world Jihad, act the unofficial outlets for 

HAAI. Jeem has Telegram, Instagram, Facebook, YouTube and SoundCloud channels.

Sayyed Hashem al-Haidari uses social media accounts under his name exclusively to disseminate HAAI content. He has Telegram and Youtube channels.