PA and Other Arab Reactions to the Gaza Crisis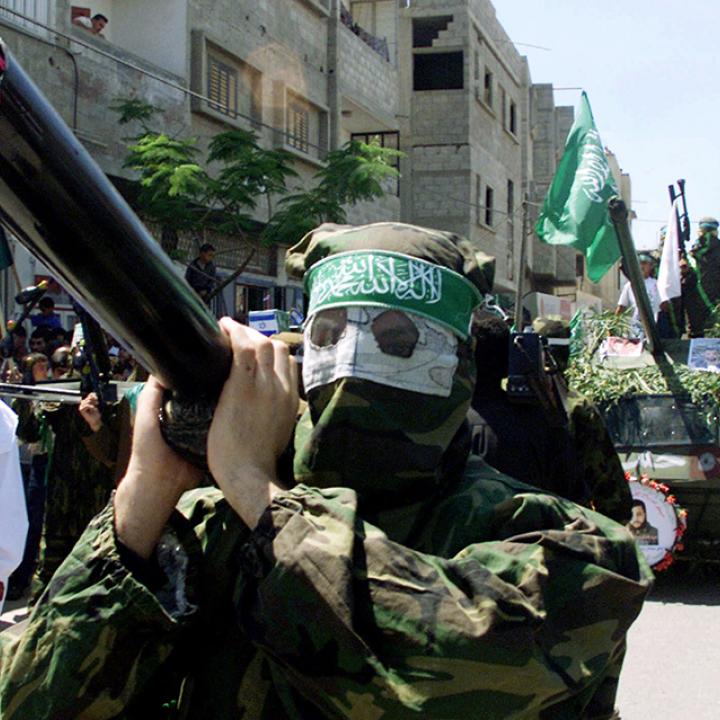 Abbas and other Arab leaders demand that Israel stop striking Gaza, but not that Hamas stop shooting rockets at Israel. So the United States should demand they correct that imbalance.
The most striking aspect of ongoing Arab reactions to the latest Hamas-Israeli clashes is an act of omission: the Palestinian Authority (PA) and President Mahmoud Abbas are not calling for Hamas to stop firing rockets into Israeli cities. This contradicts Abbas's recent declarations that the new PA government and its Hamas backers would honor past PA commitments regarding nonviolence against Israel. A new statement from Abbas's office claims that "the Palestinians have the right to defend themselves by all legitimate means" against "Israeli escalation."
In today's latest twist, Abbas and the PA are not just calling for Israel to stop its airstrikes against Hamas targets inside Gaza. According to several plausible press reports, they are also threatening to haul Israel before the International Criminal Court for the "war crime" or "genocide" of responding to Hamas rocket attacks. PA messaging, moreover, makes no effort to distinguish between the Hamas "political leadership" -- which signed the reconciliation agreement with the PA's ruling Fatah Party and may have attempted to restrain the initial rocket salvos -- and the Hamas "military wing," which some PA officials privately blame for trying to torpedo reconciliation by firing indiscriminately at Israel.
The official messages from Fatah, of which Abbas is also the chairman, are even more inflammatory, explicitly praising the rocket fire and threatening all Israelis with death and destruction. Ironically, pro-Hamas Palestinian media are taking the PA to task for offering mere verbal support, even as it largely strives to maintain calm and coordination with Israel in the West Bank territory it controls.
The Arab League and the governments of Qatar and Syria have issued similarly one-sided statements, demanding that Israel stop its "aggression "or "escalation" while failing to acknowledge that Hamas rocket fire provoked the latest conflict, or even to urge Hamas to desist. But none of this rhetoric has been matched with threats of direct action, and some of the pronouncements seem to shift the onus of taking action to others. For example, Arab League secretary-general Nabil al-Araby called for a UN Security Council emergency session to "stop Israel's aggressions," with no mention of Hamas responsibility.
Overall, Arab official and media commentary has been relatively sparse, likely due at least in part to the worse bloodshed besetting other countries in the region. But coverage of Gaza may well increase over time, as it has in past episodes.
Official statements from Egypt and Jordan have been somewhat more balanced. Jordan's foreign minister Nasser Judeh urged Israel to "stop its escalation immediately," but also called for "the restoration of complete calm and avoidance of targeting civilians" and even for "the return to direct negotiations." The office of Egyptian president Abdul Fattah al-Sisi called for "an immediate ceasefire" out of concern for "the safety of the Palestinian people in the Gaza Strip."
Since Sisi took over, however, Cairo has downgraded its contacts with Hamas; and that decision, while constructive overall, would likely have the unintended consequence of making any Egyptian effort to broker a ceasefire less effective than in the past. And there is no sign this time that Egypt is actively pursuing a deal on reopening its Rafah crossing into Gaza, except for emergency medical and other small-scale humanitarian purposes. A more expansive approach to reopening Rafah might make a ceasefire more acceptable to both Hamas and Israel, as on some previous occasions.
Finally, high-level U.S. statements, from President Obama on down, have so far not asked Abbas to account for the PA's failure to oppose the Hamas rocket fire. Rather, these statements appear well behind the curve, focusing on past peace talks or the recent kidnapping episodes instead of dealing with the immediate military crisis. On Tuesday, the State Department spokesperson "strongly" condemned "the deliberate targeting of civilians by terrorist organizations in Gaza," adding that the United States "certainly supports Israel's right to defend itself against these attacks." Yet she added that "both sides" should "de-escalate tensions on the ground," and that Abbas faces "limitations" on his influence in Gaza. In this urgent new situation, Washington should unconditionally demand that Hamas stop shooting rockets into Israel -- and that the PA fulfill its longstanding commitment to precisely that position.
David Pollock is the Kaufman Fellow at The Washington Institute and director of Fikra Forum.