Oman's Economic Success Is Driven by Accountability as Much as Oil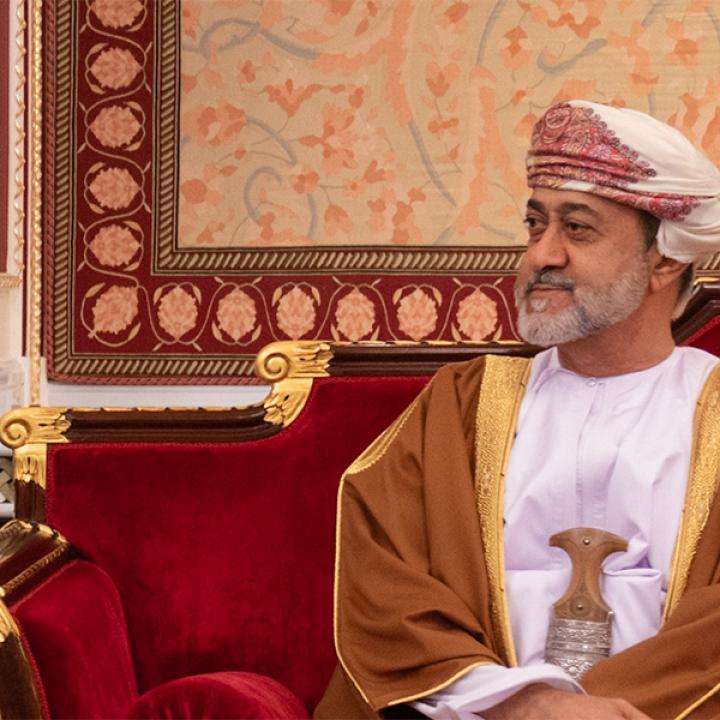 By pushing the government to make more efficient use of higher hydrocarbon prices and a budget surplus of $2 billion, the sultan has helped reduce anxiety about the stability of the strategically positioned Gulf state.
When Sultan Haitham bin Tariq al-Said came to power in January 2020 upon the death of his cousin Sultan Qaboos, Oman's foremost problem was a looming fiscal crisis spurred by over-dependence on oil and natural gas revenues, compounded by the collapse in prices during the COVID-19 pandemic. With the period of mourning barely over, Omani crude futures plummeted to $30 per barrel four months later—a price that threatened to halve the country's projected oil revenues for the entire year, widen its fiscal deficit, and double its national debt. Oman was already suffering from low credit ratings because of previous budget deficits, so financing this debt in the short term presented challenges. The situation also brought public unrest to a simmer.
Although many of these structural problems persist today, the tide appears to have turned. In previous crises, the country had often been rescued from imminent financial disaster by a global price recovery and the extraordinary ability of Petroleum Development Oman to squeeze just a bit more oil from its complex geology. This time, however, the political leadership deserves credit as well.
Emphasis on Accountability
Sultan Haitham's early business career was problematic, but he appears to have learned the right lessons since then, as shown by his emphasis on nurturing Oman's diversification away from oil and gas. Under his watch, long-stalled laws regarding foreign capital investment, bankruptcy, and public-private partnership have been introduced, along with changes to employment and visa regulations intended to attract foreign direct investment. This was a key aim of the latest Five-Year Development Plan (2021-25) and the Oman Vision 2040 strategic plan, over which Haitham had early influence. The government's increasingly active program for fostering a friendly business environment has also included the creation of testing and quality standards and e-commerce platforms.
Besides Haitham's personal example of frugality during the fiscal crisis, the key difference today is that officials are being held more accountable for the effort and results they show when implementing these initiatives. The sultan's business style, coupled with the additional constitutional tools he has given himself to strengthen managerial oversight, suggests that he is intent on making sure executives stick to the plan and meet targets. Changing investor sentiment will take time to become evident given that metrics are still disturbed by COVID. Yet the 19% increase in foreign direct investment in the first quarter of 2022 and the huge rise in non-oil exports in 2021 are encouraging, as is the decision to send key Omani officials to a major investment event in London last month (Commerce Minister Qais al-Yousef and Abdulsalam al-Murshidi, president of the new Oman Investment Authority). This event also witnessed enthusiastic attendance from multinational companies that have delivered complex, collaborative projects in Oman before and seek to do so again.
In keeping with the focus on delivery and efficiency, Haitham has consolidated and refashioned the Council of Ministers. The government now has nineteen ministries, down from twenty-six, while seventeen of the council's twenty-four members have been appointed since 2020. The newcomers are a mix of talent brought in from the elected assembly and outside government, all of them proven civil servants. The royal family still holds seven cabinet positions, with Haitham's brother Shihab bin Tariq—former commander of the navy—bolstering the palace's oversight of the armed forces. Similarly, Muscat has rationalized state-owned enterprises and sovereign wealth investment funds into five sectors under the Oman Investment Authority, which should help improve delivery and avoid duplicating efforts. A new cohort of managers and non-executive directors has been introduced in order to reduce conflicts of interest and broaden commercial experience.
Given this sharpened focus, Oman is able to meet targets it all too often missed in the past. For example, the government introduced a value-added tax in April 2021 after years of prevarication. Despite being set at a low rate of 5%, the VAT raised a modest $780 million in 2021 and is projected to generate $1.3 billion in 2022.
Meanwhile, a significant rebalancing of the budget appears to be underway, cushioned by rising oil prices. The government's medium-term fiscal plan—which boils down to holding expenditures steady, reducing the national debt, and building non-oil and gas revenues—is currently ahead of schedule. According to Fitch Ratings, Oman's public debt for the first quarter of 2022 came in at roughly $48 billion compared to $54 billion for the same quarter last year, which brought the ratio of public debt to GDP down from 67.3% to 47.5%.
Of course, this does not mean the government has given up on the energy sector. It is making a major push to develop new energy resources, including a development agreement for a green hydrogen-based ammonia production facility in Salalah. Other partners are exploring green hydrogen projects using Duqm as a hub, while solar power is being developed for production purposes at several oil and gas fields.
The fossil fuel exploration program is still quite active as well. Oman has reactivated its interest in the West Bukha oil and gas field it shares with Iran near the Strait of Hormuz. And before he stepped down as oil minister in June, Mohammed al-Rumhi estimated that overall oil and condensate production was likely to be 10 percent higher annually until 2025 due to new discoveries outpacing depletions. He also noted that Oman still had thirteen years' worth of oil to pump at current outflows.
Domestic Freedoms, Foreign Policy
Another boon to foreign investor sentiment was Muscat's decision to enhance the Basic Law, which has reinforced both the rule of law and the rights of citizens to participate in public affairs. Although more structural work still needs to be done, the country is edging toward a constitutional monarchy. These legal changes prompted public debate about the extent of protections for freedom of expression, oft spoken of by Haitham and backed up by his willingness to invite political exiles and dynastic rivals to return home (e.g., the former sultan of Zanzibar; the family of the last imam of Nizwa).
On foreign policy, Haitham appears to have enhanced relations across the board, particularly with Britain and Saudi Arabia. British officials initially feared that his ascension might diminish the warmth of the historical relationship, but such concerns have been dispelled. The sultan has been spending his summer vacation in London this year, staying there even during the Gulf Cooperation Council summit in Jeddah attended by President Biden. Moreover, his son Theyazin—the heir-presumptive and a serving minister—completed officer training at the Royal Military Academy Sandhurst.
Elsewhere, Oman has continued its prominent facilitating role in renegotiating the Iran nuclear deal and securing the ceasefire in Yemen. Warm relations with partners—based on trust and history rather than just transactional value—are paying dividends across the portfolio of government business.
When Qaboos died without a direct heir amid reports that his secret choice of successor was written on a piece of paper in an envelope, concern about the country's political stability was widespread. Today, however, the process is settled—Oman's security apparatus ensured a smooth succession in 2020, the system is now clearly set out in the Basic Law, and Theyazin is being prepared for his future, in part by strengthening his relationship with the military, the section of Haitham's portfolio that was perhaps the weakest.
Jonathan Campbell-James served in Lebanon, Saudi Arabia, and Oman with the British Army's Intelligence Corps, and finally as Deputy C2 at Headquarters Multinational Force-Iraq in Baghdad. He then worked for financial firms in Dubai and Riyadh, and now runs his own Gulf-focused political risk and due diligence consultancy.