Britain in Oman: Washington's Strategic Partner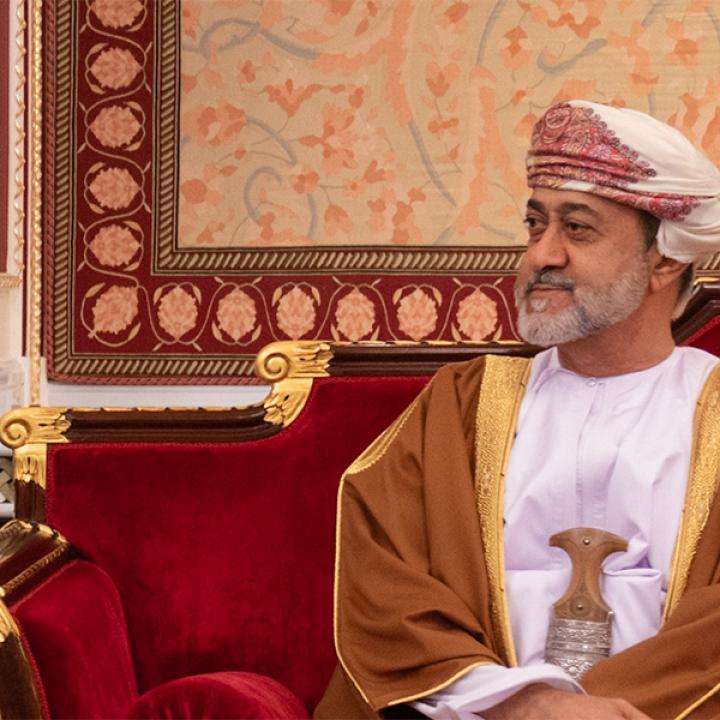 London is investing heavily in supporting its relationship with Muscat, not least because Omani mediation can often be more effective than its own in fostering regional stability and security.
On September 12, Defense Secretary Ben Wallace announced that the British Joint Logistics Support Base on Oman's southeast coast will be enhanced with a further £23.8 million in funding for infrastructure expansion. Revealed during the secretary's visit to Oman, the investment in Duqm port will "triple the size of the existing UK base and help facilitate Royal Navy deployments to the Indian Ocean," according to an official Defense Ministry statement.
The ministry also described the visit as a "renewal" of a "hugely valuable relationship," even though the two countries signed a new Joint Defense Agreement in February 2019. That agreement was interpreted as the ailing and fiercely Anglophilic Sultan Qaboos making institutional arrangements that would outlast him, in keeping with the spirit of the original 1800 agreement, which declared that the bond between Oman and Britain should be "unshook till the end of time." London may have felt a need to reaffirm the health of the bilateral relationship now that Sultan Haitham has been in power for six months, since his Anglophilia seems more muted than that of his late uncle.
In addition, the partnership renewal should be seen in the context of fallout from Brexit, Iran's continuing export of instability, and China's growing regional presence. The Duqm base is ideally located to support allied operations in the Persian Gulf, complementing the recently enhanced UK Naval Support Facility in Bahrain. It will also support Australian, Indian, and U.S. operations in the Indian Ocean, where New Delhi is already investing in naval facilities on Assumption Island in the Seychelles and Agalega in Mauritius. Like London, India strengthened its defense agreement with Oman in recent years following Prime Minister Narendra Modi's February 2018 visit to Muscat, and its submarines and P-8I aircraft have been using Duqm's facilities.
Another benefit of British-Omani defense "renewal" is acknowledging the value of existing military and intelligence arrangements. The two governments will continue their reciprocal loan service arrangements whereby officers from one country are loaned to the other to serve in executive roles. And Secretary Wallace made special mention of bilateral understandings on intelligence matters, emphasizing their importance to both countries.
M

arrying Commercial and Military Interests at Duqm
In keeping with Oman's desire to be open to all and dominated by none, the new British investment in Duqm will help counterbalance Chinese commercial interests in the country's special economic zone. Run as an Omani joint venture with the London-based firm Babcock International, Duqm Naval Dockyard has two dry docks capable of receiving Britain's new Queen Elizabeth-class aircraft carriers and handling major ship repairs. It is also offering its services to other navies and has won repair contracts for two U.S. fleet tankers and an Arleigh Burke-class destroyer. In addition, the port has a military-grade 4,000-meter airfield, and although British diplomats are not forthcoming on the subject, London will likely use Omani warehousing and maintenance facilities to store equipment for an armored brigade group, equivalent to that held afloat by the United States off Diego Garcia.
Britain's ability to fast-generate forces in the Gulf without needing to place permanent manpower there is a highly visible demonstration of its support for regional allies, which will no doubt be reaffirmed regularly during joint exercises. In the past, heavy equipment needed to be shipped out well in advance of the need for it, and both materiel and personnel suffered from not being properly acclimatized to local conditions. Now, however, forward basing and regular training should provide a much faster-into-action path and more effective capability. The BBC has speculated that the British Army may switch its live-fire and tank maneuver training from Canada to Duqm, using the nearby 4,000-square-kilometer Ras Madrakah training area.
Local and Regional Implications
London is offering this degree of intimate support early in Sultan Haitham's reign, when Oman faces significant challenges such as the coronavirus scourge and falling oil prices. Short on financial reserves, the country's economy is particularly vulnerable to the latter threat. Haitham is determined to reboot Oman's economic situation, and fiscal measures to achieve this will inevitably generate some degree of social stress before dividends can be reaped. Acknowledging these risks, the increased British funding for Duqm will complement the sultan's priorities and support Oman's biggest strategic investment.
Apart from announcing the new port funds, Secretary Wallace held talks with several Omani officials during his trip: Shihab bin Tarik, the deputy prime minister for defense affairs; Badr bin Hamad al-Busaidi, the minister of foreign affairs; and Gen. Sultan al-Numani, minister of the Royal Office. He did not officially meet with Assad bin Tariq, the deputy prime minister for international relations and cooperation, suggesting the latter's further withdrawal from frontline politics.
Also noteworthy was the presence of Abdullah bin Hamad al-Badi, formerly Oman's ambassador to Yemen and now the foreign minister's point man on reconciliation efforts in that country. Britain has been keen to provide discreet but strong support to Oman's mediation initiatives in the Yemeni conflict, and Duqm's logistic facilities may in time play a supporting humanitarian role there.
The British delegation included Sir Edward Lister, chief strategic advisor to the prime minister, who is not known to have had much prior interest in the Middle East. He inherited the mantle of chief government efficiency guru last year, however, so he may have been present as an advocate of administrative reform. Sultan Haitham seems to have a keen interest in that issue judging by his recent government restructuring.
On another matter of note, Secretary Wallace followed in the recent footsteps of Prince William by visiting the Musandam Peninsula and the Omani naval base at Goat Island, overlooking the contentious Strait of Hormuz. A prosaic explanation for the side trip may simply be the peninsula's spectacular scenery. More likely, though, it was intended to show solidarity with Oman's commitment to holding onto Musandam. Separated from the rest of Oman by UAE territory and traditionally coveted by the emirate of Ras al-Khaimah, the small coastal province has experienced bouts of tribal discontent lately, which Muscat has countered with increased government investment. Britain has also embarked on a series of joint exercises in the area with Omani troops, using the Musandam's rugged terrain to train in mountain warfare techniques.
As for the longstanding and recently refreshed American defense agreement with Oman, the United States and Britain have separately forged bilateral accords with most of the Gulf Cooperation Council countries. On the ground, these agreements have worked in a complementary, noncompetitive fashion. London evidently feels a particular affinity for Muscat and its Ibadi strand of religious tolerance, but Washington has special affinities of its own with other governments—what matters in Oman is that current arrangements seem to suit all parties equally well.
Jonathan Campbell-James served in Lebanon, Saudi Arabia, and Oman with the British Army's Intelligence Corps, and finally as Deputy C2 at Headquarters Multinational Force-Iraq in Baghdad. He then worked for financial firms in Dubai and Riyadh, and now runs his own Gulf-focused political risk and due diligence consultancy.