Middle East Responses to the Ukraine Crisis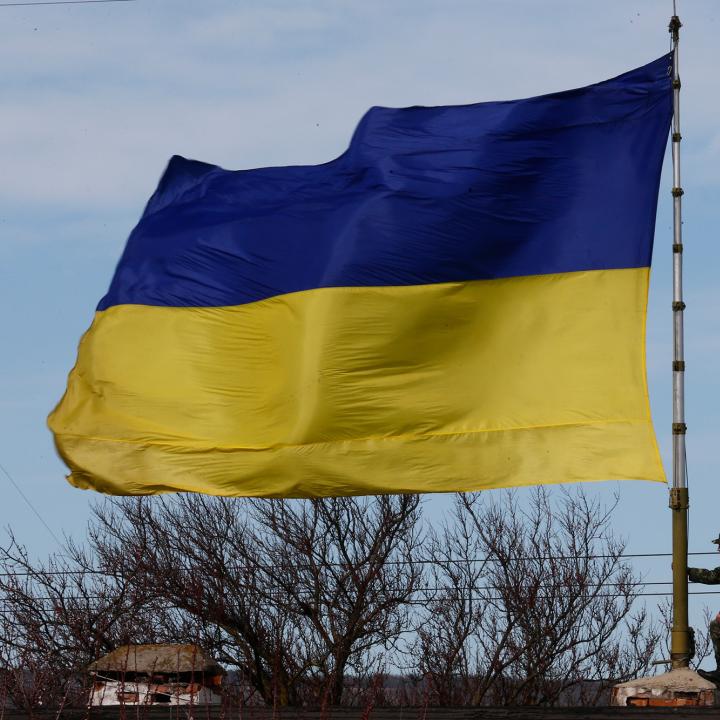 So far, official statements from the region have ranged from rejecting Russia's moves to treating them as a natural extension of existing policy.
Governments and leaders across the Middle East have issued varying statements in response to Russia's moves against Ukraine, from its February 21 decision to recognize the separatist republics of Donetsk and Luhansk to its full-scale invasion soon thereafter. The following is a summary of these responses, demonstrating the spectrum of regional stances on the crisis and expectations regarding next steps. For a separate discussion of responses to the UN emergency vote on the crisis, see PolicyWatch 3586. (Note: This article was originally released on February 25, then updated with new material on March 4.)
Turkey 
On February 21, the Turkish Foreign Ministry issued a statement rejecting Moscow's recognition of the two breakaway republics. When President Recep Tayyip Erdogan spoke with President Volodymyr Zelensky the next day, he reiterated Ankara's opposition to any action that violates Ukraine's territorial sovereignty. Zelensky thanked Erdogan for his continued support and his efforts to convene a UN Security Council meeting on the crisis. On February 24, the Turkish government issued a statement calling the invasion "unjust and unlawful," noting that it "poses a serious threat to the security of our region and the world." Meanwhile, after Kyiv asked Ankara to "shut Black Sea waterways to Russia," Turkey responded earlier today that it "cannot stop Russian warships accessing the Black Sea via its straits, as Ukraine has requested, due to a clause in an international pact." 
Yet Ankara later closed Black Sea access to all maritime traffic and urged all sides to respect the 1936 Montreux Convention, which allows Turkey to limit access through the Bosporus and Dardanelles in times of war.
On March 4, Turkish foreign minister Mevlut Cavusoglu confirmed that his Russian counterparts will still be attending the March 11-13 Antalya Diplomacy Forum. He added that he hopes to bring together Ukrainian and Russian diplomats for talks during this conference.
Israel 
In its first official statement on February 23, Israel's Foreign Ministry expressed support for Ukraine's territorial integrity without mentioning Russia explicitly. A day later, Prime Minister Naftali Bennett and Foreign Minister Yair Lapid gave notably different statements—Bennett expressed solidarity for Ukrainian civilians without mentioning territorial integrity or condemning Moscow, while Lapid called the invasion "a grave violation of the international order." After arriving in Greece for meetings with foreign partners, President Isaac Herzog echoed the Foreign Ministry line of supporting Ukraine's integrity without condemning Russia. Most recently, Bennett's office issued a statement on February 25 that he had discussed humanitarian assistance with Zelensky and affirmed his support for the Ukrainian people. Notably, however, he did not condemn the invasion. 
Speaking in Cyprus on March 2, President Isaac Herzog denounced a Russian strike that hit the Babyn Yar Holocaust Memorial: "This attack sums up the terrible tragedy we are witnessing, which has been unraveling before our eyes." He once again called the war a violation of international law and order but did not explicitly name Russia.
Israel has also sent several planeloads of humanitarian aid to the area totaling roughly 100 tons, in addition to setting up a field hospital for wounded Ukrainians. It has not sent any military aid so far, however, leading President Zelensky to state, "I don't feel that [Bennett] is wrapped in our flag." Bennett has defended his stance in light of the Russian presence on Syria's southern border with Israel; he also noted on March 3 that "various actors" wanted Israel to remain in a position to maintain dialogue with Ukraine and Russia. He has already spoken separately with Vladimir Putin and Zelensky "after proposing to mediate between the two countries."
Qatar 
Following U.S. requests to redirect natural gas to Europe in case of escalation in Ukraine, Qatari energy minister Saad al-Kaabi stated on February 22 that his country does not have the capacity to replace Russian gas supplies to the continent. Following the invasion, Zelensky called Emir Tamim bin Hamad al-Thani; the conversation came two days after Moscow sent Doha a letter about enhancing relations with Russia. According to Gulf media accounts of the phone exchange with Zelensky, the emir "called on all parties to exercise restraint and resolve the dispute through constructive dialogue and diplomatic methods...and not to take any actions that would lead to further escalation."
On March 3, Sheikh Muhammad bin Abdulrahman al-Thani—the country's deputy prime minister and minister of foreign affairs—held a phone call with Ukrainian Foreign Minister Dmytro Kuleba to express Doha's "deep concern over the escalation and its repercussions."
Syria
The Syrian government affirmed Russia's recognition of Donetsk and Luhansk. In fact, state media treated the move as an extension of existing policy, claiming that President Bashar al-Assad had conveyed "Syria's readiness to acknowledge the republic of Donetsk" and proposed an agreement to begin founding relations with it as early as December 21, when a Russian parliamentary delegation visited Damascus. Previously, state media has used inconsistent language when referring to Donetsk over the years, alternately calling it a "republic" and a part of Ukraine. In the days leading up to the invasion, the Office of the Presidency released a statement that Syria is "prepared to work to build relations with the republics of Luhansk and Donetsk and to strengthen [relations] in the context of common interests and mutual respect." The statement aligns with Syria's actions last May, when Assad hosted the president of Abkhazia, a breakaway region of Georgia; the government readout of that visit referred to bilateral relations between the "two countries."
Regarding the invasion, state media reported on February 25 that Assad called Putin and praised Russia's actions as a "correction of history and [a] rebalance to the world...lost after the dissolution of the Soviet Union." He also emphasized "that Syria supports the Russian Federation, based on its conviction of its correct stance that repelling NATO expansion is Russia's right." He then claimed that "Western countries bear responsibility for chaos and bloodshed as a result of their policies aimed at controlling peoples, as these countries use their dirty methods to support terrorists in Syria and the Nazis in Ukraine and in various parts of the world."
Yemen
On February 21, senior Houthi figure Mohammed Ali al-Houthi announced the movement's support for Russia's recognition of the "independent republics." He also advocated restraint so as to not "slip into a war intended to drain Russian capabilities." He reiterated this sentiment after the invasion, tweeting, "We call on Russia and Ukraine to exercise restraint and not to close the doors to dialogue and diplomatic action."
In contrast, the internationally recognized Yemeni government voted in favor of the March 2 UN General Assembly resolution denouncing Russia's invasion, though that is its only official response to the crisis so far.
Iran
President Ebrahim Raisi told Putin on February 24 that "NATO expansion is a serious threat to the stability and security of independent countries in different regions." Other Iranian officials have stated that they oppose the war but similarly blamed the West for stoking the conflict. Foreign Minister Hossein Amir-Abdollahian tweeted, "The Ukraine crisis is rooted in NATO's provocations. We don't believe that resorting to war is a solution. Imperative to establish a ceasefire & to find a political and democratic resolution." Likewise, Foreign Ministry spokesman Saeed Khatibzadeh blamed the crisis on the "provocative actions of NATO led by the U.S." 
On March 1, Supreme Leader Ali Khamenei blamed the United States for the war, claiming that "U.S. interference through velvet movements and color coups...pulled Ukraine into where it is now."
United Arab Emirates
On February 23, the UAE's state news agency reported a phone call between Foreign Minister Abdullah bin Zayed and his Russian counterpart Sergei Lavrov, noting that they discussed the "depth of friendship" between the two countries. Sheikh Abdullah also expressed the UAE's "keenness to enhance...cooperation across various fields." The UAE has not officially recognized the breakaway republics of Donetsk and Luhansk, however.
Libya 
On February 22, the Foreign Ministry in Libya's Government of National Unity (GNU) released a statement outlining its refusal to recognize the two breakaway regions. The ministry also reaffirmed its rejection of activities conducted by the Wagner Group, the Russian private military company that has been deployed to both Ukraine and Libya. In addition, the GNU has called on Russia to seek a diplomatic resolution and urged the international community to recognize Ukraine's sovereignty.
Iraq
Senior political figure Muqtada al-Sadr tweeted that the Russian invasion is not justified, referencing Iraq's own experiences in conflict, "from which we have gained nothing but ruin, weakness, and dispersal amid exacerbation of extremism and terrorism in our Islamic and Arab countries. #NoToWar." Earlier in February, a Foreign Ministry statement had advised Iraqi citizens in Ukraine to evacuate the country immediately. 
On March 2, the Iraqi Central Bank proposed a pause in financial relations with Russia due to the mounting sanctions from Western states. No decision has been made as of this writing, however. 
Iraqi authorities have also removed a billboard of Putin that was anonymously posted in central Baghdad on March 2.
Lebanon
On February 24, Lebanon's Foreign Ministry stated that the government "condemns the invasion of Ukrainian territory and calls on Russia to halt its military operation immediately and withdraw its forces...and return to dialogue and negotiations as a better means of finding a solution." Several members of parliament criticized these sentiments, and the Russian embassy in Beirut said it was "surprised" by the statement. On February 23, the ministry had noted that negotiations would "spare the people of the two countries, the European continent, and the world the tragedy and agony of war." Meanwhile, Lebanon's permanent representative to the UN expressed concern about the escalation, reiterated the principles of the UN Charter, and encouraged all parties to the conflict to pursue a peaceful resolution.
On March 1, Hezbollah leader Hassan Nasrallah commented on the war, rejecting the Foreign Ministry's statement and blaming Washington: "Western countries have done everything against Russia except for direct combat. Today, the world only respects the strong, and it has remained silent in the face of U.S. violations...The United States is to blame for the crisis in Ukraine, as Washington had been inciting and working on this scenario for weeks." He also argued that "Moscow has the right to protect its borders and national security."
On March 2, Lebanon's foreign minister issued a statement emphasizing the importance of dialogue: "Lebanon calls on the UN General Assembly to work on enhancing opportunities for negotiation between the Russian and Ukrainian sides to reach a peaceful solution to the conflict, which restores security and stability." The same day, Walid Jumblatt, head of the Progressive Socialist Party, cabled the Ukrainian ambassador to express solidarity.
On March 4, President Michel Aoun received a delegation from the EU, with whom he highlighted the importance of negotiation and noted that "the adoption of peaceful means leads to avoiding any repercussions that increase differences between countries in general, and neighboring countries in [particular]." He added, "We are against any military action directed against any free and independent state, and we consider this an attack on sovereignty and independence as well as on people's safety. Lebanon has suffered many problems and wars, the consequences of which were dire for its people as well as for its infrastructure and economy, especially during the Israeli invasion of Beirut in 1982."
Jordan
On February 24, the government noted that it is following developments in Ukraine with "concern" and called on the "international community and the parties to the conflict to exert maximum efforts for restraint and de-escalation." One unnamed official indicated that Amman is concerned about the economic effects that Russia's invasion might have on the kingdom's stressed economic system. A spokesperson for the Ministry of Foreign Affairs and Expatriates emphasized that Jordan rejects "the use or threat of force in resolving conflicts."  
On February 28, the ministry stated that it was continuing to closely monitor the situation of Jordanians in Ukraine, announcing that it was working to evacuate hundreds of citizens trapped there. On March 3, the ministry announced that it has facilitated the evacuation of 615 Jordanians.
Egypt
On February 24, the Foreign Ministry released a statement that it was following developments in Ukraine with concern and called for diplomatic solutions to avoid humanitarian crises. In a cabinet meeting the previous day, Prime Minister Mostafa Madbouly noted that Egypt depends on wheat imports from Russia and Ukraine, that the crisis will continue to affect energy prices, and that the government will diversify its sources and use subsidies to stabilize the situation.
On February 28, Egypt called for a meeting of the Arab League to discuss the situation in Ukraine. A statement issued after the meeting called for respecting international law and pleaded for restraint and a diplomatic solution to the crisis. Yet it did not condemn any party by name.
Morocco
In a February 24 statement, spokesman Mustapha Baitas noted that although the conflict will affect Moroccan markets, the government has substantial reserves of necessary products to keep the situation under control. Earlier in February, Morocco's embassy in Ukraine advised nationals to leave the country—a significant warning given that Moroccan students are the second-largest foreign community studying in Ukrainian universities. 
Saudi Arabia
On March 1, the Saudi cabinet affirmed its support for international efforts to de-escalate the situation in Ukraine through dialogue and diplomacy, to restore security and stability, and to provide a platform to hold negotiations that result in a political solution.
In a March 3 phone call with Zelensky, Crown Prince Muhammad bin Salman affirmed the kingdom's support for any measure that contributes to de-escalating the crisis. He also expressed Riyadh's readiness to exert efforts to mediate between all parties, as well as its support for all international efforts aimed at resolving the crisis politically. He expressed a similar readiness to mediate during a previous phone call with Putin.
Oman
On March 2, Sultan Haitham stated that "the sultanate is following up with great concern and regret the outcome of the Ukrainian crisis" and "stressed the need for Russia and Ukraine to return to diplomacy and resort to dialogue and peaceful negotiations based on the United Nations Charter."
Bahrain
As of this writing, Bahrain's only official response to the crisis was its vote in favor of the UN General Assembly resolution denouncing Russia's invasion.
Kuwait
On February 25, the Foreign Ministry released a statement categorically rejecting the use of force or threats thereof in relations between states. It also emphasized the need to respect the independence and sovereignty of Ukraine, and affirmed its full support for all international efforts aimed at de-escalation, restraint, the resolution of international disputes by peaceful means, and the adoption of measures necessary to protecting civilians.
Tunisia
Although Tunisia has no embassy in Ukraine, it has set up an "air bridge" to evacuate students stranded there with the help of its embassies in Poland, Moldova,  Romania, and Hungary.
Algeria
On February 27, the CEO of Algeria's state energy firm offered to supply the European Union with additional gas "in the case of a possible decline due to the Russian invasion of Ukraine."
Palestinian Authority
As of this writing, PA officials have not taken a public position on the crisis.
Conclusion
Because many nations in the Middle East are keen on balancing their relationships with the United States and Russia, they may be caught in the middle as the Ukraine conflict unfolds. Moreover, the invasion has already affected several sectors critical to their economies, from oil and gas to agricultural imports and tourism. Further fallout could increase instability in the region and beyond. Amid broad concerns about Washington decreasing its focus on the Middle East, the U.S. response to the Ukraine crisis could shape perceptions about American intentions in the region.
Margaret Dene, Hannah Labow, and Carol Silber are research assistants at The Washington Institute. This PolicyWatch was published under the auspices of the Institute's Diane and Guilford Glazer Foundation Program on Great Power Competition and the Middle East.
Topics
Regions & Countries