Lebanon's Crises Offer a Chance to Address Hezbollah Violations in the South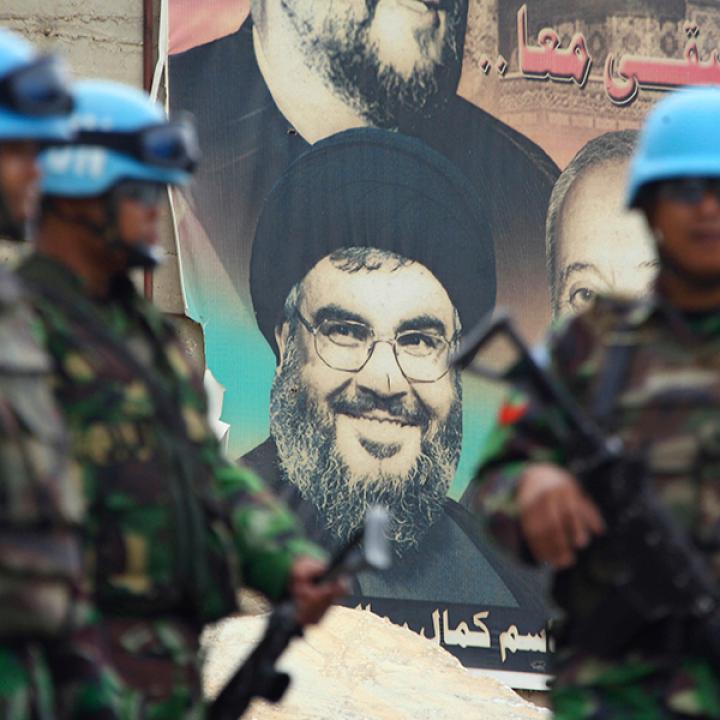 The UN's latest report makes clear that the dangerous situation will not improve on its own, compelling the international community to find new ways of addressing the group's violations and the role that the Lebanese government and military play in enabling them.
On March 10, the UN published the secretary-general's forty-second report on implementation of Security Council Resolution 1701, covering the period between November 1, 2019, and February 18, 2020. Due to the coronavirus pandemic, the council's discussion on the subject was postponed from mid-March to May 4.
Although the report opens with its usual description of a "mostly calm" southern Lebanon, it once again reveals abundant examples of Hezbollah's illicit military activities and presence in numerous locations. Moreover, on the night of April 17, Israel's security fence along the Blue Line frontier with Lebanon was cut in three places. This last incident served two purposes for Hezbollah: firing a shot across Israel's bow after one of the group's vehicles was struck in the Syrian border town of Jdeidat Yabus two days earlier, and showing its readiness to launch cross-border attacks in response to certain Israeli actions.
The authors of Resolution 1701 identified Hezbollah's military presence in southern Lebanon as one of the fuses that lit the 2006 war, and the contact line has only increased its explosive potential since then. To prevent another war, the international community needs to do much more to address the group's well-documented presence along the Blue Line, and Lebanon's current multidimensional crises offer a unique opportunity to tackle known problems in new ways.
PARSING THE REPORT
Careful reading reveals two differing voices in the March report. One voice dwells more on the country's economic-political crisis than on Resolution 1701's focal point: namely, the military-security situation in the south, the area of operations where the UN Interim Force in Lebanon (UNIFIL) is tasked with monitoring implementation of a resolution intended to restore state control along the frontier. This voice also uses ambiguity to sidestep inconvenient realities and difficult policy decisions. Despite all evidence to the contrary—including within its own pages—the report falsely contends that "UNIFIL continued to assist the Lebanese Armed Forces (LAF) in establishing an area between the Blue Line and the Litani River free of unauthorized armed personnel, assets, and weapons." One can safely assume that this voice represents the UN's political-diplomatic echelons in Beirut and New York.
The second voice, probably emanating from UNIFIL's military leadership, focuses on fact-based accounts of operational incidents in the south. This is especially evident in the report's Annex I, which details the various ways in which Hezbollah and its partners have illegally restricted UNIFIL's freedom of movement. Thirteen incidents are detailed in which Lebanese "civilians," some of them armed, blocked UNIFIL patrols, took their electronic gear and documents, and otherwise thwarted their missions between November and February—meaning that nothing was been done to improve the situation after fourteen such incidents were detailed in the November report.
As with the April 17 fence cutting, the footprint of the thirteen reported incidents falls along or near the Blue Line, mainly in the central sector. Three of them occurred a few kilometers from the frontier—near the village of Baraachit on January 14, January 29, and February 15, the latter including physical violence against peacekeepers.  
Click on map to view a larger version.
The incidents follow Hezbollah's recognized operational pattern of preventing UNIFIL units from entering key areas in the south or documenting its activities there—an anti-access, anti-documentation, area denial campaign that has enabled the terrorist group to operate as it pleases along the Blue Line while coexisting with the UN mission and the LAF, at little political cost to itself or the wider Lebanese government (see the author's November 2019 study for a fuller account of this campaign, along with maps illustrating previous incident reporting periods). On this matter as well, the UN report uses data not to clarify but to obscure: "Conducting 14,457 monthly military operational activities on average, including 6,774 patrols, UNIFIL maintained an operational footprint in all municipalities and villages." UN patrols may indeed be driving through every village in southern Lebanon, but only limited parts of the overall area of operations are accessible to UNIFIL, and areas relevant to Hezbollah activities are off-limits.
The report's details also shed disturbing light on the LAF's systemic role in impeding UN access to Hezbollah's antitank launch areas, cross-border attack tunnels, newly revealed "private roads," even newer zones dubbed "areas of strategic importance to the Lebanese Armed Forces," and observation posts run by "Green Without Borders," a Hezbollah front masquerading as an environmental NGO. The report is also the first to document the longstanding problem of LAF authorities refusing UNIFIL requests to cross into Israel.
Of course, none of this copious evidence is truly new, and none of it led the report's drafters to issue actionable recommendations that address the growing risks. What has changed is the strategic context. The basic assumptions of Resolution 1701 are no longer valid, Lebanon's political system is dominated by Hezbollah's camp, and the LAF and other state institutions are actively supporting a terrorist organization, whether willingly or under coercion. At the same time, the country's political and economic crises have come to a head, and the coronavirus has made things worse. All of these factors make Lebanese dependence on foreign aid stronger than ever, giving international actors a powerful lever to advance policies that help avert war.
RECOMMENDATIONS
Following the Security Council's May 4 meeting, authorities have until June 1 to submit an "assessment of the continued relevance of UNIFIL's resources" per the terms of Resolution 2485, "taking into consideration the troop ceiling." Subsequent deadlines include the next report on Lebanon (due in July) and the yearly renewal of UNIFIL's mandate (late August). This timeline gives Israel, the United States, and like-minded actors a chance to focus on the following efforts, which at the very least can help improve conditions for future strategic progress.
Pressuring Beirut. As Lebanon seeks to meet its dire need for foreign economic, medical, and military aid, the international community should present it with some stark choices: between enjoying aid as a legitimate state or continuing to give its institutions and territory to a terrorist organization; and between holding the LAF responsible as a sovereign national military or allowing it to keep collaborating with terrorists. Similarly, Hezbollah should be put on the horns of the dilemma: between continuing its illicit military operations along the Israeli frontier and its precision missile project, or enjoying international aid to the country it now rules, so long as appropriate conditions and verifiable, performance-based programs are put in place first. Realistically, however, the political/diplomatic mindset at the UN and elsewhere tends to favor continuity and wishful thinking about "stability" over changing policy or driving hard bargains with Hezbollah and its cronies. The chances are slim that the French-sponsored CEDRE aid framework or other "friends of Lebanon" mechanisms will attach strings to their aid; major improvements to UNIFIL's mandate are unlikely as well.
Changing operations, reducing force size. As always, policymakers should demand full and unhindered UNIFIL access throughout its area of operations. The force should also equip its patrols with body cameras, allowing facial recognition of assailants and whoever else impedes their movement and access or attempts to snatch UN gear. Yet it remains unclear whether the countries who contribute personnel to UNIFIL have an appetite for such steps. Whatever the case, these proposals should be backed up by laying another choice before Beirut: either allow unhindered UNIFIL movement or face gradual reductions to the force's size and budget. A good goalpost would be a 10-20 percent cut at this August's mandate renewal discussions, based on the findings of the July report and a separate special assessment. Additional performance-based reductions could be considered every four months after subsequent reports. This approach could improve UNIFIL's efficiency by decreasing the unacceptable gap between its size (currently 10,368 troops and 580 civilian staff) and efficacy; it could also reduce the risk to peacekeepers in case of war, and motivate Beirut into cooperating.
Improving UN reporting. Given the expected strategic and operational hurdles, policymakers may have to settle for the minimal goal of bolstering the UN reporting process with more hard data so that no illusions persist about the true situation on the ground. In 2017, Security Council Resolution 2373 expectedly failed to strengthen UNIFIL's mandate, but U.S. efforts at the time helped improve reporting and lay the factual grounds for current and future policy debates. Taking this approach to the next level would mean introducing geographical, statistical, and chronological data to UN reporting, such as detailed maps of precise incident locations and patrol routes over time. The March report mentions UNIFIL's "geographical information systems data platforms"; Security Council members should seek access to this GIS data to better understand the realities in the south. A cumulative record of all previous outstanding incidents and their status is needed as well. Finally, the UNIFIL commander should be invited to brief the council during discussions like the May 4 meeting in order to lend a stronger voice to factual reporting. Failing that, the UN missions of like-minded nations could request fact-based operational briefings by UNIFIL field officers prior to council meetings.
Assaf Orion is the Rueven International Fellow with The Washington Institute. Before retiring from the Israel Defense Forces in 2016, he held a leadership role in the Planning Directorate that included coordinating with UNIFIL and the LAF.