Kurds Against the Iranian Regime: Internal and Regional Implications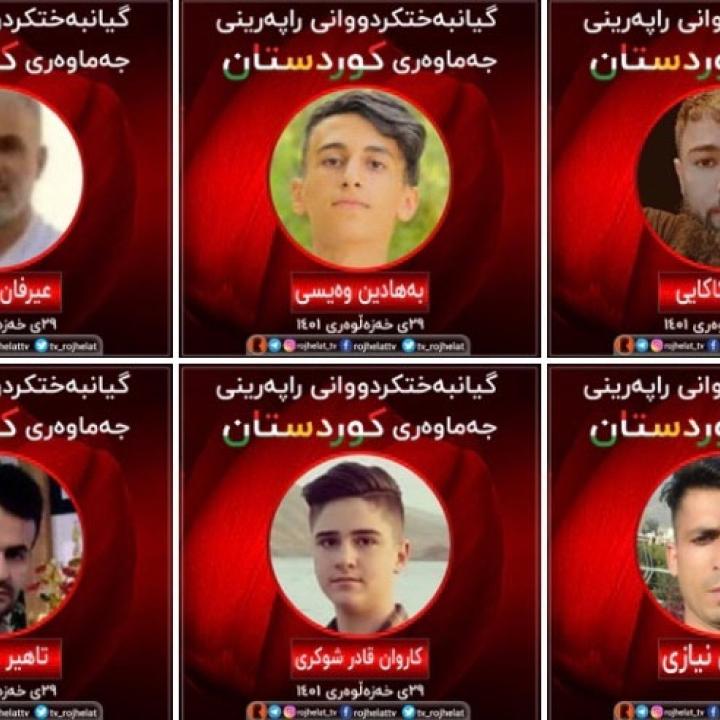 Activists and experts discuss what Washington can do to curb Tehran's violent campaigns against Kurdish populations at home and next door in Iraq.
On December 8, The Washington Institute held a virtual Policy Forum with Abdullah Mohtadi, Shukriya Bradost, and David Pollock. Mohtadi is secretary-general of the Komala Party of Iranian Kurdistan. Bradost is an Iranian Kurdish women's rights activist and a doctoral candidate at Virginia Tech University. Pollock is the Institute's Bernstein Fellow and director of Fikra Forum. The following is a rapporteur's summary of their remarks and the subsequent Q&A session.
Abdullah Mohtadi
Iran's current protest movement began in the Kurdistan province and only then spread to all corners of the country. The Cooperation Center of Iranian Kurdistan's Political Parties—a coalition between the Komala Party and the Democratic Party of Iranian Kurdistan—was involved in the movement early on, calling for strikes and demonstrations. Today, protesters' continued use of the Kurdish slogan "Women, Life, Freedom" as their trademark further shows the importance of Kurds within the movement.
Fortunately, the revolution—as many are now calling it—is not confined to Kurdish areas. The protests have overcome ethnic, religious, gender, and even class barriers, showing unprecedented solidarity. In past movements, protests were confined to the educated middle class and were narrowly focused on isolated issues such as the economy. Today's movement can be called a revolution because protesters from all backgrounds and all parts of Iran are asking for fundamental structural changes to the government.
Although the regime has attempted to blame the Kurds for the unrest and lure them into using violence, both they and the Cooperation Center have shown restraint. In their view, civil resistance is the best way to bring about change. Meanwhile, many other Iranian protesters have rejected the regime's traditional narrative portraying the Kurds as violent separatists.
Just as the Cooperation Center has provided meaningful leadership in Kurdish areas of Iran, local leaders are taking root in all other provinces and establishing coordination. These leaders are connected via social media and have sometimes met in person. Kurdish and non-Kurdish leaders, including the Komala Party, are now working to form a united Iranian coalition capable of conveying the voice of the revolution to the international community.
In the immediate term, the resistance asks for clear support from the United States. The false narrative that Iranians hate Americans is no longer viable—Kurdish and Iranian democratic activists alike are ready to meet with U.S. officials and bear any consequences.
Shukriya Bradost
The centrality of women in the Iranian Kurdish resistance is not a new phenomenon. For example, when I established a committee called "Women and Life" in 2003 with my friends in Iranian Kurdistan, our demands were built upon years of activism from Kurdish women. It is heartwarming to see that the same slogan and values are still fueling the revolution today.
On a broader scale, it is important to note that the current movement is a revolution against a regime that calls itself "revolutionary." The "revolutionary" label is significant because it has emboldened the regime to portray itself as a regional model of innovation while it simultaneously denies the Iranian people's right to express their demands.
David Pollock
Throughout the current crackdown in Iran, the regime has simultaneously been attacking Iraqi Kurdistan under the guise of targeting "opposition" groups, when in reality these attacks are killing innocent Kurds. Why is the regime exerting so much energy against civilians next door? The main theories—that Tehran seeks to distract from the unrest at home, or that it truly sees Iraqi Kurdistan as a credible threat in itself—are unconvincing. So far, there has been no evidence to suggest that Iraqi Kurds are offering anything other than moral support for Iran's movement, and the regime surely knows this.
Instead, the cross-border attacks are more likely a preventive measure against what the regime sees as a possible future coalition between domestic and external forces. The intensity and continuity of these attacks show how deeply Tehran fears this possibility—a point driven home when Supreme Leader Ali Khamenei met with Iraqi prime minister Mohammed Shia al-Sudani on November 29 and essentially asked him to provide protection against the Kurdish "threat." Meanwhile, regime-linked Iranian newspapers refer to this ongoing campaign as an "extermination" of the separatist Kurdish threat.
Unfortunately, Baghdad seems inclined to cooperate with Iran on this matter, attempting to balance between Tehran's powerful influence and a desire to preserve Iraqi sovereignty. Similarly, the Kurdistan Regional Government is caught between multiple dilemmas: sympathy for Iranian Kurds; a desire to remain independent of Iranian influence; deep internal problems, including an inability to defend itself against Iran; and ongoing reliance on Baghdad.
The United States is perhaps the only entity that can protect Iraq and Iraqi Kurdistan from Iran, but so far it does not appear to have offered such support. The Biden administration should urgently put an offer on the table—one carefully coordinated with Baghdad and Erbil alike.
Q&A Session
Regarding the potential for Iranian opposition groups to develop into competing factions, Mohtadi noted that a dynamic civil society has been able to take root inside the country despite decades of oppression. This resilience has helped the current protesters sideline potentially divisive factors such as ethnicity, religion, and class in favor of unity. Although factionalism is theoretically possible, opposition groups have been trending toward convergence rather than divergence.
Regarding U.S. obligations to Iraqi Kurds, Bradost pointed out that Washington's past withdrawal agreement with Baghdad included a promise to protect the country against terrorist attacks. Iran's attacks against Iraqi Kurdistan necessarily fall under that pledge because they are being carried out by the Islamic Revolutionary Guard Corps (IRGC), a U.S.-designated terrorist organization. The United States must be true to its word and protect Iraqi Kurds, especially since they have been left behind as relatively easy targets for Iran in comparison to places such as Saudi Arabia or Azerbaijan.
As for Iranian opposition groups, Mohtadi noted that they are not asking for boots on the ground or weapons, but simply political support. Bradost added that the United States can help Iranians by simply eliminating any channels through which the regime receives Western funds or resources.
Regarding the possibility of progress without regime change, Mohtadi doubted that any tangible improvements can be made in Iran unless the current authorities are removed from power. Bradost noted that by casting itself as a "revolutionary" government, the regime sees no need to make concessions, not even partial changes. From Tehran's point of view, if one major component of regime ideology gets knocked down (e.g., the morality laws), the rest will fall with it.
As for next steps toward a peaceful revolution, it is important to keep an eye on the attitudes and actions of IRGC forces. Some reports indicate that confusion, doubt, and reluctance are developing in certain IRGC circles, but it is difficult to tell whether these sentiments will translate into widespread defections. Protesters fully intend to remain peaceful at the moment, but this peace is not guaranteed and depends entirely on whether the regime escalates its already considerable violence.
This summary was prepared by Frances McDonough. The Policy Forum series is made possible through the generosity of the Florence and Robert Kaufman Family.