Khamenei Breaks His Silence on the Nuclear Negotiations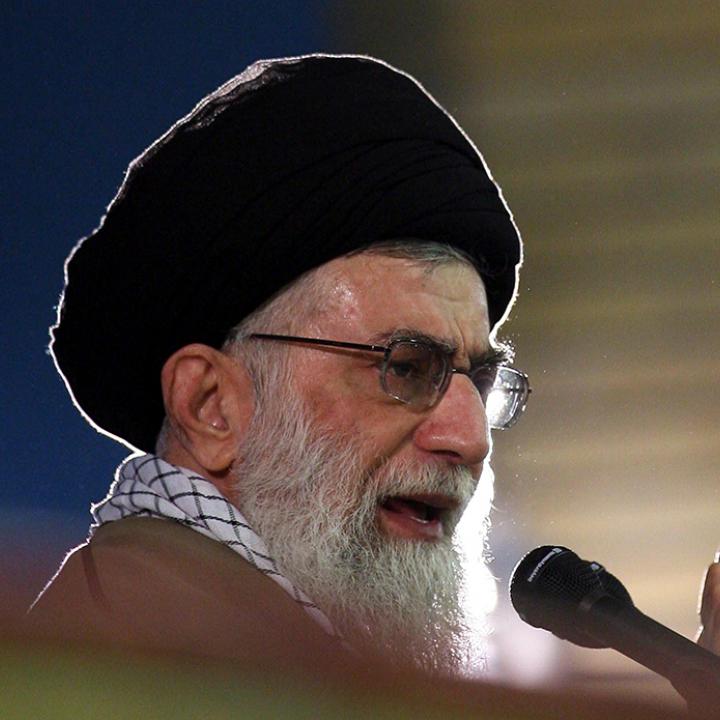 After months of publicly ignoring the issue, the Supreme Leader reminded negotiators to follow his guidelines but refrained from explicitly supporting or rejecting the state of play in Vienna.
Earlier today, amid reports that the Iran nuclear talks are nearing their final stage, Supreme Leader Ali Khamenei publicly discussed the issue for the first time in months. The last time he broached the subject in depth was July 2021, when he lashed out at former president Hassan Rouhani's approach to the negotiations. Afterward, he made only token or implicit references to the issue in August and January. The same trend of publicly deprioritizing the talks was evident in the rhetoric of other key regime officials, including President Ebrahim Raisi.
Today's remarks were delivered on the anniversary of the 1978 Tabriz uprising against the shah, an occasion that Khamenei often uses to comment on foreign and domestic affairs. Last year, his Tabriz speech was part of a series of sermons that came to define the regime's subsequent negotiating strategy. Arguing that the United States and its partners had given Iran a lot of "good talk and promises" only to contradict them later on, he demanded practical action as part of any return to the 2015 Joint Comprehensive Plan of Action (JCPOA).
This year's speech prefaced his nuclear views with a discourse on how to maintain the Islamic Revolution over time. Khamenei explained that this goal demands a specific set of requirements and tools, emphasizing the importance of vigilance regarding future trends and needs. In his view, neglecting to anticipate these needs could create problems down the road, and he supported his argument with examples from different fields. For instance, training scientists and researchers is essential to ensure that Iran has an established scientific community in fifteen to twenty years. He also noted the need to increase fertility rates over the same period, since otherwise the country will eventually lack a substantial youth population.
Khamenei then moved on to the nuclear file, asserting that the world is becoming increasingly dependent on nuclear energy, and that Iran will also be in "urgent need of peaceful nuclear energy sooner or later." If Iran does not think about this problem today, he argued, "tomorrow will be too late, and our hands will be empty then." According to Khamenei, the "enemy" has been acting in an oppressive manner because it seeks to create future difficulties for the Islamic Republic when the time comes for it to rely on nuclear energy. He also accused the enemy of making "meaningless claims on how close Iran is to making a bomb," insisting once again that the program's intent is peaceful.
Khamenei then sent an implicit message to Iran's negotiators about staying vigilant and continuing to observe his guidelines, repeating his denunciation of how the matter was handled in 2015-2016: "My criticism was that certain points had to be observed in the JCPOA so that problems would not arise in the future. Well, some of these points were not heeded, and problems emerged later, as everyone is now witnessing." Another passage commended the "good and revolutionary brothers in the field of diplomacy, who are working for sanctions to be lifted and to convince the other side to do so." Yet the Supreme Leader also reminded them that it is more important to neutralize sanctions by "domestic production, economic dynamism, and the use of a knowledge-based economy"—his usual slogans for increasing the country's self-reliance.
Elsewhere in the speech, Khamenei repeated his longstanding argument that Iranians who favor surrendering to "global arrogance"—as represented by the U.S. side of the negotiations—are being disloyal to the goals of the revolution. In his view, the enemy seeks to create rifts between the people and the establishment by imposing economic pressures and spreading deceitful media propaganda about regime institutions, including the Majlis, the Guardian Council, the Islamic Revolutionary Guard Corps, and notable figures like the late Qods Force commander Qasem Soleimani. The latter point was Khamenei's way of implicitly referencing a recently leaked tape that discussed corruption cases in the IRGC and specifically named Soleimani. To counter such lies and subterfuge, he exhorted Iranian youths to "detect the enemy's movements and act in the opposite way," then repeated the call to stand against the "arrogant powers."
To be sure, Khamenei did not say anything new in his speech, nor did he provide any concrete guidelines or redlines to his nuclear negotiators. Yet by bringing the issue up now after months of silence, he may be trying to send a more subtle, implicit signal to the Vienna team—especially chief negotiator Ali Bagheri Kani—instead of just reiterating his maximalist demands in public. Earlier this week, Supreme National Security Council secretary Ali Shamkhani tweeted that his latest phone call with Bagheri had confirmed that Iran's negotiators are finding it increasingly difficult to advance the "logical and legal instructions from Tehran." For months, Iran has maintained a stringent line of insisting that Washington must lift all sanctions, verify their removal, and provide future guarantees before Tehran will resume compliance with the JCPOA. Foreign Minister Hossein Amir-Abdollahian reiterated this line just yesterday in an interview with the Financial Times.
Against this backdrop, Khamenei may have sought to remind his negotiators of the kind of deal they are expected to achieve—namely, one that prevents Iran from repeating what happened after 2015—but without straining the delicate dynamics in Vienna with another maximalist tirade. Eschewing a more explicit signal might also help him avoid drawing too much domestic attention to the nuclear deal, since stoking public expectations for a return to the JCPOA may not be in his best interests right now.
Omer Carmi is a former visiting fellow at The Washington Institute.