Kataib Hezbollah's Facade Group Threatens Gulf States Again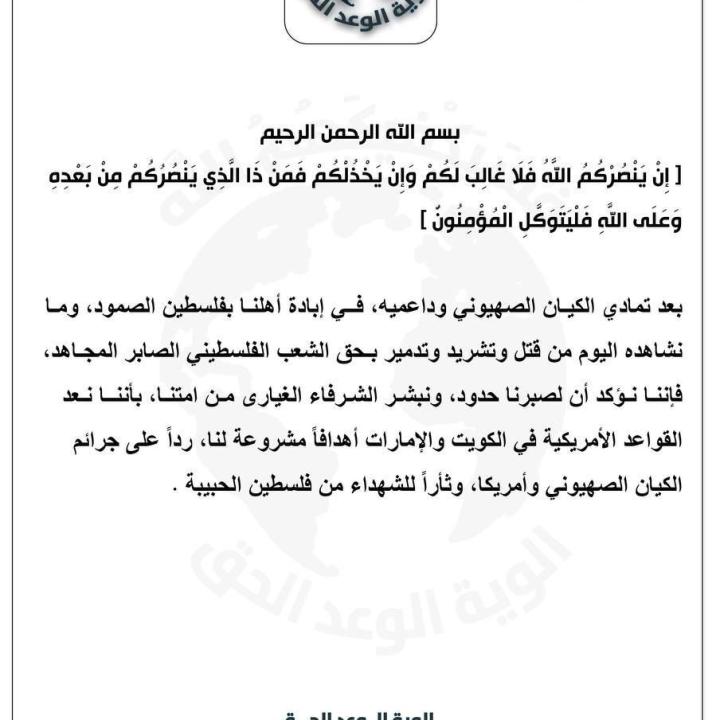 An Iran-aligned group that presaged two previous drone attacks on Gulf cities has issued a new threat against U.S. targets in Kuwait and the United Arab Emirates.
On October 24, Alwiyat al-Waad al-Haq (AWH), a facade group with unique ties to the Iran-backed Iraqi militia Kataib Hezbollah (KH), issued new threats against U.S. targets in the Gulf region amid the ongoing Hamas-Israel crisis in Gaza. The statement read: "After the Zionists and their followers persisted in exterminating our people in Palestine, and as we witness today the killing, displacement, and destruction of the rights of the patient and mujahid Palestinians, now we stress that our patience has limits, and we announce the good news to honorable people that we consider the American bases in Kuwait and the [United Arab] Emirates to be legitimate targets in response to the crimes of the Zionists and Americans, and as revenge for our beloved Palestinian martyrs" (Figure 1).
The statement represents the group's fifth threat or attack claim since 2021:
On January 23, 2021, AWH 's newly created Telegram account claimed a drone attack on a royal palace in Riyadh. Saudi officials subsequently stated that the drone came "in parts from Iran [that] were assembled in Iraq, and were launched from Iraq."
On January 27, 2021, AWH threatened a drone attack on the Burj Khalifa in Dubai; no attack occurred at the time.
On February 2, 2022, AWH claimed a four-drone attack on the UAE, which included an intercepted effort to strike the Burj Khalifa.
On October 2, 2022, AWH threatened to attack "companies that work on the [Arabian] Peninsula." This was in tandem with threats against Saudi Arabia issued by channels affiliated with Iran's Islamic Revolutionary Guard Corps (IRGC)—a response to the kingdom's purported role in fanning popular protests in Iran. No attack occurred at the time.
In other words, AWH has demonstrated foreknowledge of two previous drone attacks on Gulf cities and is now threatening Gulf targets once again.
Based on analysis of connections between AWH and KH-run channels, Militia Spotlight assesses that the two groups are uniquely linked to each other. KH is a U.S.-designated Foreign Terrorist Organization created and controlled by Iran's IRGC-Qods Force. On August 12, 2022, another facade group controlled by the IRGC-QF, Tashkil al-Waritheen, undertook a failed attack against U.S. military facilities at Kuwait's Ali al-Salem Air Base using an Iranian-built Qasef-2K drone. Militia Spotlight assesses that the new AWH statement represents a credible threat to Gulf security from an Iranian-controlled threat actor. The statement's omission of Saudi Arabia could be a concession to the kingdom given the Chinese-brokered rapprochement Riyadh reached with Tehran early this year.