Israel's Leviathan Gas Field: Politics and Reality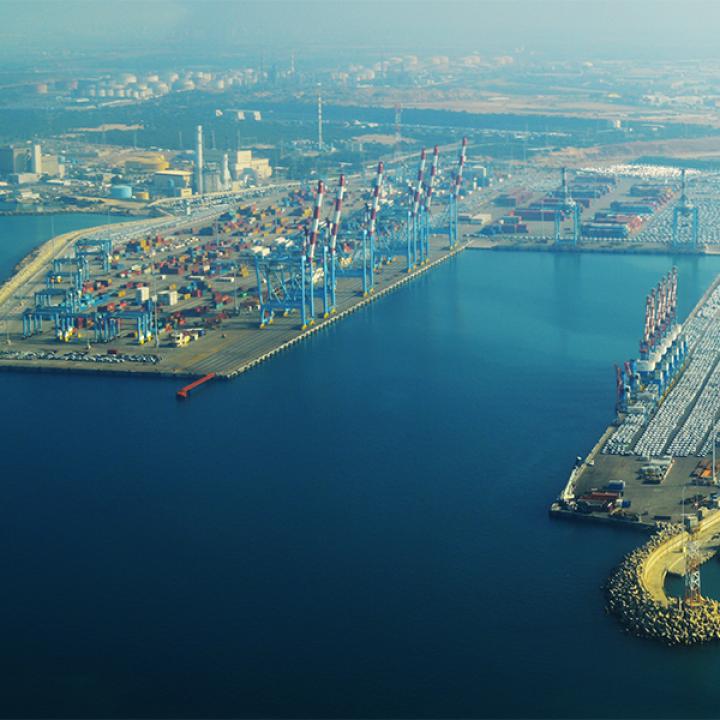 Recent headlines about political breakthroughs with Turkey and potential future gas discoveries in the Eastern Mediterranean are encouraging, but they must be placed in the context of the steep financial and technological hurdles associated with such projects.
The May agreement between the Israeli government and a consortium of natural gas companies led by Houston-based Noble Energy means that development of the huge Leviathan offshore field can finally proceed, after eighteen months of delays prompted by Israeli domestic politics and legal challenges. Even so, the final decision on investment is unlikely to be issued before December, the first Leviathan gas is not expected to come ashore until late 2019, and host of challenges could limit the overall economic impact of Israel's gas discoveries.
TEMPERING POLITICAL OPTIMISM
Last week, Energy Minister Yuval Steinitz spoke of "a vision for the next decade," when "Israel will be a major player in the energy market" because "as much as four Leviathans" worth of gas is waiting to be found. And on June 20, a Reuters story noted that natural gas was "a key driver of efforts to forge a rapprochement between Israel and Turkey."
From a geological and technological perspective, however, the future is less rosy. Yes, more gas is likely out there, and perhaps oil as well. But the latter would not be commercially viable to exploit at current prices, and finding the former is a very expensive endeavor. Drilling an exploratory hole alone costs over $100 million, using a pricey rig that floats in water 6,000 feet deep, with potential gas deposits at least another 6,000 feet or so under the seabed. Even with optimistic seismic data, finding any gas, let alone in commercial quantities, can be a hit-or-miss exercise. And notwithstanding Steinitz's "four Leviathans" claim, the size of an offshore field is just one factor affecting its potential profitability. For example, Egypt's Zohr field, found last year and notionally even larger than Leviathan, contains gas contaminated with hydrogen sulfide, which will need to be removed at additional cost.
Moreover, according to the latest edition of the BP Statistical Review of World Energy, Israel's current "proved" reserves constitute just 0.1 percent of the global total -- a figure similar to that of Bahrain and Yemen, but far below industry leaders Iran (18.2 percent), Russia (17.3 percent), and Qatar (13.1 percent). This fact, coupled with Noble Energy's tortuous experience in the mire of Israeli politics, could lead oil and gas exploration companies with the necessary technological and financial heft to concentrate their efforts elsewhere. And despite reports the contrary, the first phase of exploiting Leviathan (i.e., up to 2019) does not include plans for exporting gas to Turkey -- a prospect complicated by unresolved political differences regarding Cyprus.
ISRAEL'S GAS BY THE NUMBERS
Confusingly, gas statistics are often expressed in a mixture of U.S. units (cubic feet) and metric units (cubic meters), while gas prices are based on energy content (dollars per million British thermal units, or mBTU) rather than volume. Israel's claimed (as opposed to proved) total reserves are around 35 trillion cubic feet (tcf), all discovered by Noble-led consortia, including the 22 tcf in Leviathan. In addition, the Aphrodite field near Cyprus has around 4 tcf. Only one Israeli field is currently in production, the 10 tcf Tamar, which lies fifty miles off the port of Haifa. About 8 billion cubic meters (bcm), or 0.28 tcf, of Tamar gas is being pumped ashore annually for electricity generation in the civil and industrial sectors, meeting about half of Israel's requirements. Coal is the other principal fuel for generating electricity, with diesel oil a backup option.
All of Israel's fields lie beyond the 12-nautical-mile boundary of its territorial waters but within its exclusive economic zone (EEZ). According to the UN Convention on the Law of the Sea, such zones extend 200 nautical miles from a country's coast; in practice, when a neighboring territory is less than 400 nautical miles distant, the maritime border is the midpoint between the two coasts, or about 85 miles in the case of Israel and Cyprus.
Mirroring the recent collapse in oil prices, gas prices have also fallen, further complicating investment decisions for projects that are typically twenty years in duration. Many existing contracts are for higher prices than the current spot rates for individual cargoes, which can be as low as $4 per mBTU. And the expansion of trade in liquefied natural gas (LNG) has removed the so-called Asian premium; prices in the Far East have fallen substantially from around $15 per mBTU. This makes the high cost of developing a gas field even more of an obstacle. After relocating the proposed position of the platform where Leviathan's gas will be cleaned before entering Israel's pipeline network, the partners have increased planned annual capacity to 21 bcm per year while pruning capital costs by around $1 billion. But they are still looking at the prospect of spending $5-6 billion before the first gas comes ashore.
THE NEED FOR CUSTOMERS
Noble Energy judges that current gas demand in the Eastern Mediterranean area exceeds supplies by more than 40 bcm, and this gap will more than double by 2025. As such, the prospects for attracting customers should be good, though progress is currently slow.
In 2014, Jordan signed a memorandum of understanding to buy gas from Noble for its electric power grid, but it is reluctant to commit to a firm contractual obligation. Domestic political opposition, based on antipathy toward Israel, makes sealing that deal a challenge -- saying the Leviathan gas is from Noble rather than Israel does not fool the average Jordanian. In addition, Amman is already importing comparatively cheap LNG via the Red Sea port of Aqaba, and it has offers of nuclear reactors from Russia and oil via new pipelines from Iraq. King Abdullah, the country's ultimate decisionmaker, is said to take the long-term view in favor of Leviathan gas, delivered via a pipeline yet to be built but probably funded by the United States. And two Jordanian industrial plants by the Dead Sea are already scheduled to receive an initial supply of Israeli gas from the Tamar field. But bureaucratic obstacles on both sides of the border -- not to mention a literal minefield -- are hampering completion.
Egypt is another likely customer for Leviathan gas, perhaps through an existing pipeline. Its indigenous supplies are actually more plentiful than Israel's, but they are being used for municipal power generation. Importing Israeli gas could help Egyptian industry, which is often starved for supplies because of the greater political need to keep public demand satisfied.
At one point the Palestinian Authority intended to buy Leviathan gas for a proposed power plant in the West Bank city of Jenin, but it has since canceled that plan. Its sole existing gas field, off the shores of the Gaza Strip, is a potentially useful 1 tcf in size, but PA authorities do not want to exploit it yet because Gaza's current ruling faction, Hamas, would likely benefit.
Turkey would not become a prospective customer for Leviathan until phase two of the field's development, which theoretically begins after the gas starts flowing in late 2019 or early 2020. From Ankara's point of view, that date could not come sooner -- at least economically, though probably not politically given the current antipathy toward Israel. Russia currently provides almost 60 percent of Turkey's annual gas imports of 47 bcm, but military tensions between the two have been growing over Syria. Iran supplies another 15 percent, with Azerbaijani gas and LNG from Algeria and others accounting for the remainder. Turkey's current price situation is also bad -- prior to a recent discount agreement, Iranian gas cost $14.2 per mBTU and Russian gas $12. Even after the discounts, Leviathan gas could be obtained at a much more reasonable cost, though it probably wouldn't be enough to fully replace any of Turkey's current suppliers.
Now that they have survived being at the center of an Israeli political debate, Noble Energy and its local partners are obliged to reduce their ownership shares in several of the seven offshore fields discovered thus far. Yet finding foreign companies willing to invest in Israel's energy sector is proving difficult, and some interested firms (e.g., from Russia) are undesirable. While the Leviathan partners have obtained regulatory approval and are working on engineering and design issues, they still need sales agreements to secure additional financing. These are realities for natural gas projects anywhere in the world, but the challenges for Israel in the Eastern Mediterranean are particularly great.
Simon Henderson is the Baker Fellow and director of the Gulf and Energy Policy Program at The Washington Institute.