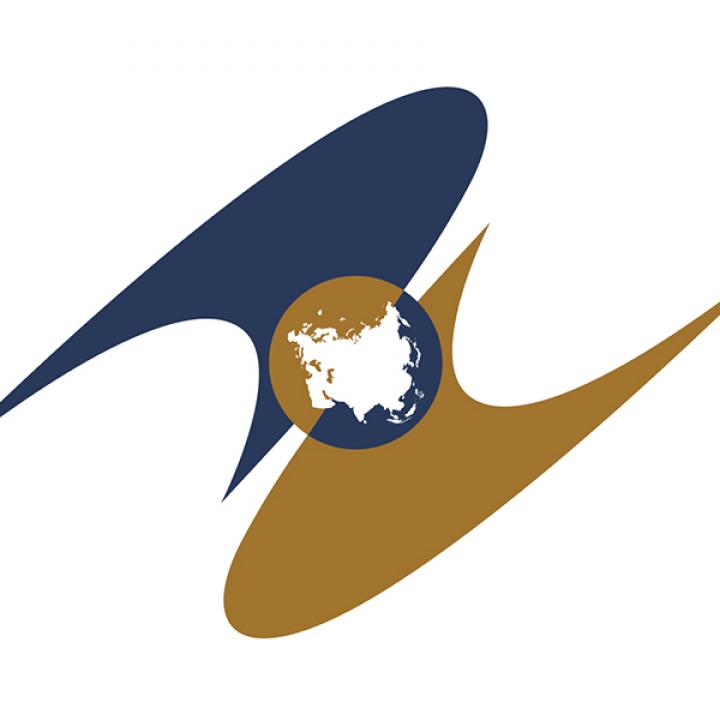 Many aspects of Iranian engagement with the Eurasian Economic Union seem paltry, but the bloc offers a semblance of assured trade, diplomacy, and counter-Western alignment that could still be meaningful to Tehran amid multiple crises.
Over the past decade and throughout the coronavirus pandemic, China has dominated Iran's external trade. Yet Tehran has also shaken up its economic diplomacy of late by looking north as well as east. April 27 marks six months since an interim agreement on a free trade area (FTA) came into force between Iran and the Eurasian Economic Union (EAEU), an organization comprising Armenia, Belarus, Kazakhstan, Kyrgyzstan, and Russia. Signed nine days after the Trump administration withdrew from the Iran nuclear agreement in May 2018, the FTA will become permanent within three years if talks work out.
This is the first regional economic agreement of its kind for Tehran, whose 1996 request for World Trade Organization membership remains on ice. The Islamic Republic seems to view the EAEU and its population of 183 million as a significant market—and a useful instrument for blunting U.S. sanctions.
TRADING STATES
The agreement applies preferential tariffs to 862 agricultural and industrial product categories, of which 502 are Iranian. These tariffs vary and in some cases are eliminated altogether; on average, Iran still levies higher duties on incoming EAEU goods than vice versa. Non-preferential tariff trade also continues in parallel.
According to statistics published by the EAEU's executive body, the Eurasian Economic Commission, trade between union members and the Islamic Republic dropped from $2.7 billion in 2018 to $2.45 billion in 2019, compared to its peak of $3 billion in 2016, when the Iran nuclear deal came into effect. The 2016, 2018, and 2019 figures correspond respectively to 3.3%, 2.3%, and 4.2% of Iran's global merchandise trade, according to calculations based on IMF data. Conversely, trade with Iran constitutes 0.3% of the EAEU's global total.
More specifically, the commission's 2019 data shows nearly half of Iran's $823 million in EAEU exports going to Russia, 40% to Armenia, and 10% to Kazakhstan. Much of this volume comprises fruits, vegetables, nuts, cement, ferrous metal products, petroleum products, and natural/liquefied gas.
On the other end, nearly three-quarters of Iran's $1.6 billion in EAEU imports came from Russia, under 20% from Kazakhstan, and 5% from Armenia. Belarus and Kyrgyzstan barely registered. Three commodities alone accounted for 69% of Iranian imports: sunflower oil for cooking, and barley and corn mainly for livestock and chicken feed. Wheat imports declined dramatically, from 2 million tons valued at $510.6 million in 2014, to 56,353 tons worth $12 million in 2019. This drop—from 22% of Iran's total EAEU imports to just 0.74%—is a testament to the leadership's crusade for self-sufficiency in producing bread and certain other staple items.
EAEU trade should also be viewed in the context of Iran's broader food security pipeline. Out of $9.3 billion in agricultural imports during fiscal year 2019/20, $8 billion comprised corn and oilseeds alone (including sunflower oilseeds), according to Iran's Agricultural Planning, Economic, and Rural Development Research Institute.
BARRIERS AND BENEFITS
With the FTA in effect since October 2019, the value of Iran's trade with the union should theoretically rise this year. Yet any such increase could be counterbalanced by obstacles related to U.S. sanctions, the ongoing pandemic, and cratering oil prices. The IMF predicts a third straight year of negative growth for Iran, with GDP likely to shrink by 6% in 2020. When the coronavirus first began to spread, for example, even neighboring Armenia, which depends on Iran for 5 percent of its trade, was compelled to disrupt merchandise traffic for a full month.
Another obstacle is that the FTA covers only about 50% of goods traded between Iran and the EAEU, with limited liberalization. To protect domestic production and promote self-sufficiency, Iran maintains a 4% across-the-board minimum import tariff. Moreover, despite the FTA's potential usefulness against U.S. sanctions, Iran's Parliament Research Center and other state officials are well aware that economic incompatibilities with the EAEU could prevent their country from benefitting substantially. For instance, apart from Armenia, Iran's energy exports to union member states count for little given Russia's dominance in that sector.
Notwithstanding these obstacles, the FTA holds some notable economic benefits for Iran. For one, it stimulates the country's non-oil economy, which had begun recovering just before the pandemic, unlike the heavily sanctioned oil sector. According to Iranian customs data, the value of non-oil trade with the EAEU, particularly agrifood products, rose 34% in FY 2018/19. Earlier this month, Vice President Eshaq Jahangiri announced a priority for FY 2020/21: reaching $48 billion in non-oil exports to fifteen neighboring countries, including Armenia, Kazakhstan, and Russia. Around the same time, Saeed Zarandi, the head of planning in the Ministry of Industry, Mine, and Trade, identified increased exports and import substitution as key strategic objectives to reduce pressure on Tehran's foreign currency reserves. Greater emphasis on high-value industrial, scientific, and technological exports could give Iran a comparative advantage within the EAEU second only to Russia's (as could services, investment, and capital flows, which the FTA deal ignores).
Even if Iran's trade with the union fails to balloon exponentially, it can at least grow proportionally by virtue of decreasing Iranian trade with the rest of the globe, as last year's figures suggest. Indeed, if pandemic-accelerated deglobalization and onshoring trends strengthen, regionalism and FTAs may stand to gain. Iran's prime geostrategic position will help it as well—the country is a key node along the International North-South Transport Corridor connecting India to Russia via Azerbaijan, as well as the North-South Transnational Corridor linking to Kazakhstan via Turkmenistan.
COOPERATION AS A TOOL OF COMPETITION
The FTA should be viewed in the broader context of Iran's untiring push toward greater regionalism and Eurasian cooperation. Tehran's engagement with two other regional bodies—the Economic Cooperation Organization (ECO) and the Shanghai Cooperation Organization (SCO)—hints at what might lie ahead with the EAEU.
Since late 1992, Iran, Turkey, and Pakistan have co-led the ECO, which also includes Afghanistan, Azerbaijan, Kazakhstan, Kyrgyzstan, Tajikistan, Turkmenistan, and Uzbekistan. Based on IMF data, Iran's trade with the ECO's other members rose from under $3.7 billion in 2003 to a peak of $22.3 billion in 2012, before shriveling to $8.5 billion in 2019. Several factors limit the ECO's benefits for Iran: much of its trade is driven by Turkey's economy, tariff reductions remain suboptimal despite headway in regional transit links, and Tehran competes as much as cooperates with both Islamabad and Ankara. Even so, Iran enjoys a consistent trade surplus within the organization, significant economic compatibility with Turkey, and a captive export market in Afghanistan.
Conversely, Iran runs a consistent trade deficit with the EAEU, which would have been worsened by the lack of robust foreign direct investment if not for Iran's global trade surplus. Trade with Russia—its main EAEU partner—has failed to surpass $2 billion in the post-Soviet era. Even compared with the relatively underperforming ECO, the EAEU shows few signs that it will generate game-changing economic utility for Iran.
As for the SCO—co-led by China and Russia and often viewed as a counterweight to NATO and the United States—it carries far greater political, strategic, and military overtones than the ECO. Iran has been an observer with the organization since 2005, but its membership request has run aground for years even as India, a major strategic rival to China, has been admitted. Thus, Tehran's SCO pivot is more symbolic than substantive, consistent with its longstanding balancing efforts against Washington.
Iranian outreach to the EAEU echoes that mindset—although the union lacks an overt military dimension, its five members overlap with the Collective Security Treaty Organization, a Moscow-chaperoned version of NATO. Moreover, despite mutual suspicions and ongoing natural gas competition, Iran has been cooperating with Russia in a number of areas since well before the FTA, including nuclear development, ballistic missile technology, conventional weapons transfers, naval maneuvers, and ground-air coordination in Syria's war.
CONCLUSION
Many aspects of Tehran's engagement with EAEU members range from somewhat useful (e.g., Armenia's minor economic ties and willingness to offset Azerbaijan politically) to merely aspirational (e.g., overall relations with Belarus, apart from occasional arms deals). As a bloc, however, the union offers a semblance of assured trade and surefire diplomacy that could be meaningful to a beleaguered Iran. The flipside of the coin is that Moscow will likely dominate any broader terms of reference and exchange—a political minefield for Iranian elites who have long thundered against overreliance on foreign powers. In any event, while the temporary FTA may not significantly improve Iran's fortunes in the near term, it may help the leadership keep things from getting much worse at a time of internal crisis and growing Western pressure.
Kevjn Lim is a PhD researcher at the School of Political Science, Government, and International Affairs at Tel Aviv University, and a Middle East and North Africa contributor for IHS Markit.