How the Contest to Succeed Abbas Is Shaping Palestinian Options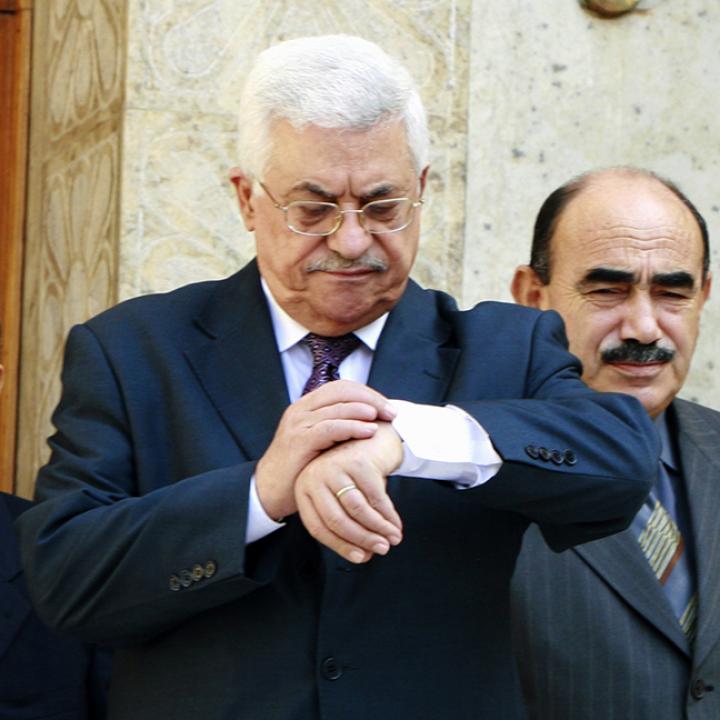 Israeli and Palestinian experts and former negotiators explore the lack of clarity surrounding the next PA leader, including the potential effects succession might have on internal politics, annexation responses, U.S. policy, and more.
On June 30, The Washington Institute held a virtual Policy Forum with Ghaith al-Omari, Ehud Yaari, and Brig. Gen. (Ret.) Michael Herzog. Omari is a senior fellow at the Institute and a former member of the Palestinian Authority negotiating team. Yaari is the Institute's Lafer International Fellow and a Middle East commentator for Israel's Channel 12 television. Herzog, the Institute's Milton Fine International Fellow, has held senior positions in the office of Israel's defense minister. The following is a rapporteur's summary of their remarks.
GHAITH AL-OMARI
The lack of clarity regarding who will succeed President Mahmoud Abbas is deliberate. The Palestinian Authority leader has long pursued a policy of marginalizing competitors, which strengthens his standing among international actors and makes them unwilling to push him too hard out of concern he will leave without a successor. 
If Abbas were to depart the scene, the constitution mandates that the speaker of the Palestinian Legislative Council take over for two months. This option became unimaginable in recent years because the sitting PLC speaker was a Hamas official, so Abbas dissolved the council in 2018. In theory, instead of the speaker taking his place, the Fatah Central Committee will pick one of its members to succeed him, the Palestine Liberation Organization will confirm this leader, and the constitutional court will ratify the decision. Fatah officials will likely choose someone weak, old, and unthreatening to serve as a front while power competition continues behind the scenes. Although they are keen on ensuring support from jailed activist Marwan Barghouti, none of them would give him a leadership position because he is too unpredictable and popular.
In the meantime, Fatah, the PLO, and the PA are all undergoing deep crises. Fatah used to be a vibrant political movement, but it has become too bureaucratic, repelling many young activists. Moreover, its Central Committee does not act as one unit despite its members being hand-picked by Abbas. The PLO has been steadily marginalized since the PA's creation, and this trend has accelerated under Abbas. Yet the PA's own message of "independence via diplomacy" has lost traction as well, and its legitimacy has been shaken by governance failure, corruption, and an economic crisis—the latter exacerbated by COVID-19 and the government's refusal to accept tax transfers from Israel.
There has been discussion of a three-leader scenario, with the PA president, the PLO chairman, and the head of Fatah sharing power. The current presidential aspirants say this is their preference, but once succession becomes a reality, the default position will be for one person to lead all three organizations. 
Whatever form it takes, any succession would carry significant risks. Hamas may try to use the process to create unrest in the West Bank, though it is unlikely to field a presidential candidate of its own. The length of the process could pose problems as well. When Yasser Arafat died, the PLO took less than two hours to name a successor, which helped Abbas consolidate power. Today, a more protracted process could be the straw that breaks the camel's back, particularly if the prospect of unilateral Israeli annexation forces contenders to take hardline positions. Young Palestinians are already checked out of politics and believe that a two-state solution is unachievable and undesirable. This apathy could turn into anger, potentially laying the groundwork for instability and lone-wolf attacks.
There is not much that the United States can do to directly influence PA succession, but it can work with Arab allies on the matter. U.S. officials should engage Jordan in particular, though the kingdom will not play a substantial intermediary role without wider Arab backing guaranteed by Washington. The United States should also push for policies that encourage stability, from changing Israel's mind on annexation, to placing big aspirational peace proposals on the back burner while emphasizing concrete territorial, economic, and security steps instead.
EHUD YAARI
Abbas seems to believe he is a mid-career politician rather than a leader on his way out—after all, his father lived to be over 100 years old. At the same time, the PA is facing the possibility of complete bankruptcy even if it begins accepting Israeli tax transfers. Given these factors, the United States should consider setting more modest objectives between Israel and the PA.
Currently, two main Palestinian coalitions have formed with different views of succession. One is generally trusted by Abbas; its leaders are General Intelligence chief Majid Faraj and Civil Affairs Minister Hussein al-Sheikh, both of whom manage relations with Israel. The second is led by former Preventive Security head Jibril Rajoub, who is now in charge of anti-annexation preparations. He is allied with former General Intelligence chief Tawfiq al-Tirawi, who is generally critical of Abbas and has support among Fatah's Tanzim militia. Their candidate to replace Abbas is Arafat's nephew Nasser al-Qudwa, who once held several top positions at the UN but does not have a high profile these days. This camp also maintains contact with Mohammad Dahlan, the former head of Fatah in Gaza who is now based in the United Arab Emirates.
Standing somewhere between these coalitions are figures like Mahmoud al-Aloul, who was appointed as the second leading official in the last Fatah Congress. He is now trying to position himself as a compromise between the two rival camps, though leadership circles seem to believe he is not up to the task of heading the PA after coming from the depths of the PLO's terrorist branches.
These factions do not exhibit any real policy or ideological differences, and none of them believes Israel is going to disappear. Instead, each side is attempting to present itself as more pragmatic and more capable of delivering on key issues. Still, questions remain about how succession will play out as they jockey for position.
As for annexation, Fatah's Central Committee does not have a coherent plan for responding to that scenario, but its members do agree on two points. First, they would not dissolve the PA immediately—rather, they would gradually require Israel to take on various responsibilities in the West Bank over a period of many months. Second, they would not declare the birth of a Palestinian state right away or seek recognition thereof. 
Everything else is still up in the air, however, and will greatly depend on the extent of any annexations. Contrary to the PA's official stance of not engaging with the U.S. government, messengers outside the PA and Fatah's upper echelons have been deployed to talk with the Trump administration about deferring annexation, including Samer Khoury of the Consolidated Contractors Company and Hashim Shawa of the Bank of Palestine.
MICHAEL HERZOG
Palestinian succession does not occupy decisionmakers in Israel. The professional sphere follows the issue, but there is no appetite to get actively involved, in part because Abbas has been convenient to the Israeli government, and perhaps also because of the mark left by the unsuccessful attempt to crown Lebanon's president in the early 1980s. The topic of Palestinian succession does not have much resonance in the U.S. government either.
Abbas is the last of the Palestinian national movement's founding generation, so the leader who takes his place will represent a whole new ballgame. Israel knows all the candidates from intelligence files, meetings, negotiations, and, in some cases, terms spent in Israeli jails. Whoever succeeds Abbas will inherit an extremely challenging environment. The PA is politically and economically dysfunctional, Fatah is in deep crisis, and the ongoing rift with Hamas is becoming more permanent without a solution in sight. Moreover, the majority of Israelis and Palestinians do not believe that a two-state solution is possible anytime soon; in Israel, the paradigm for addressing the conflict is changing, with annexation discourse becoming mainstream.
Given these circumstances, Israel believes that no Palestinian candidate can effectively shoulder the burden alone, making collective leadership more likely. The prevailing view in the defense establishment is that the Rajoub-Tirawi axis might improve its chances if Rajoub joins hands with Dahlan and brings along a capable executive like former prime minister Salam Fayyad. Dahlan is better able to reach understandings with the current Hamas leadership and deliver Arab support, while Fayyad could attract greater international acceptance.
Israel sees several risks in succession. Hamas may try to fill the void, seizing a leadership role in the Palestinian national movement even if it does not field a presidential candidate. If the group attempts to make a move in the West Bank, Israel might intervene. The race for power could also turn violent, since people on the ground are collecting weapons. In any case, whoever succeeds Abbas will have to adopt a harsh position against Israel in order to consolidate power, especially if sovereignty has been applied to parts of the West Bank. Israeli and U.S. decisionmakers should therefore start thinking about the day after succession; this includes initiating dialogue with some of the candidates in a way that does not undercut Abbas.
As for the impact of annexation, although many analysts agree that Palestinian leaders have a deep self-interest in maintaining the PA as a political entity and are unlikely to dismantle it, Israel's defense establishment believes there are scenarios in which the PA becomes incapacitated, collapses economically, and is no longer able to control security or pay salaries. In that case, Israel may be increasingly drawn in to provide services and patrol the area.
Lastly, any new Palestinian leadership will have to recalculate its strategies toward the conflict, weighing a range of options that include negotiations, armed struggle, popular struggle, reconciliation with Hamas, and an anti-Israel political and legal campaign at the international level. For their part, Israel and the United States should consider a paradigm that differs from the traditional focus on the endgame and associated negotiations. 
This summary was prepared by Basia Rosenbaum. The Policy Forum series is made possible through the generosity of the Florence and Robert Kaufman Family.