Hezbollah's 'Diplomats' Go Operational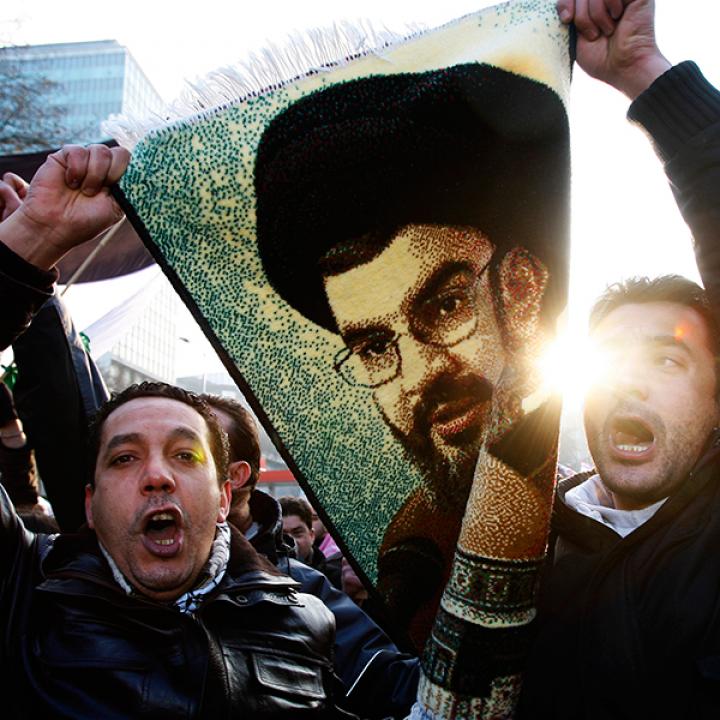 Officials in Washington and abroad should pay close attention to the group's self-styled 'ambassadors,' who are increasingly being implicated in criminal and terrorist activities around the world.
Given Hezbollah's deployment of several thousand fighters in Syria, many of its most seasoned military commanders and terrorist operatives have been pulled away from their traditional missions manning posts along Lebanon's border with Israel or engaging in financial, logistical, and operational activities abroad. The group has suffered more casualties in the Syria war than in all of its battles with Israel, forcing it to use its cadre of international terrorist operatives assigned to the Islamic Jihad Organization (a.k.a. the External Security Organization, or ESO) as battlefield reinforcements. Consequently, Hezbollah has relied even more than usual on its Foreign Relations Department (FRD), whose members formally serve as liaisons to Shiite communities around the world but who have been increasingly employed in various criminal and terrorist activities.
BACKGROUND
The most prominent ESO official to be switched from international terrorist duties to the Syria war was Mustafa Badreddine, who was given command of Hezbollah's new Syria Battalion even as he remained the ESO's titular head (he was eventually killed there this May). Other senior ESO operatives, including Ibrahim Aqil and Fuad Shukr, also played "a vital role" in Syria by aiding Hezbollah fighters and Assad regime forces against the rebels, according to a July 2015 Treasury Department release.
Interestingly, Hezbollah's international operatives underwent a different sort of shakeup just before the war due to a series of failed terrorist operations in places such as Azerbaijan and Turkey. In January 2010, Badreddine and his deputy Talal Hamiyah "undertook a massive operational reevaluation" at the direction of Secretary-General Hassan Nasrallah, leading to "big changes" within the ESO over a period of six months. The crux of the plan involved recruiting new operatives from Hezbollah's military units for intelligence and operational training, thereby developing capabilities and tradecraft that had withered on the vine since the group decided to rein in its international operations for fear of being caught up in the post-2001 war on terror. But the pivot to Syria in 2011 cut this recruitment drive short, and the flow of personnel shifted away from the ESO and toward the military wing, not the other way around.
WHAT IS THE FRD?                                    
Alongside its clandestine foreign operatives, Hezbollah also maintains a more public international presence through its Foreign Relations Department, which has representatives around the world. The FRD functions overtly in Lebanon and in a semipublic fashion abroad. Previously headed by Nawaf al-Musawi, it is currently led by Ali Damush. Some FRD personnel are Lebanese members sent abroad, while others are Hezbollah supporters who already live in the countries in question. Most have close ties to senior Hezbollah officials, and many have significant military training.
In Canada, intelligence officials assess that the FRD is responsible for setting up front organizations and other platforms in foreign countries in order to serve as talent spotters and mobilize local Shiite support for Hezbollah and Iran. According to government counterterrorism websites and private conversations with officials, Canadian authorities regard Hezbollah as "one of the most technically capable terrorist groups in the world" and have investigated all of its activities in their territory, including those of the ESO and FRD. They see the FRD's primary missions as propaganda, financing, and support, and the ESO's as procurement and terrorism.
Similarly, the British government has long acknowledged "a small, overt Hezbollah presence in the UK with extensive links" to the FRD, which London regards as "distinct" from the ESO. Other governments have observed more overlap in their functions; for example, New Zealand terrorist designations describe the ESO as Hezbollah's "foreign intelligence unit specializing in espionage, counter-intelligence, and dispatching operatives overseas to infiltrate diaspora communities, business and criminal networks, and carry out terrorist attacks." These lines of effort are now frequently blurred as FRD operatives increasingly engage in more covert and operational activities alongside their public functions.
According to an October 2006 National Defense University study by Shmuel Bar, the FRD reports up through Hezbollah's Political Council, while the ESO reports through the Jihad Council. Yet FRD personnel have a long history of performing not only political and ambassadorial functions, but also logistical, fundraising, and even operational activities in service of the ESO. For example, a 2015 Treasury Department assessment released in the context of designating FRD operatives in Africa stated that "the FRD claims to be in charge of 'community relations,' but the primary goal of the FRD in Nigeria is to scout recruits for Hezbollah's military units, as well as to create and support Hezbollah's terrorist infrastructure for its operational units in Africa and globally."
THE FRD'S PUBLIC ROLES
In terms of overt "diplomatic" activities, FRD personnel serve a number of functions abroad. They provide logistical support to visiting Hezbollah delegations. They build "community centers" to encourage local Shiite support for Hezbollah and serve as a base for the group's activities. They raise funds, spot potential recruits, and serve as liaisons, maintaining communication between local supporters and Hezbollah leaders in Lebanon, as well as between Hezbollah operatives in various countries.
Following the 9/11 attacks, Hezbollah invested particular time and energy in bolstering its relations with European countries. Former FRD leader Musawi spearheaded this diplomatic blitz, sending delegations to Denmark, Italy, Germany, Switzerland, and Britain in 2002-2003. The delegations were primarily composed of Hezbollah representatives in Lebanon's parliament; their main goals were to keep the group off the EU terrorism list and bolster its ties to local Lebanese and Shiites. Travel and other logistics for these visits were handled by Europe-based FRD personnel. Hezbollah also attempted to purchase a building in Berlin in June 2002 to serve as a "cultural center"; officials assessed that it would have been a headquarters for the group's activities on the continent.
Hezbollah operatives in South America have provided similar FRD-style services. In 2008, the Treasury Department exposed Venezuela-based Hezbollah supporter Ghazi Nasr al-Din, who, among other things, "facilitated the travel of two Hezbollah parliamentarians to Caracas to solicit donations...and announce the opening of a Hezbollah-sponsored community center and office in Venezuela." In Brazil, Hezbollah officials ran a mosque at which anyone who was not a member of the group was barred from attending services. In the Tri-Border Area (TBA), Sobhi Fayad "served as liaison between the Iranian embassy and the Hezbollah community" in Argentina, Brazil, and Paraguay, according to a 2006 Treasury designation. And in Colombia, FRD operative Ali Mohammad Saleh "maintained communication with suspected Hezbollah operatives in Venezuela, Germany, Lebanon and Saudi Arabia" as early as 2010.
Such patterns have emerged in Africa as well, where FRD official Ali Ahmed Chehade coordinates travel for Hezbollah members, including from Senegal to Cote d'Ivoire. He actively assists Abd al-Menhem Qubaysi, whom the U.S. government believes is Hassan Nasrallah's personal representative in West Africa. Qubaysi has also hosted senior Hezbollah officials visiting Cote d'Ivoire and elsewhere in Africa. His activities are largely overt, such as speaking at the group's local events and opening an official Hezbollah foundation in Cote d'Ivoire (the Treasury Department has noted that this foundation is used "to recruit new members for Hezbollah military ranks in Lebanon"). These and other actions have drawn the attention of officials in Africa, where the regional arm of the Financial Action Task Force noted Chehade's FRD activities in a 2013 report on terrorist financing in West Africa. Elsewhere, FRD operatives Fouzi Fawaz and Abdallah Tahini have organized Hezbollah delegations to Nigeria.
OPERATIONAL ACTIVITIES
As mentioned above, many FRD operatives have close ties to senior Hezbollah officials, and some (e.g., Saleh in Columbia) have military training or fighting experience. Others (e.g., Fawaz and Tahini in Africa) have personal connections to ESO operatives. It is therefore no surprise that Hezbollah has periodically called on its FRD network to engage in activities of a more operational nature.
For example, in 2004, the Treasury Department revealed that Hezbollah leaders in Lebanon had tasked TBA-based Assad Ahmad Barakat -- one of the group's "most prominent and influential members" -- with collecting "sensitive information" about local Arabs traveling to the United States and Israel. He then transmitted that information to the FRD in Lebanon.
FRD activities in Africa have been particularly disconcerting. A June 2013 Treasury Department release outlined the problematic behavior of self-styled Hezbollah "ambassadors" in Sierra Leone, Senegal, Cote d'Ivoire, and the Gambia. Abbas Loutfe Fawaz, an FRD operative in Senegal, met with senior officials in Lebanon to "discuss security" amid the potential indictment of Hezbollah members by the UN Special Tribunal for Lebanon. He offered to send Lebanese nationals living in Senegal back home if Hezbollah security officials thought they would be useful there. Similarly, Cote d'Ivoire operative Chehade has recruited locals for the group and sought to send them to Lebanon. These and other findings led the Treasury to conclude that Hezbollah "is determined to adapt and use its international support networks to support terrorist attacks against civilians around the world."
Similarly, a February 2015 Treasury release described how the previously mentioned FRD operatives Fouzi Fawaz and Abdallah Tahini had become "members of a Hezbollah terrorist cell" in Nigeria along with Fawaz's brother, Mustapha, an ESO operative. Fouzi was accused of possessing "heavy weapons" and being involved in "other terrorism-related activities." After a Hezbollah weapons cache was found in the city of Kano in 2013, Nigerian authorities issued arrest warrants for Fouzi and Tahini.
CONCLUSION
There has never been any true firewall between Hezbollah's so-called "wings," and the fact that elements reporting to the group's Political Council are so deeply involved in criminal and terrorist activity highlights the pretense of such a distinction. Many of these individuals are personal representatives of Nasrallah himself or have close ties to the group's other senior political leaders, further undermining any attempt to differentiate the ESO and FRD.
After Hezbollah entered the Syria war, officials on multiple continents revealed that FRD operatives were being used more often for covert activities such as recruiting operatives, collecting intelligence, and providing logistical support for terrorist operations. In true diplomatic circles, such behavior would be described as "conduct unbecoming," but FRD operatives are not real ambassadors -- they enjoy no diplomatic status, and they represent a militant group widely recognized as engaging in acts of terrorism. For countries seeking to deter and disrupt Hezbollah activities within their borders, expanding their investigations to include the FRD is long overdue.
Matthew Levitt is the Fromer-Wexler Fellow and director of the Stein Program on Counterterrorism and Intelligence at The Washington Institute.