Hezbollah Turns 40: Implications of the Group's Internal, Regional, and Strategic Shifts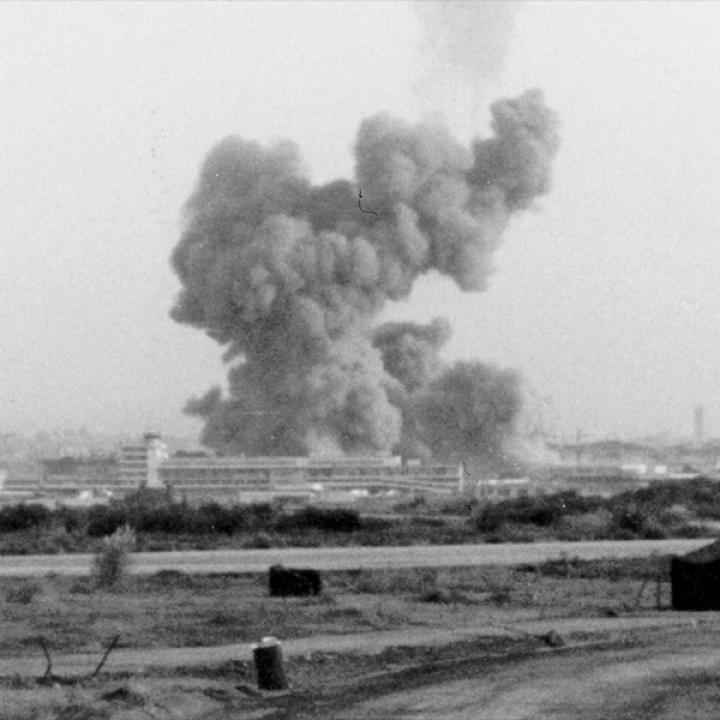 Four experts assess Hezbollah's impact at home and abroad after decades of political maneuvering, military operations, and criminal activity.
On November 29, The Washington Institute held a virtual Policy Forum with Hanin Ghaddar, Matthew Levitt, Mona Fayad, and Akeel Abbas. Ghaddar is the Institute's Friedmann Fellow and author of its monograph Hezbollahland: Mapping Dahiya and Lebanon's Shia Community. Levitt is the Institute's Fromer-Wexler Fellow and creator of its interactive map on Hezbollah's worldwide activities. Fayad is a francophone Lebanese political activist and professor who has become one of the most prominent Shia opponents of Hezbollah. Abbas is a professor who has taught at the American University of Iraq, among other institutions. The following is a rapporteur's summary of their remarks.
Watch video of this forum with original, untranslated audio:
Hanin Ghaddar
This year, Hezbollah marks four decades in existence. What began as a Lebanese resistance movement with a military wing has evolved into something much bigger and more complicated.
Prior to 1982, Palestinian groups controlled south Lebanon, hoarding local resources and monopolizing decisionmaking. Growing up in that area, I remember Israeli forces being welcomed in our village with rice and rose petals when they invaded to depose the Palestinians. The Israelis overstayed their welcome, however, exerting immense control over the lives of locals and transforming from "liberators" to "occupiers." When Hezbollah arrived on the scene, they framed themselves as the resistance against these Israeli occupiers—only to be seen as occupiers themselves forty years later due to their rampant abuses.
The group's resistance credentials peaked in 2000 when Israel formally withdrew from Lebanon. Yet things started to go downhill after that, especially once Hezbollah forces provoked an unnecessary war with Israel in 2006 and used their arms against Lebanese communities in 2008. Later, the group's intervention in the Syria war altered its reputation even more dramatically. By 2019, mass protests had exposed its ugly side for all Lebanese to see, with Hezbollah forces choosing to protect the corrupt political class while attacking demonstrators. Today, the group is no longer loved in Lebanon, but feared as a murderous drug cartel and mafia organization.
Matthew Levitt
After years of denials, Hezbollah has finally admitted that it was formed in 1982, further confirming its involvement in major terrorist attacks in Beirut around that time. Previously, the group insisted that it did not become operational until the publication of its 1985 "Open Letter." Such obfuscation proved effective—declassified intelligence materials show that Western governments struggled to understand the new wave of Shia militarism that arose at the time, with Hezbollah figures long maintaining that the group calling itself "Islamic Jihad" was a different organization entirely. Intelligence agencies later established for a fact that this was (and remains) just a cover name for Hezbollah.
The past four decades have also been full of shifts in the group's alliances abroad. Take its "off again, on again" relationship with Syria, for example—at one point, Damascus was actively hunting Hezbollah operations chief Imad Mughniyah; years later, the group was helping Bashar al-Assad's regime fight a civil war.
The one constant has been Hezbollah's relationship with Iran. In the mid-1980s, the CIA wrote a report arguing that the creation of a group similar to Hezbollah was possible—even likely—without Tehran's support, but that Iranian help and funding had fast-tracked its growth into a larger and more powerful armed movement. For instance, it was Iran's Qods Force that sent 1,500 troops to the Beqa Valley in 1982 to train Hezbollah in military tactics and ideology. Today, Hezbollah leader Hassan Nasrallah serves as a sort of "office manager" for Iran's numerous external "resistance" groups, especially since the deaths of Qods Force commander Qasem Soleimani and Iraqi militia leader Abu Mahdi al-Muhandis.
Indeed, with the Syria mission largely at its end, Hezbollah has been trying to find ways to scratch its resistance itch. This includes pushing Israel just enough to put the country on alert and burnish its own credentials as a challenger to the Jewish state, but without prompting a large-scale Israeli military response inside Lebanon.
Regarding international efforts to counter Hezbollah and its global criminal network, sanctions have been an effective tool. In fact, the United States arguably did not do enough in this regard when the group was on back on its heels due to substantial deployments in Syria and decreased funding (both at home and from Iran). Yet sanctions are just a tool, not a policy.
After 2009, when falling oil prices and increasing sanctions forced Iran to temporarily cut back funding for Hezbollah, the group began to proactively diversify its income streams in order to make up the difference, including through money laundering and other organized criminal enterprises. Part of this portfolio has been narcotics trafficking, where Hezbollah is most involved outside Lebanon, largely through logistical and transport roles.
Hezbollah also remains deeply involved in oil and weapons smuggling alongside Iran's Islamic Revolutionary Guard Corps. Working in tandem, their logistical units have proven highly effective in this regard. Muhammad Qasir remains one of Hezbollah's most important officials in the smuggling realm and is deeply trusted by the IRGC leadership (as exemplified by his service as Soleimani's translator during a top-secret meeting with Assad in February 2019).
Mona Fayad
Hezbollah's relationship with Iran goes back to the very beginning, with the revival of Shia political activism and Musa al-Sadr's creation of Islamic Amal after he arrived in Lebanon. Amal and Hezbollah were locked in fierce competition from 1985 to 1990, but Amal eventually splintered, leaving Hezbollah as the country's dominant Shia political movement.
In ideological terms, the group is committed to advancing velayat-e faqih (guardianship of the jurisprudent), the same doctrine that grants authority to Iran's Supreme Leader. Over the years, Hezbollah cadres have eliminated traditional Lebanese Shia forms of artistic expression, culture, and dress while imposing more conservative social norms in line with those advocated by Iran's leaders—norms that many in Lebanon reject.
Moreover, while the Taif Accord called for all Lebanese militias to disarm, Hezbollah refused to do so, citing the need for continued resistance against Israel. In combination with efforts to eliminate potential opponents, this move enabled the group to monopolize the Shia resistance camp in Lebanon and thus increase its power over local populations.
After taking over the Shia scene, Hezbollah decided to go after the national political scene. One of its most dangerous accomplishments was to transform the democratic parliamentary system into a consensus system via the 2008 Doha agreement. The group's "blocking third" invention enabled it to control key political decisions.
Yet the 2019 demonstrations shifted Hezbollah's reputation once and for all. When the group's leaders came out against the protest movement, they could no longer claim to be "the resistance"—they were now the authorities, the mafia dons in charge of protecting a corrupt system. And when Hezbollah resorted to using violence against protesters, the public could no longer deny that their country was essentially occupied by Iran.
Today, the organization's leaders are in crisis, not just because of their problems at home, but also because of the ongoing protests in Iran. Their fear of losing power could eventually lead them to use military arms—internally or against Israel—in order to strengthen their position.
Akeel Abbas
Because of widespread propaganda in favor of Hezbollah, the majority of Iraqis do not have an accurate picture of the organization. Hence, most of them supported Hezbollah for much of its existence, in large part because of its efforts to resist Israel and the West. Iraqis saw the group's actions through the lens of their pan-Arab and Islamist education, which did not allow many of them to understand what was happening in a factual, historical context. Under Saddam Hussein, Hezbollah was celebrated as the "Lebanese resistance." And for a period of time after his fall, Iraqi Shia parties were blamed for not following the Hezbollah model, which many Iraqis saw as free from corruption and widely supported by the Lebanese people.
Such enthusiasm dropped once Iraqis realized the danger posed by their own Shia militias. Operations against the Islamic State also shifted their support, spurring a new wave of Iraqi nationalism and patriotism. The main turn against Hezbollah came in 2017, when the group brokered a deal to transfer 600 Islamic State members from Lebanon to the Iraqi border. The move was widely criticized in Iraq—even Prime Minister Haider al-Abadi, the senior Islamic Dawa Party member who often aligned with Iran and its proxies, condemned Hezbollah in strong terms for facilitating the transfer.
Even so, the group still boasts extensive military ties with pro-Iranian militias in Iraq. In 2007, senior Hezbollah operative Ali Musa Daqduq was arrested in Basra alongside Qais and Laith al-Khazali, the leaders of the militia Asaib Ahl al-Haq. U.S. forces accused them of masterminding an operation earlier that year that resulted in the deaths of five American soldiers in Karbala. Daqduq was placed under house arrest, but politicians reportedly went to visit him often, and he was released after the U.S. military withdrawal from Iraq.
Hezbollah maintains extensive business ties with pro-Iran militias as well. Although these connections are well-known by those on the ground in Iraq, the opaque nature of such relationships makes them a difficult subject on which to gather hard evidence.
This summary was prepared by Erik Yavorsky. The Policy Forum series is made possible through the generosity of the Florence and Robert Kaufman Family.