Hezbollah as a Criminal Organisation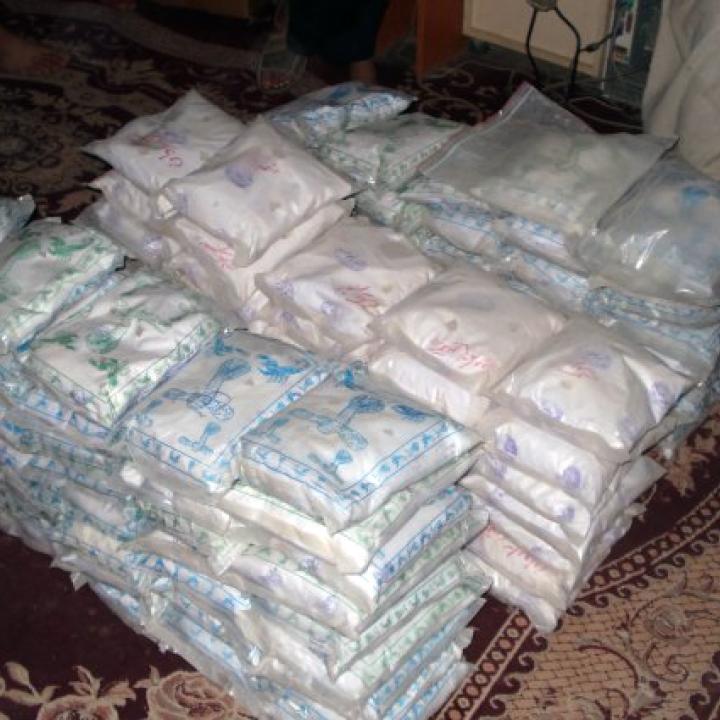 Hezbollah may be best known for its armed activities, but it also runs one of the largest and most sophisticated criminal operations in the world.
In July, the European Union officially designated the 'military wing' of Hezbollah as a terrorist organisation. This was a long overdue step, making clear to Lebanon's Party of God that it will pay a political price for continued acts of terrorism, crime and militancy. For decades, Hezbollah felt a measure of immunity. Europe was hesitant to hold it accountable for its conduct due to its political position within the delicately balanced Lebanese political system. But the sheer weight of evidence about Hezbollah's activities on European soil, not least the bombing that killed five Israelis and their Bulgarian driver in Burgas in 2012, made the case for avoiding confrontation with Hezbollah untenable.
The EU's decision to blacklist Hezbollah was made partly due to information revealed in March, when a Cypriot court convicted Hossam Yaccoub -- a dual Swedish-Lebanese citizen and Hezbollah operative -- and sentenced him to four years in prison. Among other charges, Yaccoub was convicted of participation in an organised crime group and the preparation of a criminal act. The head of the three-judge panel declared: 'It has been proven that Hezbollah is an organisation that operates under complete secrecy. There is no doubt that this group has multiple members and proceeds with various activities, including military training of its members. Therefore, the court rules that Hezbollah acts as a criminal organisation.'
This is only the most recent and prominent case of Hezbollah being proven in court to be acting as an organised criminal group in Europe. In fact, Hezbollah has been acting as such for years, involved in criminal enterprises, including narcotics trafficking and counterfeiting European currency.
SERIOUS ORGANISED CRIME
Hezbollah's involvement in crime stems from its need for funding, and in particular to establish independence from its patrons in Tehran and Damascus at a time when both are facing financial insecurity. In the past it was estimated that Hezbollah received somewhere between $100 and $200 million annually from Iran and additional resources from Syria. In the past few years, however, these partners have not been as generous. Iran is undergoing devastating economic sanctions and the Syrian state is caught up in a civil war. Hezbollah's criminal activities are designed to help plug that gap.
Hezbollah operatives run one of the largest and most sophisticated global criminal operations in the world. These criminal activities have strengthened the organisation and made it more difficult for Western nations to undermine it. In its 2013 Serious and Organised Crime Threat Assessment report, Europol identified several 'crime enablers.' These included 'logistical hotspots, diaspora communities, corruption, and the use of legal business structures, cross-border opportunities, identity theft, document forgery, and violence.' Hezbollah exploits all of these, not only in Europe, but worldwide.
Most of what has been uncovered of Hezbollah's activities in Europe comes from US investigations. Hezbollah has long been designated as a terrorist organisation by the US government, therefore its law enforcement and intelligence agencies have legal authority to pursue investigations into Hezbollah activities. This had not been the case in Europe until recently. However, nearly all the cases involving Hezbollah are transnational in nature, allowing even US investigators to uncover some Hezbollah activity in Europe. It is likely that there is more activity that will now be discovered due to Europe's policy change.
THE COCAINE CONNECTION
Hezbollah has taken advantage of cross border opportunities to traffic arms, cash, and drugs. In 2008, German authorities at Frankfurt airport arrested two Lebanese men carrying more than €8 million raised by a Hezbollah cocaine smuggling ring. The two had trained in Hezbollah camps, however they were not arrested for terrorist or militant activities, but for cocaine trafficking. Traces of cocaine were found on the bills, along with the fingerprint of an infamous Dutch drug kingpin. A year later, two other men from the same ring, involved in moving drugs from Beirut into Europe, were arrested in a house raid in Speyer.
In 2009, Admiral James Stavridis, then commander of US Southern Command, noted an expanded presence of terrorist drug traffickers in West Africa, which had become their 'springboard to Europe.' By late February 2012, Yuri Fedotov, head of the UN Office on Drugs and Crime, informed the UN Security Council that 'the West African transit route feeds a European cocaine market which in recent years grew fourfold …we estimate that cocaine trafficking in West and Central Africa generates some $900 million annually.' US investigations have revealed that Hezbollah is a major player in the transit of drugs and money from South America to Europe and the Middle East via West Africa.
THE USED CAR MONEY LAUNDRY
In January 2011, one of the largest Hezbollah narcotics trafficking and money laundering schemes was disrupted. The U.S. Department of Treasury identified Hezbollah operative Ayman Joumma, along with an additional nine individuals and 19 businesses, as being involved. A Drug Enforcement Administration investigation revealed that Joumma laundered as much as $200 million a month from the sale of cocaine in Europe and the Middle East through operations located in Lebanon, West Africa, Panama and Columbia, using money-exchange houses, bulk cash smuggling and other schemes. Joumma's network laundered money through Lebanese Canadian Bank (LCB) accounts, which he used to execute sophisticated trade-based money laundering schemes.
WEAPONS PROCUREMENT
The FBI uncovered a broad Hezbollah plot not only to sell counterfeit and stolen currency, but also to procure a long list of sophisticated weapons. According to law enforcement officials, in the late 2000s Hezbollah militant Hassan Karaki was helping to lead a broad criminal conspiracy to sell counterfeit and stolen currency to an undercover FBI informant posing as a member of the Philadelphia criminal underworld. An undercover officer posed to the group of suspected Lebanese crooks as someone who could fence stolen goods. Members of the group bought what they believed to be stolen property from the undercover agent and sent the merchandise to destinations as diverse as Michigan, California, Paraguay, Brazil, Slovakia, Belgium, Bahrain, Lebanon, Syria and Iran.
According to details revealed by law enforcement officials, and in a subsequent US trial, the money for these purchases came from Danni Tarraf, a German-Lebanese procurement agent for Hezbollah with homes in Lebanon and Slovakia. Tarraf wasted little time before asking whether the agent could supply guided missiles and 10,000 'commando' machine guns from the United States. With that, a massive Hezbollah criminal fundraising and weapons procurement case was all but delivered to US investigators on a silver platter. In a parallel plot, overseen by Hezbollah politician Hassan Hodroj, Hezbollah sought to procure a long list of sophisticated weapons in a black market scheme involving operatives across the globe.
PRINTING EUROS HEZBOLLAH STYLE
Given Tarraf's global contacts, investigators saw him as the most valuable target of their operation. But their next priority was Dib Harb, the son-in-law of Hodroj and a close associate of Karaki. An FBI source would finally get close to Harb, who revealed that Iran produces high-quality counterfeit currencies using facilities in the Baalbek area of Lebanon, working 18 hours a day to crank out the fake bills for Hezbollah's use. Harb was shopping for a buyer for the fake money.
As revealed in the US trial, the FBI source travelled to Beirut in mid-February 2009 to meet Harb's boss, Karaki, who seemed at ease discussing Hezbollah and his own ties to the group. Karaki offered stolen as well as counterfeit money and stressed to the source that the stolen currency could not be spent in Lebanon because it was 'blood money' Hezbollah smuggled from Iran through Turkey and Syria into Lebanon. Just under $10,000 was stolen from Iraq, the source was told. This explained why Hezbollah was so keen that the funds be spent in small amounts only, and not in Lebanon.
Karaki's assistant followed up on the meeting, not only sending samples of counterfeit American $100 bills, but European €200 notes as well. In April 2009, Karaki sent Harb to a meeting in southern Florida with the source and the source's purported Philadelphia crime boss. The men negotiated terms for the sale of stolen U.S. currency and multiple counterfeit currencies. According to Harb, Hezbollah's counterfeiting operation also included currency from Kuwait, Saudi Arabia, and the EU. At one point, Harb showed the undercover agent a Swedish krona bill with stains from a dye pack security system used by banks to mark stolen funds. According to Harb, the bill was part of a $2 million bank heist Hezbollah supporters pulled off in Sweden. He explained that Hezbollah cells conduct robberies all over the world and send the money to Iran, where it is held before ultimately being distributed to Hezbollah in Lebanon.
Harb also explained that Hezbollah does not just produce counterfeit currency, but false European documents as well. Karaki is a major figure in Hezbollah's forgery operations -- a role that would also allow for the production of forged passports and visa stamps if desired. He offered several varieties of passports including genuine books from Italy and the Czech republic. A few months after the meetings in Florida, Harb and Karaki delivered fraudulent British and Canadian passports to the FBI source using the pictures and biographical information he had provided (Author interview with law enforcement officials, March 11, 2010.)
HEZBOLLAH'S CHALLENGE TO THE EU
These US investigations reveal a global criminal network with a major presence in Europe. Hossam Yaacoub's arrest and conviction in Cyprus has opened another window into the types of activities that Hezbollah undertakes. He was arrested after performing a surveillance operation on the airport in Cyprus having already helped carry out other 'missions' in France and Holland, using his legitimate Swedish passport to act as a courier.
With Hezbollah becoming more active in Europe, the EU has taken an important step in beginning to counter Hezbollah by designating its military wing. But by limiting the designation to Hezbollah's 'military wing,' the EU has effectively undermined its ability to seize any funds under its asset forfeiture regime.
Hezbollah accounts in Europe are not likely to list as account holders 'Hezbollah military wing.' Legally, any funds tied to Hezbollah but not expressly linked to its military wing remain untouchable in Europe. Money being fungible, Hezbollah will likely continue soliciting funds in Europe but under the rubric of political and social activities. Siphoning off funds for less altruistic purposes such as the group's militia or terrorist activities will not be difficult, and therefore its criminal and terrorist activities will remain at high levels in Europe without determined and coordinated action to stop them.
Matthew Levitt directs The Washington Institute's Stein Program on Counterterrorism and Intelligence and is author of Hezbollah: The Global Footprint of Lebanon's Party of God. This article originally appeared in the Autumn 2013 issue of Fathom.