Hamas's Moderate Rhetoric Belies Militant Activities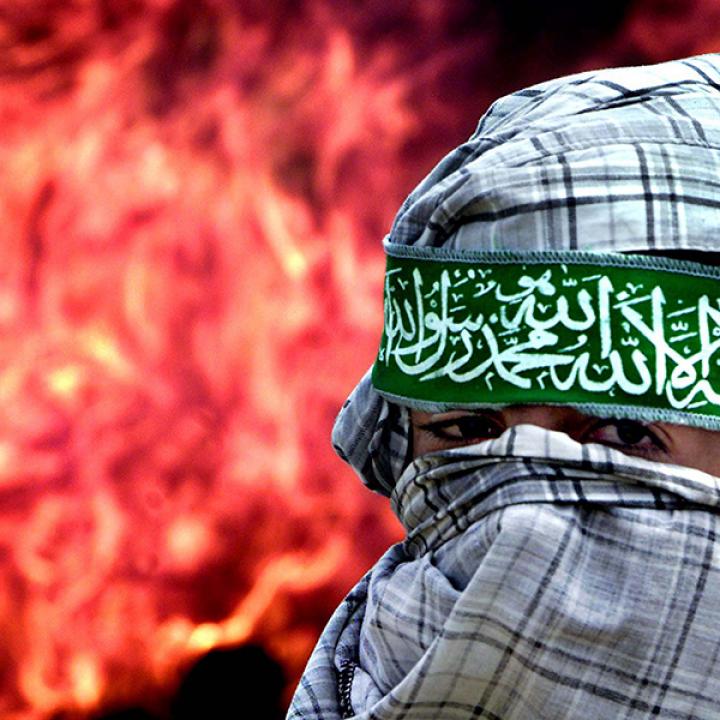 A softer tone in the Gaza group's new statement will mean nothing without parallel changes in its behavior.
On May 1, Hamas released the first update to its founding 1988 charter at a press conference in Qatar. While the original charter explicitly ties Hamas to the Muslim Brotherhood, identifies the only solution to the Israeli-Palestinian conflict as militant jihad, and calls for the creation of an Islamist state, the new statement -- which does not supersede the previous charter, despite the new language -- was expected to adopt a softer, seemingly more moderate tone. But rhetoric aside, Hamas's recent actions offer a clear indication of the group's continued hardline militancy. 
Background: The Hamas Charter
From its inception, Hamas has been explicitly dedicated to Israel's destruction and the establishment of an Islamist Palestinian state in all of historic Palestine. Its core ideology is manifest in its 1988 charter -- first published in Chicago by one of its front organizations, the Islamic Association of Palestine -- which rejects any permanent peace with Israel on religious, nationalist, and ideological grounds. It therefore flows logically, according to the charter, that "there is no solution for the Palestinian question except through Jihad. Initiatives, proposals and international conferences are all a waste of time and vain endeavors."
The 1988 charter calls for the creation of an Islamist state, rather than a secular one, and includes unmistakably anti-Semitic language targeting Jews, not Israel. Perhaps more problematic for Hamas today, the 1988 charter expressly describes the group as "one of the wings of the Muslim Brotherhood."
Hamas, however, is trying to transform itself. Its political statement, leaked to the press in April, sparked renewed interest in a Hamas "makeover." The document distances Hamas from the Muslim Brotherhood, and may include some acknowledgment of the 1967 armistice lines for the Six Day War as the basis for a deal with Israel. The Hamas charter, for its part, was a one-man job, written by Sheikh Abdul Fattah Dukhan as the group was just forming itself. Ever since, officials have engaged in periodic discussions about updating the charter and softening its sharper edges.
Hamas's so-called moderation is aimed at widening its international appeal at a time when the group faces multiple challenges, including a dismal economic situation in Gaza -- most recently underscored by the energy crisis in Gaza -- and strained relations with Egypt, which is at war with Hamas's parent organization, the Muslim Brotherhood. And despite being hailed as a sign of moderation, the document still includes less friendly sections, including a rededication to armed resistance to liberate all of Palestine, "from the Jordan River eastward to the Mediterranean Sea in the west." Even as Hamas is trying to change its tune, its recent militant activity speaks volumes about the group's true intentions.
Hamas Preparations for War
Since 2014, when dozens of its tunnels, bases, and missiles were destroyed in its most recent clash with Israel, Hamas has worked to rebuild its wartime infrastructure, including drilling tunnels within the Gaza Strip and into both Egypt and Israel. In 2016, Hamas announced the deaths of twenty-two members of its military wing; most died in tunnel collapses. So far this year, several Hamas members have likewise been killed in tunnel collapses or accidents. In March, Hamas unexpectedly called upon two thousand reservists to participate in a drill meant to simulate a major conflict with Israel, including a ground invasion. The exercise, which included artillery, combat intelligence, and combat engineering elements, is the terrorist organization's largest this year. Relatedly, the Israel Defense Forces (IDF) recently defused two bombs buried near the Gaza-Israel border. Hamas's international preparations for war were also brought to light in February when a Hamas operative, who had been living in Turkish Cyprus, was arrested on his return to the West Bank. He admitted to joining Hamas while abroad and training at a military camp in Syria.
Hamas's preparations are not limited to an on-the-ground struggle. In March, it was revealed that Hamas had produced several dozen advanced missiles similar to those maintained by Hezbollah, the Lebanese militant group and political party. The Israel Security Agency, or Shin Bet, warned late last year that Hamas's missile arsenal now equals it strength prior to the 2014 conflict, during which the group shot more than a thousand rockets toward Israel.
Hamas Smuggling
In Gaza, Hamas continues to smuggle weapons, money, and equipment in preparation for violent attacks and the next conflict with Israel, which foiled 1,226 smuggling attempts at the Gaza border in 2016. Most recently, two Gazan sisters were caught attempting to enter Israel laden with explosives. One of the sisters had a visa into Israel to receive cancer treatment, and tried to smuggle explosive materials hidden inside medical supply tubes. Shin Bet's initial investigation indicates that the supplies were sent by Hamas for use in terrorist attacks in Israel. Earlier this month, Israeli authorities seized thirty diving suits, allegedly bound for Hamas's burgeoning naval militant branch, hidden within a shipment of imported sports clothes. A Gaza fisherman was also recently arrested for smuggling equipment to Hamas.
In the West Bank, another illicit shipment was intercepted last year, filled with materials for hundreds of mortars and rockets, and electric engines used for digging tunnels. And Hamas continues to take advantage of international humanitarian workers. In March, the coordinator of the Turkish Cooperation and Coordination Agency's Gaza branch, Muhammad Murtaja, was arrested on charges of aiding the terrorist organization. To improve the accuracy of Hamas rocket attacks, the man claimed he was supposed to bring a disk-on-key to Hamas, containing "improved and elaborately detailed maps of various sites in Israel." He also helped dig a tunnel, became an expert in explosive devices, and witnessed cash transfers from the Turkish organization to Hamas officials.
Hamas in the West Bank
Hamas continues to build its infrastructure in the West Bank and Israel. In 2016 alone, 114 local Hamas cells were apprehended in the West Bank, versus 70 in 2015. One cell, broken up near Hebron in February, had been receiving instructions online from Hamas for shooting, kidnapping, and explosives attacks. Several of the targets were within Israel proper, including a bus station, a train station, and a synagogue. Another attempted kidnapping plot was foiled in December, resulting in the seizure of large quantities of ammunition, two AK-47s, three pistols, and a shotgun from the West Bank cell. That same month, a Hamas operative was arrested when authorities uncovered his plans for attacks in and around Jerusalem, including bombing a bus.
Hamas invests heavily in its base outside Gaza. A major money-transfer route was thus detected in February, through which Hamas sent thousands of dollars via debit cards smuggled to its operatives in the West Bank. Hamas is also aggressively developing its West Bank arsenal. In February, the IDF closed a West Bank bookstore used by Hamas to produce incendiary propaganda and manufacture explosives, and a gun manufacturing facility was busted late last year near Hebron, a notorious Hamas stronghold.
Hamas in Sinai
Despite its supposed rapprochement with Egypt, Hamas continues to work closely with Islamists in the Sinai Peninsula. In March, Israel issued an explicit warning to Hamas about these activities: "Hamas leaders: Your efforts to hide your cooperation with Islamic State's smuggling from Sinai, through lies and manipulation in attempts to broadcast 'business as usual' with Egypt, are not hidden from our view." Indeed, Hamas benefits financially from its relationship with the Islamic State in Sinai, through which it is able to smuggle weapons into Gaza. In fact, Hamas recently increased its tax on goods smuggled into Gaza by IS Sinai fighters. Hamas, in turn, allows IS Sinai to run a media channel from the Gaza Strip, through which the Sinai jihadist group has claimed responsibility for attacks in Egypt. And Hamas has treated wounded IS fighters in the hospitals it runs in Gaza. According to recent reports, some weapons used by IS in attacks against Egyptian forces came from Gaza into Sinai -- a reverse directional flow and one that has Egyptian authorities particularly concerned.
Conclusion
As Hamas leader Khaled Mashal insisted last month, "We were and we still are in an open war with [the] criminal enemy [Israel]." Hamas may engage in politics, "but it insists on the choice of jihad and resistance...[This choice] is Hamas's greater and first strategy...This is Hamas. Hamas is not changing its skin." Indeed, nowhere are the group's true intentions more clear than in its recent election of Yahya Sinwar, a convicted murderer and militant hardliner, as its new leader in Gaza. Just last month, Sinwar swore that Hamas will continue to fight Israel and would "not surrender even a morsel" of land. A change in Hamas rhetoric will mean nothing without a parallel change in Hamas behavior. 
The international community should judge Hamas not by any moderation in the group's rhetoric but by its actions on the ground. So long as the latter remain militant and extreme, the relative moderation of the former means not much at all.
Matthew Levitt is the Fromer-Wexler Fellow and director of the Stein Program on Counterterrorism and Intelligence at The Washington Institute. Maxine Rich is a research assistant at the Institute.