Findings from the State Department's Annual Terrorism Report (Part 1):
Hezbollah and Iran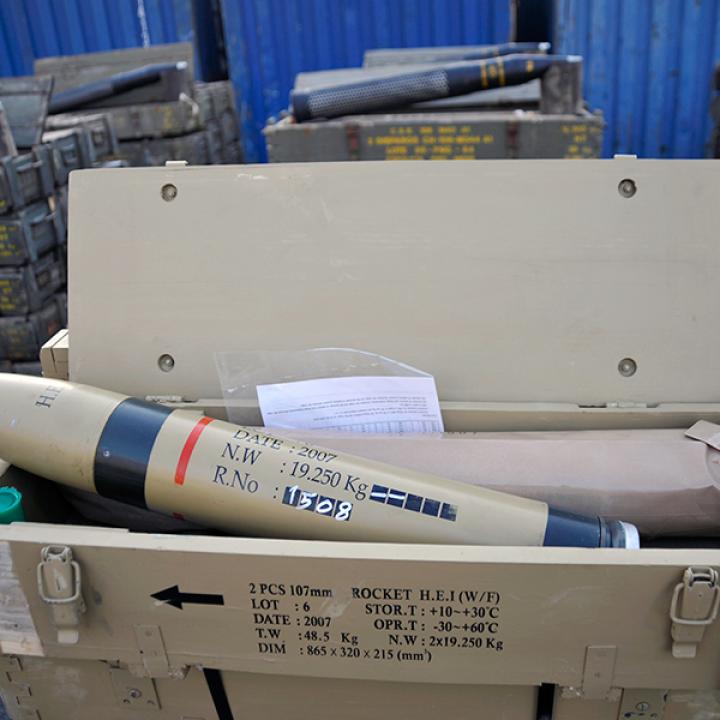 Contrary to recent intelligence assessments by other agencies, the State Department's latest report documents Hezbollah and Iran's ongoing, deep involvement in terrorist activities.
In March, when Director of National Intelligence James Clapper testified before Congress about threats to the United States, Iran and Hezbollah were conspicuously absent from the list of terrorist threats. Several weeks later, he responded to senators' concerns about the omission in a letter acknowledging that Iran and Hezbollah "directly threaten the interests of the United State and our allies," adding that the intelligence community still sees Tehran as the "foremost state sponsor of terrorism."
Earlier today, the State Department released its Country Reports on Terrorism 2014, which describes how the "Islamic State"/ISIL emerged last year as the preeminent terrorist threat to U.S. interests (an issue covered in Part 2 of this PolicyWatch). Yet the report -- which covers much of the same timeframe as Clapper's testimony -- also clearly demonstrates that Iran and Hezbollah actively pursued destabilizing terrorist, criminal, and militant activities throughout 2014.
IRANIAN SPONSORSHIP "UNDIMINISHED"
The new report singles out Tehran and Hezbollah from its introductory chapter: "Iran continued to sponsor terrorist groups around the world, principally through its Islamic Revolutionary Guard Corps-Qods Force (IRGC-QF)...These groups included Lebanese Hizballah, several Iraqi Shia militant groups, Hamas, and Palestine Islamic Jihad." In addition, it accuses Iran of "prolonging the civil war in Syria, and worsening the human rights and refugee crisis there." Later, the authors describe Iran's terror sponsorship as "undiminished."
MULTIPLE HEZBOLLAH THREATS
The report also describes how Hezbollah remained "a significant threat to the stability of Lebanon and the broader region" in 2014. As Iran's chief and most capable proxy, the group "accelerated its military role in support of the Syrian regime" and continued to plant bombs along Israel's northern borders. Such activities have worsened the security situation in Lebanon and spurred Israeli retaliation, including a January 2015 airstrike in the Golan Heights that killed an Iranian general and Jihad Mughniyah, the son of Hezbollah's late operations chief. The strike drew only a modest response from the group, carefully calibrated to avoid further escalation.
Despite this considerable preoccupation in Syria, Hezbollah's terrorist activity around the world continued unabated. In April 2014, two suspected Hezbollah operatives in Thailand were arrested on charges of plotting an attack in an area of the capital "popular with Israeli tourists." Another operative, previously detained in 2012 for storing five tons of fertilizer and ten gallons of liquid ammonium nitrate just outside Bangkok, was released and deported back to Sweden in September.
The same month as the Thai arrests, Germany banned a Hezbollah-affiliated charity, the Lebanese Orphan Children Project, seizing some $80,000 of its assets. Authorities suspect the group of transferring over $4 million to Hezbollah's al-Shahid Foundation since 2007.
The report also highlighted how "Lebanese nationals in Latin America and Africa continued to provide financial support to Hezbollah, including through the laundering of criminal proceeds using Lebanese financial institutions." In fact, the group's supporters "are often engaged in a range of criminal activities that benefit the group financially. These have included smuggling contraband goods, passport falsification, trafficking in narcotics, money laundering, and credit card, immigration, and bank fraud."
Meanwhile, Hezbollah member Muhammad Hamdar (a.k.a. Amadar) was arrested in Peru in October 2014 and found to have traces of military-grade explosives in his apartment. Other bombmaking materials were discovered in a trash can outside his building. He initially confessed to his Hezbollah affiliation but has since recanted, claiming his statement was coerced. In November, a court ordered him detained for up to eighteen months while prosecutors investigate the case and prepare formal charges. And in Venezuela, a permissive environment facilitated the presence of individuals linked to several terrorist groups, including Hezbollah.
The report also noted that in March 2014, the Supreme Court of Cyprus upheld the conviction of Hossam Taleb Yaacoub, a dual Swedish Lebanese citizen and Hezbollah operative arrested in 2012 for conducting terrorist surveillance of Israeli tourist targets. He was deported to Sweden after completing his sentence in November. Though not mentioned in the report because it occurred in 2015, a separate Cypriot investigation turned up large amounts of ammonium nitrate in the Larnaca home of a Lebanese Canadian Hezbollah operative; earlier this week, the Cypriot foreign minister confirmed that authorities had thwarted a Hezbollah bomb plot, again targeting Israeli tourists.
More broadly, State pointed out that "Iran has admitted publicly" to arming Hezbollah "with advanced long-range Iranian manufactured 'Fateh' missiles," in clear violation of UN Security Council Resolutions 1701 and 1747. In November, IRGC aerospace chief Gen. Amir Ali Hajizadeh acknowledged publicly that "the IRGC and Hezbollah are a single apparatus jointed together."
THE ROLE OF THE IRGC-QODS FORCE
The report also describes how Tehran used the IRGC-QF to mobilize a number of Shiite militias in Iraq and Syria against ISIL, including the designated terrorist organization Kataib Hezbollah. According to the report, this and other Iran-backed militias have committed "serious human rights abuses." Furthermore, Iran increased training and funding for its militias in 2014, supplying them with advanced weaponry. It also "provided hundreds of millions of dollars" to Hezbollah and "trained thousands of [the group's] fighters at camps in Iran."
The State Department does not expect Iran's behavior in Syria to change anytime soon, asserting that "Iran views Syria as a crucial causeway in its weapons supply route to [Hezbollah], its primary beneficiary, and as a key pillar in its 'resistance' front." Indeed, Iran continued to provide the group with "training, weapons, and explosives, as well as political, diplomatic, monetary, and organizational aid."
Iran also continued to "provide arms, financing, training, and the facilitation of primarily Iraqi Shia and Afghan fighters to support the [Assad] regime's brutal crackdown that has resulted in the deaths of at least 191,000 people in Syria, according to August UN estimates." In addition, the report notes that Iran publicly admitted to sending IRGC members to Syria in an advisory role; "consistent media reporting" indicates that "some of these troops are IRGC-QF members and that they have taken part in direct combat operations," though Iran has denied this role.
SUPPORTING HAMAS AND OTHER PALESTINIAN MILITANTS
The new report also describes how Iran began repairing relations with Hamas last year. Previously, Tehran was a longtime supporter of the group, which has engaged in several wars with its sworn enemy, Israel. The relationship fell on hard times when Hamas refused to support Bashar al-Assad, but last November, "Supreme Leader Khamenei highlighted Iran's military support to 'Palestinian brothers' in Gaza and called for the West Bank to be similarly armed." By December, "Hamas Deputy Leader Moussa Abu Marzouk announced [that] bilateral relations with Iran and Hamas were 'back on track.'"
Other Palestinian extremist groups have received aid from Iran as well; in March 2014, Israel intercepted the cargo ship Klos C off the coast of Sudan and found a variety of weapons believed to be headed for the Gaza Strip, including 40 M-302 rockets, 180 mortars, and approximately 400,000 rounds of ammunition. The weapons were hidden inside crates of cement labeled "Made in Iran."
CONCLUSION
The release of the State Department's annual Country Reports on Terrorism underscores the extent to which Iran and Hezbollah remained committed to supporting and engaging in international terrorism in 2014. That commitment has only increased in 2015, as evidenced by Treasury Department designations in February (against a Hezbollah support network in Africa), March (spurred by Hezbollah plots in Bulgaria, Cyprus, and Thailand), and June (against Hezbollah operatives and companies supporting terrorism in Lebanon and Iraq). Also in February, Iran's ambassador to Uruguay was deported after one of his diplomats was found loitering in a diplomatic vehicle near a very real-looking but fake bomb that police detonated remotely. Indeed, there is good reason why the State Department report notes right up front that ISIL and al-Qaeda "were far from the only serious threat that confronted the United States and its allies. Iran continued to sponsor terrorist groups around the world."
Matthew Levitt is the Fromer-Wexler Fellow and director of the Stein Program on Counterterrorism and Intelligence at The Washington Institute. Kelsey Segawa is a research assistant at the Institute.