The Danger of Violent Escalation in the West Bank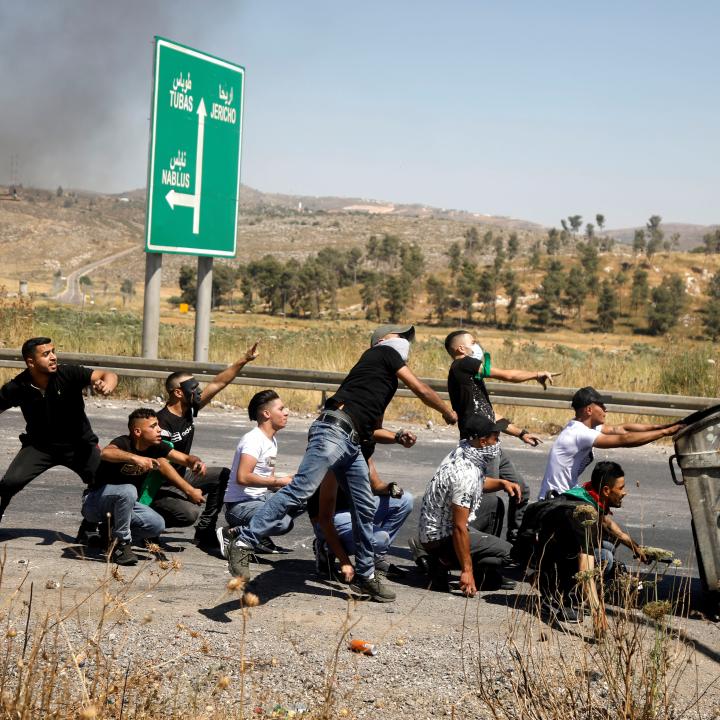 The West Bank is rapidly becoming Israel's most active front, with terrorist incidents increasing, extremist settler groups rampaging in response to the murder of Jews, and near-daily clashes becoming more intense as Israeli forces arrest armed youths planning further attacks.
West Bank violence is on the rise this year, and the numbers tell the grim story. Since January, 28 Israelis have lost their lives in terrorist attacks in the West Bank and East Jerusalem, and 137 Palestinians have been killed, including more than 20 unarmed civilians. Authorities have recorded 148 "critical" terrorist attacks—120 using firearms, and the rest involving explosives, stabbings, or car ramming (see chart). In addition, Israeli security services have foiled another 375 planned attacks during this period (300 involving firearms) and arrested more than 1,400 Palestinian suspects. Although attacks have not reached the levels seen during the second intifada (2000-04), the increase in recent months has been sharp and troubling.
Much of this escalation has been concentrated in the northern part of the West Bank, mainly Jenin and its refugee camp. It is also gradually spilling over to the old quarter of Nablus and villages in the Ramallah countryside. Southern parts of the West Bank have mostly stayed out of this cycle of fighting, but the relative calm there may not last.
In response to the mounting violence, Israel's tactics are expanding. On June 21, it deployed a drone to strike three terrorists who were considered ticking bombs on their way to mount an attack—the first time in two decades it has used such methods in the West Bank. For their part, Palestinian terrorist elements have improved the explosive charges they use against the Israeli military, and in many cases have mobilized dozens or even hundreds of gunmen to engage in battle after such attacks rather than fleeing as in the past. A June 19 confrontation in Jenin's refugee camp lasted seven hours after an Israeli Panther heavy armored vehicle was damaged by a powerful improvised mine similar to those frequently planted by Hezbollah in Lebanon. An Apache attack helicopter was rushed to the site to assist the withdrawal—a tactic rarely if ever used in the West Bank.
On top of this, Hamas and Palestinian Islamic Jihad—with generous funding and advice from Iran's Islamic Revolutionary Guard Corps-Qods Force and close cooperation with Hezbollah—are investing heavily in efforts to establish clandestine West Bank workshops for assembling rockets of the types manufactured in the Gaza Strip. The first attempt to fire such a rocket was detected early this month, and although the launch failed, the transfer of such know-how will continue in the long run, and the smuggling of light rockets across the Jordan River cannot be excluded. Even short-range rockets would constitute a direct threat to Israel's densely populated central region if placed in towns adjacent to the Green Line (e.g., Tulkarem).
Why Now?
The deteriorating security situation reflects a change in modus operandi by Hamas and other groups. They have largely (though not completely) abandoned their previous approach in the West Bank, which focused on establishing disciplined underground networks with chains of command and communication channels in order to set specific targets and timing for action. Apparently, they concluded that Israeli authorities found it easier to penetrate and dismantle such networks. Instead of trying to control operations from Gaza and Beirut—the main headquarters of the Hamas "West Bank Committees"—the policy now is to flood the area with weapons and funds, enabling local (not necessarily affiliated) groups to arm themselves and select targets.
Replacing hierarchical terrorist structures with this more chaotic landscape makes Israel's counterterrorism efforts much more complicated. Weapons are now reaching the West Bank via Jordan from as far away as Iraq, Lebanon, Syria, and Libya. Effective cooperation between Israeli and Jordanian forces has led to the capture of many such shipments, but the long border between the two states is far from sealed. Significant quantities of weapons are also stolen from Israeli bases and sold by criminal gangs.
These weapons and funds are eagerly received by the array of militant groups that have emerged within West Bank refugee camps and the poorer neighborhoods of numerous towns. These groups use different names in each locale and usually do not identify as branches of any larger movement. Their members include hundreds of young Palestinians who did not experience the defeat of Yasser Arafat's second intifada and hold no respect for the Palestinian Authority, widely perceiving it to be corrupt and coercive. They are also exposed to enormous amounts of anti-Israel propaganda and incitement combined with glorification of "resistance" and martyrdom. The majority of them are half-educated and employed on just a temporary or part-time basis in the stagnant Palestinian economy, and they are too young (under twenty-seven years old) to obtain work permits inside Israel.
Thus far, PA security agencies have been reluctant to enter the strongholds of these groups. In fact, the closest allies of President Mahmoud Abbas have repeatedly informed high-ranking U.S. officials that their units will not venture into "problematic" places such as Jenin, while the PA-appointed governor of that district, Akram Rajoub, has publicly praised local gunmen. In discussions with U.S. delegations, PA officials warn that Hamas-facilitated attacks and Israeli measures are dramatically weakening the PA's credibility and could spur its collapse. And while the PA has tacitly committed to intelligence sharing with Israel, formal security cooperation remains suspended. Notably, the ruling Fatah Party's assorted contenders to succeed the eighty-seven-year-old Abbas (e.g., Mahmoud al-Aloul, Jibril Rajoub) are quietly forming ties with various armed groups.
The PA is also upset by Egypt's initiative to broker a long-term armistice between Israel and Hamas—despite the fact that the proposals include an option to start extracting natural gas from the Gaza Marine field and split the revenue between the PA and Hamas. Abbas seems convinced that Hamas is bent on taking over the West Bank, and apparently believes the movement has avoided taking part in further Gaza clashes with Israel for this reason.
For its part, Israel's current "Full Right" government is exacerbating tensions by announcing plans to speed up construction of thousands of new houses in the West Bank. Controversial figures such as National Security Minister Itamar Ben-Gvir and Finance Minister Bezalel Smotrich (who also holds responsibility over settler issues in the Defense Ministry) have issued a stream of statements promising tougher policies toward the Palestinians and rejecting political compromise toward a two-state solution. Many in the PA and elsewhere believe that the recent drive for Israeli "judicial reform" is largely motivated by those coalition members who want to weaken the Supreme Court in order to facilitate their West Bank annexation plans. In the meantime, the government is not preventing settlers from returning to places evacuated under the 2005 disengagement law (e.g., seven new unauthorized outposts were established over the past ten days, and no action has been taken to evacuate them so far). The coalition has also failed to condemn or curb settler retaliation following Palestinian terrorist attacks.
The settler lobby and right-wing politicians are now pressuring the government to launch a new version of Operation Defensive Shield in the Jenin district and perhaps beyond, referring to Israel's 2002 military response to the second intifada. Yet the Israel Defense Forces General Staff believes a more modest approach—intensifying the current "mowing the lawn" tactics—would eventually put a lid on the boiling pot, while the Israeli Security Agency apparently leans toward a restricted operation to disarm Jenin. Of course, even limited operations could cause a flare-up on the Gaza front or the fragile Lebanese frontier, especially if they lead to Palestinian casualties. At any rate, local groups in Jenin are already preparing for a potential Israeli incursion by setting up ambushes, dispersing explosive charges, and establishing sniper positions.
Recommendations
In the immediate term, the best way for Israel to address the challenge posed by these new threat patterns is to improve its countermeasures and revive full-scale security and intelligence cooperation with the PA. Yet a longer-term remedy to prevent the West Bank from becoming the Wild West will require a solid plan to rescue the PA. Any Israeli, PA, and U.S. efforts to reach that goal and de-escalate the situation would be wise to incorporate the following principles:
Avoid a wide Israeli military operation in the West Bank. At present, less drastic methods for scaling down terrorist activity should be tested. For example, joint Israeli-PA efforts in Nablus earlier this year led to a deal for dismantling much of the local "Lion's Den" terrorist faction. Israel should also consider renewing the offer to drop gunmen from its wanted list and refrain from pursuing them if they turn themselves and their weapons in to the PA.
Encourage Abbas to appoint a new government. The United States and other donor countries seek to bolster the West Bank economy, build social services, and combat corruption, but forming a new government focused on those goals is the only way to achieve them. There is no other way for the PA to regain domestic credibility and respect. Steering financial resources away from the current patronage system and ever-expanding public sector is urgently needed to foster investment in projects that create more jobs.
Freeze settlements and restrain rogue elements. Israel should reciprocate any positive moves by the PA, in part by preventing rogue settler elements from inflaming tensions in the West Bank. The government should also accept some adjustments in its current financial arrangements with the PA. Although a change of attitude seems unlikely in the present Israeli coalition, restraint and dialogue with the PA remain indispensable.
Reform the PA's security agencies. For example, these agencies currently have more officer-level personnel than soldiers and policemen. Moreover, a large proportion of their 35,000 members are close to retirement age, and many serve on a half-time basis. New blood is urgently needed—particularly individuals who understand that stopping Israeli incursions requires Palestinian authorities to take responsibility for maintaining the peace themselves.
Ehud Yaari is the Lafer International Fellow with The Washington Institute.