COVID in the Middle East: Assessment on the Eve of Year Three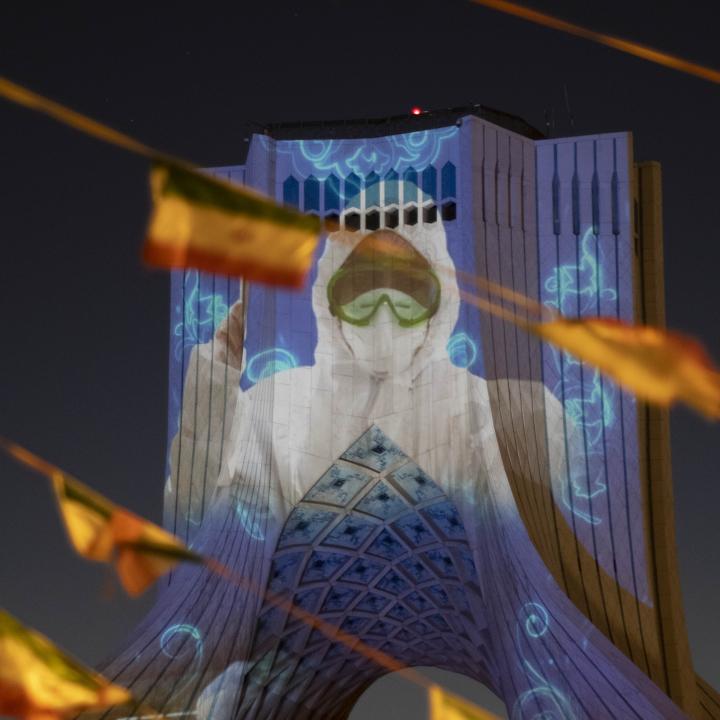 Leading public health experts take stock of the pandemic's regional outlook, discussing which approaches have been most effective in different jurisdictions while acknowledging the persistent limits of COVID data.
On February 28, The Washington Institute held a virtual Policy Forum with Sharon Alroy-Preis, Abraham Flaxman, and Kamiar Alaei. Dr. Alroy-Preis is the head of public health services at the Israeli Ministry of Health. Dr. Flaxman is an associate professor at the Institute for Health Metrics and Evaluation, based at the University of Washington. Dr. Alaei is an Iranian public health expert who led domestic HIV care and prevention efforts. The following is a rapporteur's summary of their remarks.
Sharon Alroy-Preis
One of the Israeli Health Ministry's primary goals is to track new COVID-19 variants of concern in realtime and prevent or at least delay their entry into the country. The ministry was reasonably successful at this with the Omicron variant. Health officials cannot stop a variant from entering forever, but they can buy time to conduct more vaccinations, distribute necessary medicine, and gather more information about the variant. All of Israel's lab testing is collected directly by the ministry, and this data is now tracked by vaccination status, so the data is very good in realtime. This in turn helps the government develop data-based policy responses.
Every individual who enters Israel from abroad is required to undergo a PCR test upon arrival. All positive results are sequenced so that variants can be spotted as early as possible. Officials also do contact tracing on variants of concern to break any chains of infections from the start. This is what Israel did with the fifth wave—closing its borders to countries with high infection rates while isolating infected individuals who had already entered.
One of the biggest challenges has been misinformation, which started before vaccines were available. Anti-mask advocacy was widespread, as was skepticism about whether the virus was very dangerous or even real. This problem grew worse once vaccinations began. The ministry is trying to address the issue by tracking social media, labeling misinformation when possible and explaining the real data and science.
Public trust in governance is important for an effective response to COVID, but simple pandemic fatigue poses a major challenge as well. The government can give certain recommendations, but people do not necessarily want to follow them a year or two later. Officials need to bear in mind what burdens and inconveniences people are willing to accept in the long term.
Looking forward, the biggest challenge is trying to translate the phrase "live with COVID" into sensible policies. Israel wants to keep things as open as possible, but it needs to be proactive with testing in order to know where it stands with the disease.
Abraham Flaxman
The Institute for Health Metrics and Evaluation (IHME) has been making projections about the spread of COVID for the past two years. As a result, it can now show how its models have evolved over six cycles, enabling experts to project global caseloads and see shifts over time.
In the near term, what happens in China will most likely have a huge influence on the pandemic's future in the rest of the world. The country's efforts to contain Omicron will be a particularly good global predictor.
Another major determinant is vaccination rates, which continue to be affected by supply-side and demand-side constraints. IHME data shows a wide range of vaccine demand globally, and these variations tend to correlate with trust in governance. In general, less trust in governance means less willingness to follow policies to reduce the spread of COVID, including mask mandates and other public health measures.
In the Middle East, IHME data indicates that 40 percent of the population in the World Health Organization's Eastern Mediterranean Region has received a full vaccine course. Combined with the number of people who have developed degrees of immunity through exposure, this means that around 60 percent of the region's population has some level of protection from Omicron—though that number will decline somewhat over time as immunity wanes. IHME also tracks the various public health measures being taken by different governments to evaluate which steps are most effective at limiting COVID's spread. This tracking indicates that mask mandates are an effective tool.
Regarding vaccine hesitancy, one should distinguish between misinformation and disinformation. The first is unintentional; the second is deliberate and nefarious. They are both huge problems, but they are not new problems. Because people have so many different reasons for vaccine hesitancy, efforts to track, analyze, and counter it need to be very specific, differentiating not just between countries, but between subgroups within a given country.
In general, it is shocking how little is known about vitally important COVID questions. For instance, much of the available data on mask-wearing has been obtained by just asking people—a method rife with biases. Triangulating between sources can help mitigate some biases and limitations, but the fact remains that the data is not entirely accurate. In certain places, for example, only one-third of COVID deaths are being counted as such.
Accordingly, governments and individuals should hope for the best but prepare for the worst. More cross-border cooperation and collaboration is needed—the disease does not care about where the borders are. People must also bear in mind that doctors, nurses, and hospitals are suffering from incredible strain.
Kamiar

Alaei
View Dr. Alaei's Presentation Slides
In Iran, the situation today is better than it was early in the pandemic, when the government politicized the health crisis. Unfortunately, the country's first cases occurred amid important domestic events, and officials were reluctant to acknowledge COVID's spread because they wanted people out in public showing their support for the government, not quarantining at home.
The leaders of the current government have instituted a policy shift since taking office last year. They understand that the previous government failed on the pandemic, and they want to show the public that they can do better. Officially, Iran has suffered 137,000 deaths and 7 million infections from COVID, but these figures are believed to be significantly underreported. The Omicron surge has been very large but relatively less deadly, and the government has been more transparent.
Throughout the pandemic, mistrust of the government has been more of a challenge in Iran than misinformation. The new administration took over at a time when the country was on a war footing against COVID, and trust in the Health Ministry had collapsed dramatically due to how officials handled the pandemic. Unlike other government failures, the spread of COVID was very obvious very quickly, so authorities were not able to cover it up. Whenever an official said "everything is fine" during a huge spike, the public knew it was false.
Regarding vaccines, the new government did not enthusiastically support them at first, and some ministers actually opposed vaccination. That stance has changed dramatically—75 percent of the country now has one dose, and 66 percent has two doses.
Ideally, the COVID challenge will spur more collaboration and dialogue in the Middle East. Lack of transparency and unequal access persist, but they are getting a little better. Hopefully, this improvement will continue.
Predicting the future of the pandemic is difficult, and medical experts do not know for certain what will happen with the next mutation. But officials have learned a lot during the crisis, and the need for countries to work together has become clearer than ever. Some countries have lots of resources but less collaboration. If one nation does well but its neighbors do not, then new mutations and other dangers could threaten them all. Shortening the response time to disease breakouts is also very important. One good example is Taiwan, where officials learned valuable lessons from the past spread of SARS, developed an effective, well-established system, and were therefore able to respond quickly to COVID.
This summary was prepared by Calvin Wilder. The Policy Forum series is made possible through the generosity of the Florence and Robert Kaufman Family.