The Coordination Framework's Four-Way Split in Provincial Elections (Part 2): Division Over Diyala?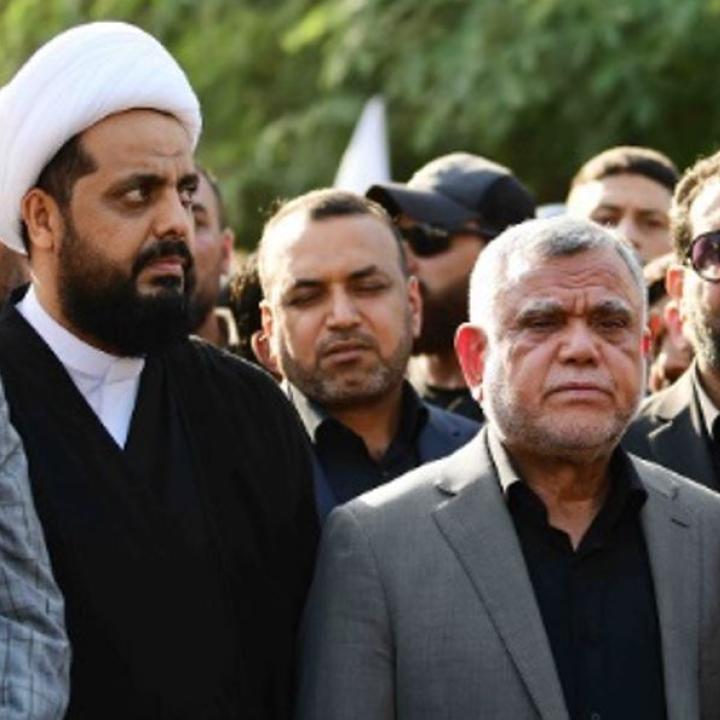 Diyala is the one area where the CF's main militia politicians are competing, with the upstart Qais al-Khazali trying to challenge his elders Hadi al-Ameri and Faleh al-Fayyad in their tribal home province.
As Part 1 of this analysis showed, Iraq's Coordination Framework (CF) has mostly held together as a single list in the northern provinces (i.e., the "colonies" that Iran-backed militias seized during the war against the Islamic State). This reflects the predominantly Shia CF's need to put its internecine rivalries aside in the face of Sunni, Kurdish, and Sadrist opposition. The exception to this rule is Diyala, where Qais al-Khazali, the head of Asaib Ahl al-Haq (AAH), will challenge Badr Organization leader Hadi al-Ameri and U.S.-designated human rights abuser Faleh al-Fayyad in their home province, which dominates the trade, smuggling, and pilgrimage routes from northern Iran. In practice, this means that the Badr/Fayyad and AAH wings of the list Tahalof Nabni (We Build Coalition) are scheduled to run separately for provincial council seats.
AAH's Sub-Coalition
Recently, a new sub-list led by AAH (a U.S.-designated Foreign Terrorist Organization) was established within the overarching Tahalof Nabni list. Called Tahalof al-Safwa al-Watani (National Elites Coalition), the new formation also includes the following groups:
Al-Muntaserun (The Victors), the political movement of Kataib Sayyid al-Shuhada (KSS).

Al-Sedq wal Atta (Honesty and Giving), led by 

Ahmed al-Asadi, Iraq's minister for labor and social affairs and the leader of Kataib Jund al-Imam, the 6th Brigade of the

Popular Mobilization Forces (PMF).

 

Harakat Iradah (The Will Movement) led by Hanan al-Fatlawi, a member of parliament. Fatlawi and her movement were previously part of Nouri al-Maliki's Itelaf Dawlat al-Qanun (State of Law Alliance), but she was expelled after she refused to follow Maliki's directive to support the presidential candidacy of Abdul Latif Rashid.
Uniquely, this sub-list will compete with Badr and Fayyad's parts of Tahalof Nabni in Diyala, something not seen in any other province. Not all of these factions will necessarily play an active role in contesting Diyala seats, but all of them have explicitly allied with Khazali's wing of the CF, signaling that they are closer to his leadership than to Badr's.
Badr's Electoral Team in Diyala
The remainder of Tahalof Nabni is not part of Khazali's sub-list and thus implicitly accepts Badr's leadership. This camp includes:
Harakat Ataa (The Giving Movement), led by Fayyad, who represents powerful tribal interests in Diyala (as does Ameri).

Harakat al-Jihad wa al-Bina (Jihad and Construction Movement), nominally led by Jawad al-Saedi. The group's actual top man is Hassan al-Sari

(full name Hassan Radi Kazem al-Sari), who leads Saraya al-Jihad (the PMF's 17th Brigade) and has been a key logistician under the command of Iran's Islamic Revolutionary Guard Corps-Qods Force since the early 2000s, providing lethal assistance to attacks on U.S. forces in Iraq.

Iqtidar Watan (Power of the Homeland) is led by Abdul Hussein Abtan, Iraq's former minister of youth and sports and a perennial candidate for prime minister. He used to be a member of the Islamic Supreme Council of Iraq (ISCI) and, later, Ammar al-Hakim's Hikma movement.

Al-Harakat al-Islamiya fil Iraq (Islamic Movement in Iraq), a group that is part of Tajamma Sanad (The Support Gathering) and led by Ahmed al-Asadi. This means that Asadi has kept one foot on both sides of the Nabni coalition.
Major Test of AAH Strength
In the past, Tahalof al-Fath (The Conquest Coalition) provided a wrapper in which AAH was willing to grow its power under the Badr Organization's nominal lead. In the 2021 general elections, AAH hoped to surpass Badr but failed. AAH may now be trying again, reflecting Qais al-Khazali's rising power and even-faster-rising ambition. Challenging Ameri and Fayyad in their tribal homelands may indicate overconfidence on his part; only time will tell.