Coordination Framework Militias Exposed for Stealing Baghdad Real Estate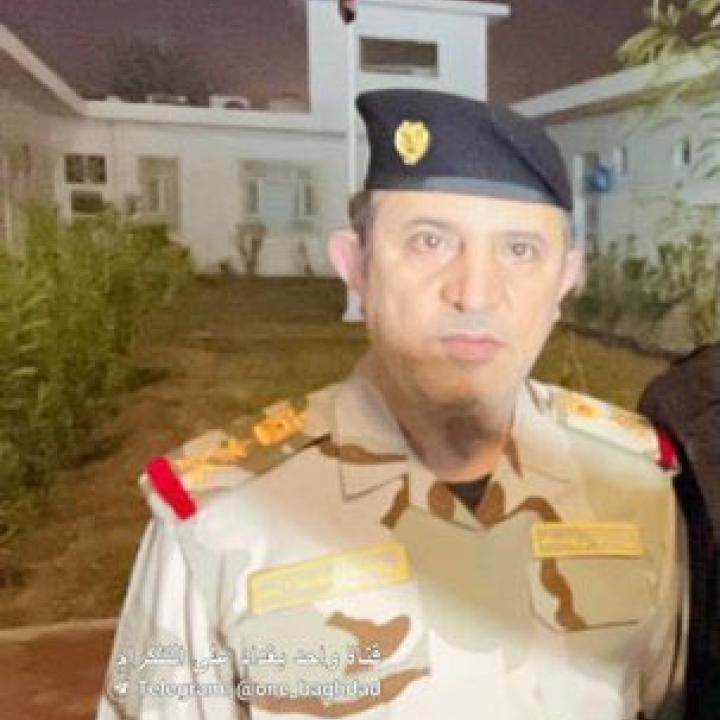 Pressure from Ayatollah Sistani and Sadrists has put Kataib Hezbollah and Asaib Ahl al-Haq on the defensive over their growing illicit property empire.
Recent moves by Grand Ayatollah Ali al-Sistani and actors from Iraq's Sadrist camp have put militia leaders under the spotlight, in this case because members of the Coordination Framework (CF), the top militia political alliance, have been engaging in rampant property theft. Controversial Sadrist politician Hakim al-Zamili—who, much like key militia figures, has been connected with serious human rights abuses in the past—visited the upmarket Jadriyah neighborhood of Baghdad on August 13, accompanied by a camera crew from al-Sharqiya TV (Figure 1). (The network previously aired a report on May 31, 2022, about Jadriyah properties being seized by CF-linked militias; see Figure 2.)
During the visit, a prominent elderly man from one of Jadriyah's oldest landowning families was filmed beating his head in despair and calling for Sistani's help on the issue. The man's family has long supported Sistani's foundations by providing khums (religious taxes) to them. On August 19, various Jadriyah theft victims were given an audience with Sistani (Figure 3), causing great embarrassment within major CF factions (e.g., Asaib Ahl al-Haq, the Badr Organization, Kataib Hezbollah) and among the inner circle of Prime Minister Mohammed Shia al-Sudani, whom the militias often call the "general manager" of their "resistance government."
On August 13, Hisham al-Rikabi, an advisor to the prime minister and media chief for Nouri al-Maliki's State of Law Alliance, announced that Sudani "has directed the Minister of Interior to investigate the case of violating people's lands in Jadriyah and ordered his office to communicate with the people who say their lands were violated.'' However, it was only on August 19—after the Sistani visit—that Sudani's office itself announced the formation of an investigation committee and directed the Central Court in Baghdad's Rusafa district to take legal action against those accused of property theft, some of whom were listed publicly when arrest warrants were released on August 29 (see below).
The accused include a number of figures tied to the aforementioned CF factions:
Safa al-Lami, brother-in-law and cousin to Kataib Hezbollah member Abu Zainab al-Lami 

(

real name Hussein Falah Aziz al-Lami), the head of the

Popular Mobilization Forces (PMF)

Central Security Directorate. On December 6, 2019, Abu Zainab

was designated by the United States for "serious human rights abuses" related to "the assassinations and suppression of protesters."
Salman Mohammed Hussein al-Helo, a Kataib Hezbollah member and PMF commander.
Waleed al-Kubaisi, Helo's property business partner.
Thaya Kareem Shahen al-Helfi, a Kataib Hezbollah member and PMF commander who works closely with Helo to intimidate Jadriyah locals into selling or surrendering their property.
Mohammed Hussein Ali al-Janabi, the property business partner for a smaller CF bloc.
Abbas Hamid al-Barzinji and Hussein Hamid al-Barzinji, two brothers who work for Abu Zainab al-

Lami.
Militia media channels were embarrassed by this revelation. On August 22, Asaib Ahl al-Haq's al-Ahd TV denied any threats or extortion in the Jadriyah area (Figure 4).
This was followed by a UTV segment on August 22 in which a self-described victim of property theft accused Safa a-Lami of threatening her on behalf of Helfi, using state-owned PMF vehicles and weapons to intimidate her into leaving her land. (Figure 5).
What appears to have happened is a rare moment of overlap between planned Sadrist attacks on the CF and Maliki's opportunistic effort to weaken the CF's main militias—whether in a bid to influence upcoming provincial elections or as part of mounting factional competition for spoils. Once Sistani got involved, the rest of the CF moved to scapegoat one player, Abu Zainab al-Lami, who has made too many enemies. Almost all the arrest warrants target Abu Zainab's network, including warrants that have not been revealed. Yet the reality is that Asaib Ahl al-Haq, Badr, and all the other CF militias have likewise received cuts of Jadriyah property thefts. As local residents know all too well, these thefts are a collective effort by the entire CF, not just Abu Zainab, Kataib Hezbollah, or other publicly accused players. The next big move will be the competition to replace Abu Zainab as head of the PMF Central Security Directorate.