Mainstreaming Hashd Commanders (Part 1): Advanced Education for Senior Militiamen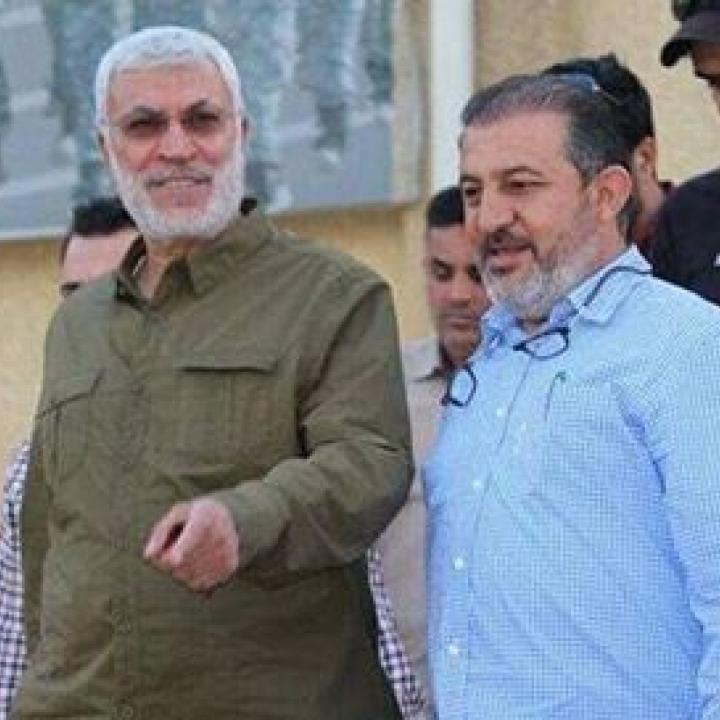 U.S.-designated terrorists and human rights abusers are beginning to receive senior ranks, staff college certification, and national security degrees at Iraqi and Arab military schools.
Since their inception in 2014, Iraq's al-Hashd al-Shabi (Popular Mobilization Forces or PMF) have lagged in the area of officer training and professional military education. This has been an important restraining factor on both the PMF's growth and the ability of individual commanders to legally receive command appointments for larger security formations that include non-PMF troops.
On July 1, 2019, Prime Ministerial Executive Order 237 (reproduced in full here) ordered the PMF's informal rank structure to be synchronized with that of the regular Iraqi security forces (ISF). Yet Articles 4, 6, and 9-20 of Iraq's Military Service and Retirement Law (Law Number 3 of 2010) established several rules that have limited the ability of PMF officers to formally progress in their careers.
Minimum educational standards are one barrier to promotion. Article 15 notes that ranks of "divisional commander and above" will only be considered if the candidate graduated from staff college, while Article 16 notes that lesser ranks must complete the requisite professional courses. Prime Ministerial Executive Order 85 ("Instructions on Hashd Fighters Affairs," March 7, 2018) sought to reverse this by giving PMF officers access to professional military education at staff colleges and academies, with allocations "to be determined in coordination with the Ministry of Defense" (the full order is translated here).
Professional Military Education for U.S.-Designated Persons
One of the earliest problems encountered in implementing Order 85 was how to offer professional military education to Hashd officers who are sanctioned by the United States or who would fail to pass human-rights vetting associated with the so-called "Leahy Laws" if they commanded ISF formations. The most prominent example is Kataib Hezbollah member Abu Zainab al-Lami, the head of the PMF Security Directorate, whose real name is Hussein Falah Aziz al-Lami. On December 6, 2019, Abu Zainab was designated by the United States for "serious human rights abuses" related to "the assassinations and suppression of protesters."
A fast-rising acolyte of the late militia leader Abu Mahdi al-Muhandis, Abu Zainab was sent for staff college training in 2020-21 to qualify for service as a "divisional commander and above." In order to avoid disrupting U.S., EU, and NATO support to Iraq's staff college, however, he was sent to staff college in Egypt instead. This January, he was promoted to the rank of staff lieutenant general, as was Abu Imtihan (Mohammed al-Hilfi), the PMF head of intelligence who is closely tied to Kataib Hezbollah and the Badr Organization (Figure 1). These two Hashd commanders now have the highest conventional military ranks in the PMF and are eligible to command Iraqi formations of divisional size and above.
NATO Photographed Alongside Human Rights Abusers
On February 11, 2023, the Iraqi Defense University for Higher Military Studies commemorated the start of the 26th War College Course for "selected Iraqi officers" for courses in operations and staff command. In the public photo of the class, three persons of interest were visible: U.S.-designated human rights abusers Laith al-Khazali (a member of the militia Asaib Ahl al-Haq and brother to its likewise designated leader, Qais al-Khazali) and Abu Zainab, plus Sami Massoudi, the deputy Hajj and Umrah commissioner and former aide to the late Iranian military commander Qasem Soleimani (Figure 2). NATO Training Mission officials are in the photo as well, which official NATO Twitter accounts publicized. Earlier, posts issued by muqawama (resistance) social media accounts on August 22, 2022, congratulated Khazali on receiving his PhD in political science from Baghdad University (Figure 3).
These trends all suggest that senior PMF officers and other pro-muqawama civilians are being qualified for senior command roles. This is in line with the September 17, 2019, Executive Order 331 (reproduced in Annex O here), the blueprint that Muhandis formulated for consolidating the PMF as Iraq's primary military force. In particular, PMF senior commanders are being groomed to command higher headquarters of the ISF, including non-PMF units, akin to the way officers in Iran's Islamic Revolutionary Guard Corps (IRGC) can control units of the regular Iranian army, navy, and air forces. Part 2 of this analysis expands on this theme by exploring this year's major expansion of PMF officer training and the potential for dedicated officer training facilities.