China's Middle East Policy: Speak Softly and Wave a Large Purse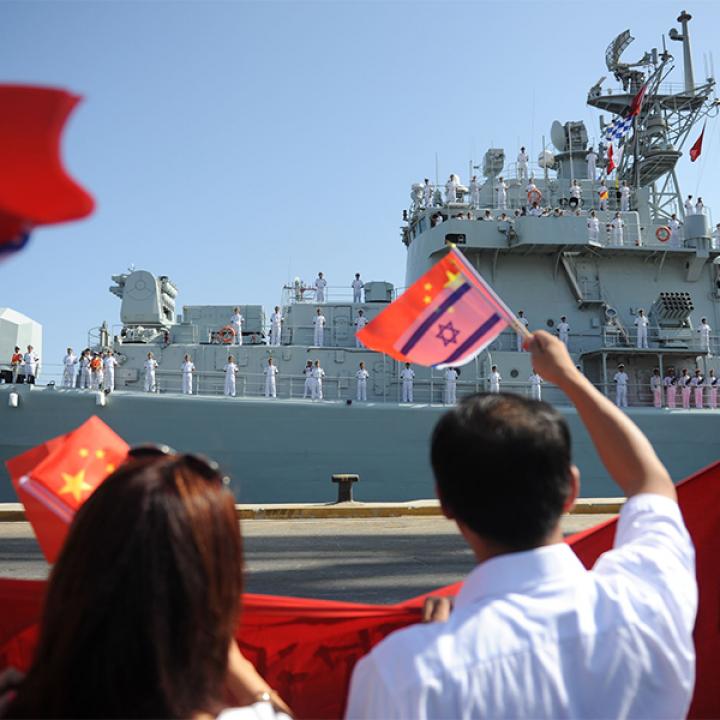 An Israeli analyst shares observations from an intensive round of discussions with senior Chinese military, diplomatic, and academic officials.
The Middle East is low on the list of China's global priorities, and this is unlikely to change in the foreseeable future. Yet "low priority" is a relative term when it comes to a global player with pockets as deep as Beijing's. True, the government's ambitious Belt and Road Initiative (BRI) largely skips the heartlands of what China calls "West Asia," focusing instead on establishing commercial land and sea routes to Europe via Central Asia, the Indian Ocean, and the Suez Canal. Even so, Chinese corporations—with full backing from Beijing—are investing tens of billions of dollars in infrastructure projects, acquisitions, and other initiatives in most countries of the Middle East.
The main issue for China these days is the trade war with the United States. Underneath the party line of "hitting back" at American pressure lies a growing concern that escalating tariffs will seriously damage the global economy, which could in turn harm China's GDP and domestic stability. Officials in Beijing are also closely monitoring attempts by other Asian powers to contain China's rapid rise, especially as Washington and other players cultivate the Indo-Pacific system of cooperation first proposed by Japan.
Against this backdrop, China measures its influence and presence in the Middle East mainly in terms of securing energy supplies, trade ties, and business benefits. Beijing is comfortable with its current policy of avoiding political involvement in the region's myriad disputes, and any isolated statements that run contrary to this posture—such as an ambassador's 2018 claim that his government would consider helping the Syrian regime fight rebels in Idlib—are abruptly dismissed. China likewise steers clear of taking sides in the Iran-Saudi Arabia showdown or intra-Arab disputes such as the Qatar embargo, preferring to deal with the Arab League as its main address for dialogue.
This includes consistently supporting the league's positions on the Israeli-Palestinian conflict. One of China's voting habits at the UN is to back all anti-Israel resolutions. Beijing is fully aware that Gulf governments are quietly pursuing cooperation with the Israeli government on several fronts, but as long as their formal public stance remains frosty, China will keep voting accordingly.
Recent deliberations with senior Chinese officials yield a number of other noteworthy conclusions:
China will continue to import Iranian oil. In doing so, it will try to bypass the Trump administration's sanctions without directly challenging or dismissing them. Yet even as it strives to cultivate cordial relations with the Islamic Republic, Beijing does not plan to rescue the regime from its financial distress or supply it with significant arms, although some Chinese officials seem very concerned about the possibility of a new deal between Washington and Iran. For its part, Tehran has no qualms about accepting India's help to develop Chabahar port as a competitor to the Chinese-built Gwadar port in Pakistan, one of the main links in the BRI.
China is not yet ready to consider major investment in Syria. Beijing is interested in the opportunities presented there but is in no hurry to explore them, despite repeated pleas from Russia to help with postwar reconstruction. China has established Syrian intelligence exchanges with Moscow and various Central Asian governments, but their main purpose is to monitor East Turkestan jihadists fighting there and detect any Uyghur Muslim militants attempting to return home to Xinjiang.
China is concerned about the Middle East Security Alliance. This ambitious U.S.-backed regional initiative has failed to take off thus far, and Egypt has already dropped out. Nevertheless, Chinese officials still fear the prospect of U.S. allies establishing joint, long-term military control over sea lanes stretching from the Suez Canal and Red Sea to the Indian Ocean—a key route in the strategic vision underlying the BRI. Accordingly, Beijing has focused on upgrading relations with Saudi Arabia and, to a lesser degree, the United Arab Emirates and other Gulf states. It also seems willing to provide Riyadh and the UAE with advanced missile technology and perhaps even nuclear know-how, and would not be deterred by protestations from Iran. Meanwhile, China has a small military base in Djibouti and is planning to establish a presence in the Omani port of Duqm. Yet officials are quick to emphasize that China does not need a military presence anywhere else in the region; to illustrate this point, they recounted how the government evacuated Chinese citizens from war-torn Libya rather than trying protect its substantial interests there.
China will continue handling Israel with caution. The United States casts a long shadow over Chinese relations with Israel. Washington has made clear on numerous occasions that it would like Jerusalem to keep its cooperation with Beijing lukewarm, and to restrict Chinese involvement in sensitive sectors of Israel's flourishing high-tech and cyber industries. Beijing is also well aware that no arms transactions can be contemplated, and it generally acknowledges that Israel has to take American reservations very earnestly—though officials are quick to point out that some of Washington's Arab allies have demonstrated greater flexibility with China.
Ultimately, Beijing shows no intention of revising its traditional diplomacy toward Israel or its unfavorable voting pattern in international forums. The Chinese are keenly interested in innovative Israeli technologies, but they do not believe that developing economic ties requires them to change their foreign policy. The Chinese government does not facilitate the entry of Israeli exports to China; mutual trade reached $14 billion last year, but most of the Israeli sales were made by Intel plants. Chinese companies have acquired some major Israeli firms (mainly in the chemical and dairy sectors) and won tenders to manage new sections of Haifa and Ashdod ports, but Israeli regulators have prevented their entry into the cyber and insurance sectors (the latter is significant because China has sought access to data about Israeli security personnel via pension programs). Finally, Chinese officials seem uninterested in developing a trade route through the Gulf of Aqaba to the port of Eilat with a railroad to the Mediterranean Sea, arguing that Egypt opposes any alternative commercial transport system to the Suez Canal.
Chinese investments in Egypt are growing rapidly. This includes infrastructure for the new capital city that the president has decided to establish outside Cairo. Beijing believes that Egypt's stability must be assured in order to achieve progress on the BRI, since the Suez Canal forms an essential link for container ships headed to Europe.
China does not want to get involved in the Palestinian Authority. Chinese officials made clear that they will not undertake any economic projects in the PA, and that their participation in financial aid efforts will be limited. More specifically, Beijing will not allow Chinese companies to operate across the Green Line, nor inside the Gaza Strip so long as Hamas is in control there.
Chinese analytical interest in the region is growing. Despite the relatively limited attention that Beijing devotes to "West Asia," the government will continue funding new think tanks and institutes to research the region. Similarly, Chinese universities have shown a marked increase in the number of students learning Arabic (though less so with Persian and Turkish).
In sum, China will keep treading cautiously in the Middle East, maintaining a low diplomatic profile and eschewing a military footprint while aggressively pursuing business opportunities—especially in infrastructure enterprises related to Saudi Arabia's "Vision 2030" and the energy sector. The region may not attract serious Chinese political and military involvement until after major BRI projects mature in Pakistan and Central Asia.
Ehud Yaari is a Lafer International Fellow with The Washington Institute and a veteran commentator for Israeli television. He recently visited China as a guest of the Sino-Israel Global Network & Academic Leadership (SIGNAL).