Biden Welcomes His First Arab Head of State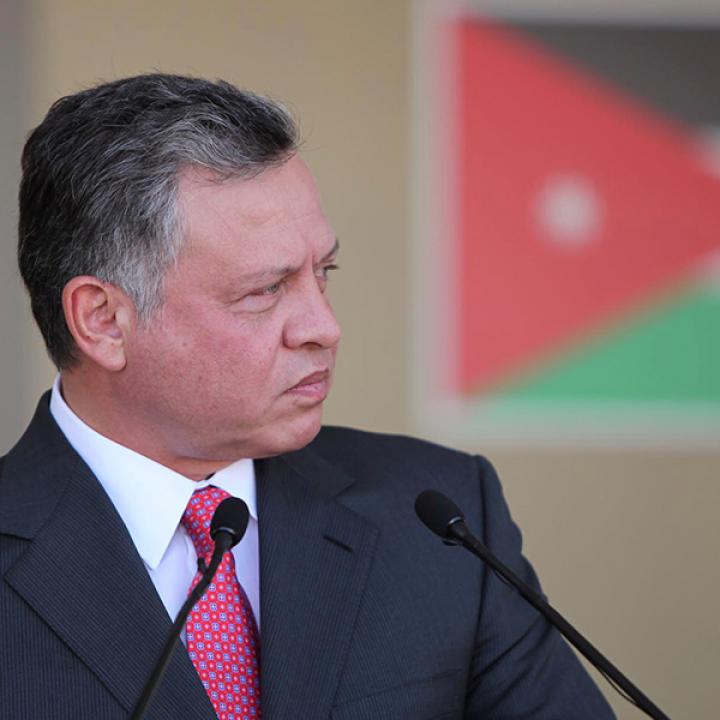 The visit will set the stage for future U.S. assistance negotiations and allow King Abdullah to express his views on Israeli-Palestinian diplomacy and other regional issues, while the White House can bolster the relationship and (quietly) push for achievable reforms.
The upcoming visit of Jordan's King Abdullah II—the first by an Arab head of state since President Biden took office—signals a return to Washington's traditionally robust relations with one of its closest Middle Eastern allies. For Amman, the trip falls during a time of acute domestic and external challenges, so the king will be raising a full menu of concrete issues.
A Challenging Context
Although Jordan just celebrated its centennial, defying countless predictions of its imminent demise, the kingdom is still navigating an unprecedented public rift in the royal family. On April 4, the government announced the discovery of a plot to destabilize the country, and Hamzah bin Hussein, the king's half-brother and former crown prince, was reportedly involved. The plot itself was contained—Hamzah swore fealty to the king, two of his accomplices were sentenced to fifteen years in prison, and no public unrest emerged from the incident (indeed, it may have served as a reminder to Jordanians of the cost of instability). Yet the crisis did highlight the extent of the kingdom's economic troubles and perceptions of corruption.
COVID-19 has hit Jordan's long-struggling economy especially hard. Unemployment reached nearly 25 percent at one point, including a staggering 50 percent youth unemployment. With assistance from the World Bank and other donors, Amman enacted social relief payments to ease the burden, but these steps are merely stopgaps.
Even before the pandemic, economic hardship had fueled periodic widespread protests, including a string of demonstrations that led to the prime minister's resignation in 2018. Cumulatively, these challenges have eroded public trust in the government, parliament, political parties, and other institutions. The notable exceptions to this are the monarchy, military, and security services, which continue to enjoy very high levels of public confidence according to a September 2020 poll.
Externally, Jordan is facing challenges on all of its borders. To the north, the Syria conflict has flooded the kingdom with refugees, cut off an important trade route, and threatened to bring Iran—directly or through its proxies—to its frontier. To the east, attempts to deepen relations with Iraq (whether bilaterally or through a trilateral process with Egypt) have produced diplomatic progress but little concrete economic dividends. To the west, a weak and fickle Palestinian Authority remains a source of concern, and relations with Israel's leadership were extremely negative under former prime minister Binyamin Netanyahu, causing civil and diplomatic affairs to suffer greatly (though security ties remained strong). And to the south, King Abdullah's relations with Saudi crown prince Muhammad bin Salman are tepid at best.
In Washington, the relationship with Amman showed signs of fraying under President Trump, though key aspects remained robust. The kingdom received at least $1.275 billion per year under a five-year memorandum of understanding (MOU) signed in 2018. The Trump administration also initiated a process that resulted in the two countries signing a Defense Cooperation Agreement this January, allowing them to coordinate more closely on the security front and enabling the U.S. military to move certain regional assets to Jordan. Even so, Jordanian officials reportedly felt sidelined by the administration's wider Middle East policy, including its 2020 Israeli-Palestinian peace plan (which minimized Jordan's role on Jerusalem) and its policy toward Syria. Amman was also concerned that the visible lack of bilateral warmth would signal a weakening of U.S. support and embolden external meddling and domestic unrest.
Ensuring a Productive Visit
In contrast to the unease during Trump's tenure, Amman has exhibited tremendous relief during the early stages of the Biden administration, in part due to the king's personal ties with the new president and many of his senior officials. In the midst of the Hamzah affair, Biden's early call to the king sent an important signal of U.S. support, especially as speculation of a foreign element to the plot ran amok.
Regionally, the Palestinian issue will figure high on the king's agenda during his visit, which will include a July 19 trip to the White House. Although there is no expectation of a full-fledged return to the peace process, the king will seek affirmation of Washington's commitment to the two-state solution and Jordan's special status in Jerusalem—both of which fit the Biden administration's approach to the conflict.
Further, Israel's new prime minister Naftali Bennett and foreign minister Yair Lapid have placed early emphasis on revitalizing the relationship with Amman. On July 8, Lapid and Jordanian foreign minister Ayman Safadi signed an important deal that will increase water sales to the kingdom (after the collapse of the long-negotiated Red Sea-Dead Sea Conveyance Project) and expand Jordanian trade to the West Bank. The United States should applaud this momentum and encourage other areas of cooperation, including healthcare, energy, the environment, and grassroots initiatives.
Bilaterally, discussions will focus on the broad contours of U.S. assistance and renewing the MOU, set to expire after this fiscal year. The United States is by far Jordan's largest bilateral donor, especially since aid from its traditional Gulf partners started drying up last decade. The comprehensive package of U.S. assistance supports the kingdom's budget, military, and development activities. Moreover, the MOU has greatly increased the balance of economic assistance versus military assistance, such that the ratio was more than two to one in fiscal year 2020.
When the Biden administration issued its so-called "skinny budget" request, it pledged to "fully fund key allies in the Middle East including Israel and Jordan." In actuality, however, the proposed budget called for decreasing Amman's economic support funds by almost $100 million (or 16 percent) and its foreign military financing by $75 million (or 18 percent), though Congress will likely increase the administration's request as it has in the past. King Abdullah does not personally negotiate dollar amounts on such matters, but his visits to the White House and Congress will no doubt set the stage for future negotiations over the assistance budget and the next MOU.
Under the Trump administration, the vast majority of economic support funds ($746 million over the past three years) came in the form of direct budget support. Few countries have received support in this manner over the past decade, and none to the extent of Jordan. Although this practice demonstrates confidence in Amman to manage assistance in a way that best fits its most pressing needs, providing cash grants may limit Washington's leverage to encourage reform, in contrast to the prerequisites mandated by large-scale aid programs from international financial institutions. The Biden administration must decide whether to sustain this practice or link significant budgetary support to more specific reform commitments.
The need for political and economic reform is no secret, as the king himself often acknowledges. On June 10, he formed a national committee to look into some facets of political reform, such as transforming the electoral system and advancing decentralization. Yet despite being politically and geographically representative, the committee was met with widespread public skepticism, pointing again to the worrisome loss of confidence in national institutions.
Those types of issues may be too sensitive for Washington to probe deeply, but other aspects are appropriate for discussion, particularly matters related to the economy, public sector performance, and corruption. The administration could also mention Jordan's downgraded standing in Freedom House's latest annual report, encouraging the king to restore the country's previous level of press freedom. Economically, U.S. officials could offer helpful messages on several fronts: reinforcing the need for action in sectors that the IMF and other authorities have identified as obstacles to advancing private-sector growth; committing to help American companies invest in Jordan's market; and offering to use diplomatic influence with Gulf states to enable the return or expansion of Jordanian workers (whose numbers have been curtailed due to COVID and economic nationalization initiatives, particularly in Saudi Arabia). Yet care should be taken to ensure that calls for improvement on various fronts, while firm, remain private and focused on achievable goals.
Of course, one visit cannot address the totality of U.S.-Jordanian issues. Yet restoring the relationship to its traditional strength will itself bolster Jordan's stability, both by sending an unmistakable signal of U.S. support and by creating a fruitful environment to advance the extensive bilateral agenda.
Ghaith al-Omari is a senior fellow at The Washington Institute and a former lecturer on international law in Jordan. Ben Fishman is a senior fellow at the Institute and former director for Jordan at the National Security Council.