Bahrain's Ban on Main Opposition Prompts U.S. Policy Dilemma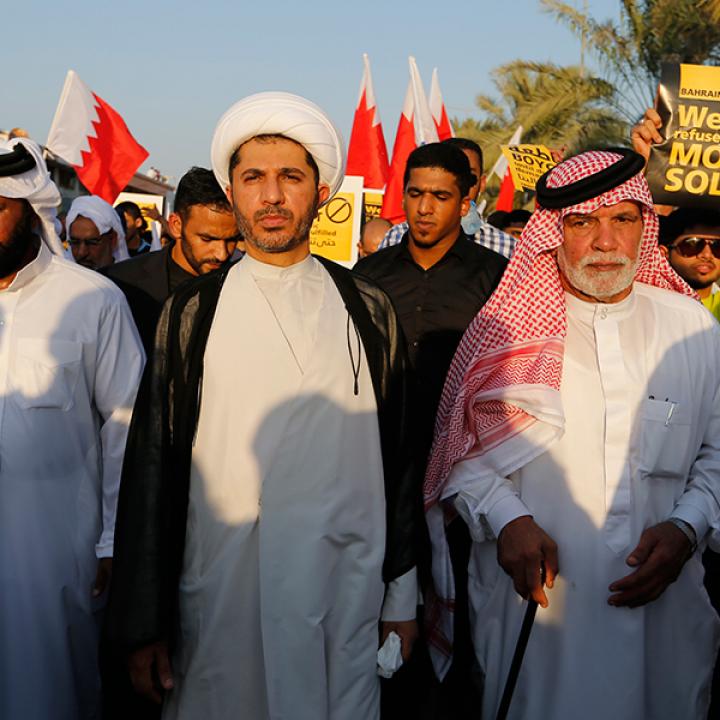 Washington faces a stark choice between pressing for political reconciliation or jeopardizing the anti-ISIS coalition and access to important military facilities.
Earlier today, a Bahraini court suspended the activities of the island's main Shiite opposition group, al-Wefaq, for three months. The decision comes just weeks before the November 22 parliamentary elections -- although al-Wefaq is not, strictly speaking, a political party, it had already announced a boycott of the polls to protest the lack of progress in political reform talks with the Sunni-led government and the unilateral redistricting of constituencies.
By apparent coincidence, Gen. John Allen, the U.S. Special Presidential Envoy for the Global Coalition to Counter ISIL (a.k.a. the Islamic State/ISIS), was on the island today for meetings with the Bahraini foreign minister and the commander of the Bahrain Defense Force (BDF), which has been contributing F-16s for strikes against the jihadist group in Syria. Allen was accompanied by Vice Admiral John Miller, commander of the Bahrain-headquartered U.S. Fifth Fleet -- a force that includes the aircraft carrier from which strikes against ISIS have been launched, as well as ships that have been firing cruise missiles at ISIS targets.
Ever since the government clampdown on protestors in 2011 and the subsequent mass resignation of al-Wefaq parliamentarians, Washington has attempted to foster political reconciliation on the island. Yet its efforts have been hampered by hardliners in the Sunni ruling family, who believe the majority Shiite population is sympathetic to Iran and are reluctant to countenance concessions toward them. Today's court decision was on a suit filed by the government this summer, after U.S. assistant secretary of state for democracy, human rights, and labor Tom Malinowski irritated King Hamad by meeting with al-Wefaq members before he met with government officials during a July visit to Bahrain. Malinowski was expelled from the island, prompting a diplomatic crisis. Although a reconciliation of sorts was achieved when he met with the Bahraini foreign minister in New York last month, his return visit to the island, planned for last week, never happened.
Currently, BDF commander Sheikh Khalifa bin Ahmed al-Khalifa and other royal hardliners appear to have outmaneuvered Washington by marginalizing not only al-Wefaq, but also ruling family members who support reform, such as Crown Prince Salman, the king's American-educated eldest son. Of additional concern is that Bahrain appears to be signaling that it wants to put distance into its previously close alliance with Washington. Two weeks ago, for example, King Hamad met with President Vladimir Putin in the Russian resort city of Sochi, and just today, Bahrain's national airline began a new service to Moscow.
For its part, al-Wefaq called today's decision "irrational and irresponsible" and vowed to "continue in its struggle for democratic transition and justice." The group is now said to be hoping for diplomatic intervention by international stakeholders such as the United States and former colonial power Britain in order to prevent further government action. Despite the ban, al-Wefaq still plans to conduct internal leadership elections in early December, including for its top post of secretary-general currently held by Sheikh Ali Salman, who is despised by the royal hardliners.
Although Washington's top priority at the moment is ISIS, it should also take time to remind the Bahraini government that excluding al-Wefaq from the political process risks bolstering other, more militant Shiite groups. These groups have already concluded that political progress within the current system is impossible and have been supporting violent protests on the island for some time. Bahrain's neighbor and ally, Saudi Arabia, needs to understand the same message in regard to its own Shiite community. Finally, U.S. officials may need to explain that any attempt by Bahrain to withdraw its public commitment to the anti-ISIS coalition would reflect poorly on its diplomatic stature.
Simon Henderson is the Baker Fellow and director of the Gulf and Energy Policy Program at The Washington Institute.