From Arabs and Israelis, Biden Hears Very Different "New" Middle Easts
Also published in
Haaretz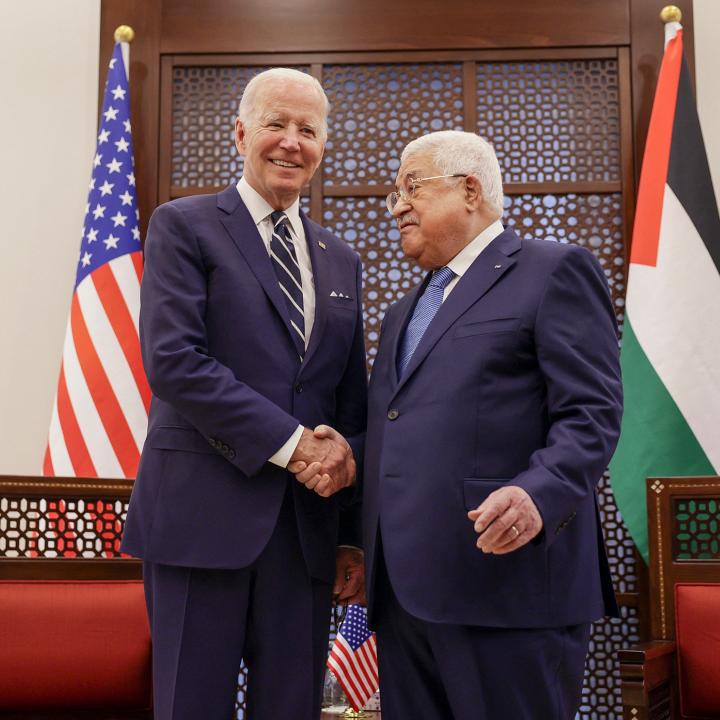 The Gulf capitals and Jerusalem may not agree entirely on what "regional security cooperation" means or what an anti-Iran alliance should look like, but opportunities for other types of cooperation abound.
There is no doubt that Arabs and Israel are hoping for very different things from President Biden's trip to the Mideast. Israel's wishes for the Biden visit are straightforward. It wants Biden's life-long commitment to Israel put on display, to serve as a reminder to countries in the region and to doubters in the U.S. not to question the vibrancy of the U.S.-Israel relationship.
Of course, Israel would like to see the U.S. reassess the scope of the Iran nuclear negotiations amid the impasse in those talks, yet having pressed the point repeatedly over the last year and half, it is hard to believe the effort will succeed. In the most immediate sense, Israel is looking to Biden to take first steps on the way to normalization with Riyadh.
Senior Arab officials suggest they want something very basic. They want to know the U.S. is not leaving the Mideast and that the region remains vital to American national security. Every day they hear U.S. politicians talking about "energy independence," and they interpret it to mean the Mideast is not a tier one issue anymore for Washington. The U.S. is more focused on the three C's—China, Covid and Climate, plus now Ukraine.
Pentagon officials are emphatic in telling Arab officials that U.S. troop levels in the Mideast have been consistent for many years and that the U.S. is not deprioritizing the region. But Arab officials do not believe them. Will the Arab states believe it when the U.S. president publicly declares America's commitment to the Mideast during his trip, as is expected? Favorable Arab reaction is not assured.
Israel sees Biden's public talk of Israel's "regional integration" as a cause that will keep the U.S. focused on the region, thereby pushing back on this Arab narrative that the U.S. is losing interest in the Mideast. This is in parallel to the deep desire of Israel to draw closer to Saudi Arabia, thereby changing the Middle East equation against the destabilizing force of Iran and its proxies.
For Israel, both its regional and bilateral interests mutually reinforce the establishment of a broad de facto—if not de jure—alliance against Iran in the region. When Israeli officials say they want the U.S. to lead in forming a new regional architecture, at the top of this list—of course, not exclusively—they mean security cooperation.
Specifically, Israel's inclusion in CENTCOM along with Arabs (and Pakistanis) provides an opportunity to talk about something that may have been seen as fantasy in the past: Israelis and Arabs starting to share common intelligence, cyber capabilities and radar of incoming rocket and drone attacks launched by Iran and its proxies.
Such cooperation led by CENTCOM is important and should send a suitably pointed message of regional resolve to Tehran. Clearly, it is true that almost all of the U.S.' allies in the region want a strong U.S. willing to exact a price from Iran for its destabilizing efforts.
However, there is loose talk in Israel calling for a Mideast NATO. Some in the Knesset think this should be declared right now to stop Iran. These calls are detached from regional sensitivities and what can be achieved now thanks to CENTCOM. Moreover, U.S. officials are privately doubting that, on this trip, Biden will explicitly and very publicly tout a common "air defense" against rockets and drones as has been announced by Israeli officials.
Yes, Israel in CENTCOM creates new realities for Arabs and Israelis sharing vital information that includes air defense. However, U.S. officials say some Arab states are queasy about the optics of anything that could be seen by Iran as engaging in an alliance dedicated to confront it. Those states feel uniquely vulnerable given their close proximity to Iran.
During a visit to Abu Dhabi, Emirati officials told me it is easier for Israel to talk about these things given its military strength and distance. But any Iranian-Israeli confrontation could leave them far more vulnerable if they are viewed as closely allied to Israel, given that they are on Iran's doorstep.
The UAE does not want to be viewed as the tip of the Israeli spear. It is no coincidence that while Defense Minister Benny Gantz has had other public visits to Abraham Accords countries like Morocco and Bahrain, he has not, at least not publicly, visited the Emirates.
It is safe to assume that Arabs and Israelis gain from the new CENTCOM arrangement, but there are limits to any multilateral format. It is easier for some of the Gulf states to cooperate bilaterally with Israel rather than join a formalized multilateral structure, given the depths of distrust between Gulf Arab states themselves.
Anything shared too publicly will become known to and potentially weaponized by their rivals. Some worry the UAE will remain suspicious of its rival Qatar, for example, believing Doha could share information with destabilizing states, even Iran. Israeli security officials say the bilateral sharing will be more the norm, and some of what has been touted as multilateral harmony will not advance as dramatically.
Bilateral security ties have benefits. When Abu Dhabi was attacked by Houthi rockets, Israel quietly provided military assistance. It is results and not process that counts.
So when both Arabs and Israelis talk about the need for regional architecture, it is possible that they are talking about different things. Israel's focus on Iran means more focus on security multilateralism, while the Arab states could be focused on more economic mechanisms, like free trade, that could bring American and other investors.
Actually, the Negev Summit that new Prime Minister Yair Lapid hosted in the spring, which was attended by Arab foreign ministers, fits this bill very well as it focused largely on civilian issues such as health, energy, education, water and food security. The latter is an issue that is bound to be a central focus of Biden's trip in light of the shortages of wheat in the Arab world due to the war in the Ukraine. New normalizers are creating political space for old normalizers, as Abu Dhabi has backed Jordan's plans for a massive solar farm that will provide electricity to its neighbors as Israel provides desalinated water.
All this is a reminder that it is more than just Iran that is bringing Arab governments closer to Israel. Rather it is also because the Gulf states see oil as becoming less important and they think that Israel can help them digitize and diversify their economies in a post-oil age.
The success of the U.S. when dealing with big enemies, like it did during the Cold War, was that it understood that security relationships with Europe could not stand alone and needed to be complemented by a myriad of trade and economic institutions. This should be a lesson for Israel. Whatever reticence the Arab governments feel about publicly declaring their fealty to region-wide security relationships with Israel, they are more open to the economic benefits they can accrue from closer ties with Jerusalem. This is a great opportunity.
It is a sign of the times that much of the work for these links comes from the Mideast itself; it is not a purely "Made in America" approach. The U.S. can encourage, but knows it does not have to dictate. This type of burden-sharing within the Mideast is something that gives hope it will be sustainable over time since it is rooted in Arab and Israeli self-interest.
This fact is one of the best hopes that Biden's trip is not a one-time experience, but may lead him to believe that something is actually moving in the Mideast. This could only be helpful for a Biden administration weighing the scope of its future commitment to the Mideast.
David Makovsky is the Ziegler Distinguished Fellow at The Washington Institute and director of its Koret Project on Arab-Israel Relations. This article was originally published on the Haaretz website.