Algeria's Growing Security Problems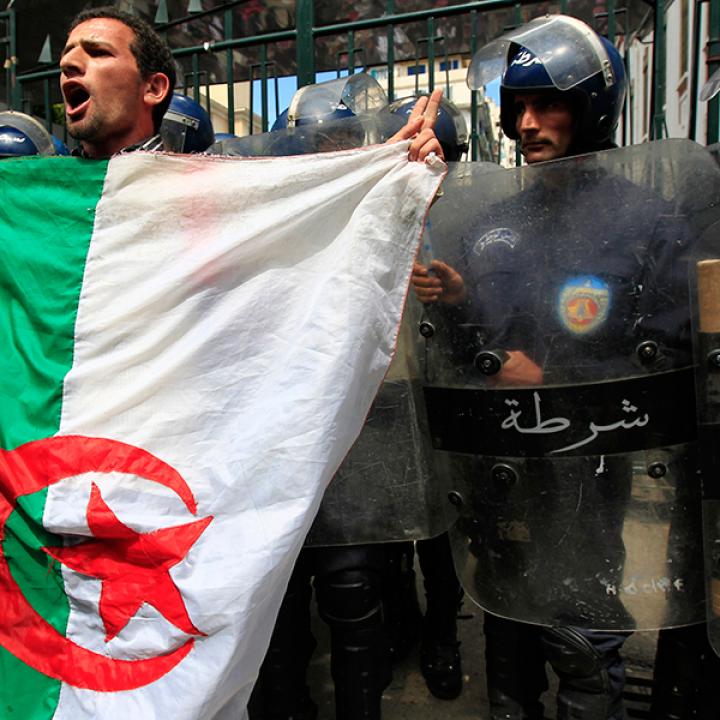 By encouraging Algiers to develop a more comprehensive approach to the persistent extremist threat in the south and east, Washington can also help manage the crises in Libya and Mali.
In recent months, terrorism has frequently dominated news coverage of Egypt, Libya, and Tunisia. Developments in neighboring Algeria, which remains largely closed to international media, have been less visible, but the upcoming May 4 legislative elections in Africa's largest country will occur against a backdrop of growing security problems. Although Algiers is trying to encourage a disillusioned, restive population to get out and vote, the recent uptick in terrorist activity may complicate matters. In the east, terrorists have launched a spate of attacks, most notably a February 26 suicide bombing outside a police station in Constantine. And in the south, where the population has thus far not been seduced by jihadist ideology, Islamist terrorist networks are nevertheless making inroads due to economic opportunism. While U.S. ties with Algeria are not especially close, there is much the Trump administration can do to help maintain the relative stability of one of the few North African states that has largely avoided the ongoing regional tumult.
AN OUTDATED APPROACH
In 2005, Algiers adopted the Charter for Peace and National Reconciliation, a political roadmap intended to close the chapter on the decade-long civil war between Islamist insurgents and the state. That conflict, which broke out in 1991, ultimately claimed over 100,000 lives. By 2002, most of the Islamist insurgents had been killed, exiled, or reintegrated into society. But the victory was in many ways pyrrhic, with some extremists going underground and eventually forming al-Qaeda in the Islamic Maghreb (AQIM).
For its part, the state was long divided between the conciliateurs, who wanted to negotiate a resolution to the conflict, and the eradicateurs, who preferred to annihilate the Islamists. Notwithstanding President Abdelaziz Bouteflika's conciliatory efforts, the eradicateur camp still dominates Algerian military and counterterrorism policy. Accordingly, the state continues to treat Islamist violence as an extension of the 1990s conflict, leading authorities to narrowly focus on eliminating residual domestic threats in a piecemeal, ad hoc manner. "Countering violent extremism" is largely treated as a military endeavor, while terrorism remains a persistent problem.
JIHADIST RECRUITMENT
Despite the military's successes on the battlefield, Algeria's terrorism problem seems to be worsening. In the 1990s, jihadists proved their ability to exploit the country's many marginalized communities. In neighboring Mali and Niger, jihadism has often gained a foothold via opportunism rather than religion or ideology, with terrorist groups recruiting and profiteering through smuggling, kidnapping, and other modes of income in the absence of conventional economic prospects. Unemployment, disenchantment, and lack of opportunity have all helped AQIM and its numerous splinters thrive, while bad governance and corruption have made local communities and even police complicit in their smuggling networks.
The Algerian south is vulnerable to such opportunism. Historically, extremists had little influence there because the local population feared they would threaten the area's already limited tourist traffic or harm its oil and natural gas economies. Southerners were also spiritually averse to jihadist discourse. More recently, however, terrorist groups have been taking up causes of import to southerners, adopting anti-state rhetoric identical to that of various popular movements. For example, AQIM and similar elements have promoted themselves as guardians of local hydrocarbon resources by supporting grassroots anti-fracking movements around Ain Salah.
At the same time, jihadist contraband networks provide economic alternatives for disaffected young people, as well as political alternatives when peaceful protest and social organizing prove fruitless. An oft-cited example is that of Lamine Bencheneb, a member of the initially nonviolent Abna al-Sahra (Sons of Sahara) Movement, which demanded redress for the high levels of unemployment in the southern oil/gas zones. First ignored, and eventually repressed, the group resorted to violence, carrying out an attack in the southeastern Illizi province in 2007. The state subsequently assured local leaders it would address their demands, but in 2011, Bencheneb defected to form the Sons of Sahara for Islamic Justice Movement (MSJI), which carried out a 2012 suicide attack on the national police headquarters. He was later killed when security forces responded to a 2013 hostage incident at the In Amenas gas facility, where thirty-nine foreigners also perished.
ALGERIA'S RETICENCE
Amid such developments, the Algerian establishment seems to understand that it must move beyond purely military and criminal approaches to the radicalization problem in order to preempt unrest. In the south in particular, local dynamics and developmental deficiencies are key vulnerabilities that require a more comprehensive approach -- one that accounts for the area's understandable political and economic grievances. Yet the state does not yet appear to have adopted such a holistic approach.
This hesitance may be rooted in Algeria's gradually declining oil revenues, shrinking foreign exchange reserves, and looming austerity measures, all of which fuel instability and make it more difficult to invest in the south's development. The country is open to economic diversification, but this will take time. A more comprehensive political opening is also viewed with trepidation -- the state worries that such measures would threaten its entrenched interests, while the public still fears the unknown. Rumors of a fifth term for the octogenarian Bouteflika, who is widely believed to be infirm or incapacitated, suggest the government is on autopilot. Despite Algeria's problems, the state is lukewarm to assistance from U.S., European, or even international organizations, holding fast to its policies of military nonintervention, rigid national sovereignty, and, at times, economic nationalism as staples of its postcolonial legitimacy.
U.S. POLICY OPTIONS
Despite some promising counterterrorism cooperation since 9/11, U.S. relations with Algiers are not particularly robust. Yet the Trump administration has several options for helping the country ameliorate its problems with radicalization and terrorism. One important avenue for such engagement is Flintlock, the annual three-week military exercise organized by U.S. Africa Command (AFRICOM) and involving sixteen regional states. The event is designed to augment interoperability between U.S., European, and African partners by empowering local units to conduct counterterrorism and counterinsurgency operations. In this sense, Flintlock is a mechanism that allows for multilateral training of Algerian forces without stirring the country's concerns over sovereignty.
While the framework is good, however, Flintlock is not a cumulative exercise that builds on previous work with the same units. Accordingly, some officials in AFRICOM and elsewhere suggest moving from an episodic three-week rendezvous to more thorough, sustained engagement that enhances civil-military relations and builds much-needed capacity among local allies. To this end, the United States should consider negotiating an add-on component to the joint military exercises. For example, in Mali, where Flintlock's "train and equip" model was also deemed unsustainable, AFRICOM now gives greater attention to infrastructure issues and medical aid under its Medical Civil Action Program (MEDCAP).
Washington would have ample leverage in negotiating such arrangements with the Algerian government, which has its own strong interest in protecting the vulnerable southern provinces. More broadly, U.S. officials have reportedly had greater success engaging the younger generation of Algerian military and intelligence officers in recent years. The "Bilateral Dialogue Between the United States and Algeria on Security and the Fight Against Terrorism" (not to be confused with the broader "Strategic Dialogues") presents another opportunity to press the government for more mutually beneficial cooperation. Concluding earlier this month, the fourth annual dialogue focused on regional security threats, crises in the Levant, violent extremist groups, organized crime, and the challenges of combating terrorism.
In terms of economic support, Washington already has programs in place to help Algeria. The State Department's Middle East Partnership Initiative and a handful of U.S.-funded NGOs have been providing educational opportunities in the south, setting up unemployment/career centers and facilitating cultural exchanges between northern and southern youths. Although increasing the funding for such efforts may not be feasible in light of the administration's stated desired to reduce the State Department budget, cutting these productive programs would be unwise.
Given the deteriorating situations on its southern and eastern borders, an unstable Algeria would be detrimental to U.S. interests. Algiers plays an important intermediary role in Mali, remains an ally in the UN-led Libya peace process, and helps train the Tunisian military to defend against an increasingly pernicious terrorism threat. Algeria has too much promise -- and too much at stake -- for Washington to disengage.
Vish Sakthivel is an adjunct fellow with The Washington Institute and a Fox Fellow at the Foreign Policy Research Institute. She is writing her dissertation on Islamism in Algeria, where she recently lived for a year.