Yemen's "Southern Hezbollah" Celebrates Coup Anniversary in Deadly Fashion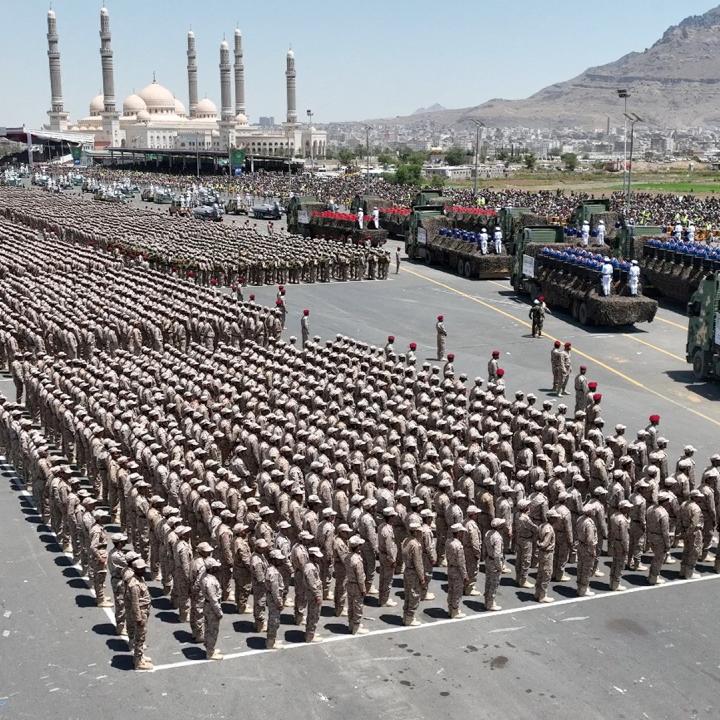 Ending the war and facilitating other U.S.-Saudi diplomatic tracks is crucial, but neither goal will be served by turning a blind eye to the Houthis' latest jumps in militarization.
On September 25, a Houthi drone attack on the Saudi side of the border with Yemen killed two Bahraini servicemen operating there as part of the Saudi-led coalition. A third soldier died from his wounds two days later. In addition to outraging Bahrain, the attack violated a ceasefire that has more or less held since August 2022 despite periodic Houthi drone and ground attacks.
Notably, the incident came just days after the Iran-backed Houthis staged a large-scale military display in Sanaa to celebrate the ninth anniversary of their 2014 coup against the UN-recognized government. The September 21 show of strength included their first flight demonstration of a restored fighter jet, as well as new Iranian-designed ballistic missiles that were constructed despite a UN arms embargo and are claimed to be capable of reaching as far as Israel.
These developments serve as a warning that the Houthis are building up their strength for additional probes of Yemeni and Gulf resolve at the exact moment that the United States, Europe, Saudi Arabia, and the United Arab Emirates are pressuring the remnants of the UN-backed government to make peace on terms dictated by the Houthis. The international desire for peace at all costs—while understandable—must be balanced with a willingness to deter and, if need be, contain future Houthi aggression.
Houthi Military-Technical Achievements
Although the flashy appearance of a 1970s-era F-5 fighter flying over Sanaa may have grabbed eyeballs, the true headline of last week's military display was the implied increase in Houthi missile range and accuracy. All the visible evidence indicates an uptick in Iranian involvement toward the ultimate goal of bringing the group's capabilities at least on par with those of Lebanese Hezbollah rather than a lower-tier proxy (though the Lebanese group tends to be more cautious about displaying some of its systems, likely due to fear of Israeli interdiction).
New medium-range ballistic missile.

Well before the Houthi coup, Yemen was known to have purchased Scud-type Hwasong-5 and -6 missiles from North Korea between 1999 and 2002, in a secret deal exposed in December 2002 after a U.S.-Spanish naval group seized and later released a North Korean cargo ship carrying fifteen missiles, fuel, and warheads for Yemen. Yet the country was never known to purchase larger, longer-range Hwasong-7/Nodong-1 missiles—the same type paraded by the Houthis last week under the name Toophan (Storm), sporting a triconic warhead section reminiscent of Iran's Ghadr ballistic missiles, which have a range of 2,000 km and are derived from the Hwasong-7/Shahab-3. A Shahab-3 engine was also displayed, perhaps to prove that the Houthi missile was not a mock-up. If launched from relatively secure cave shelters near Sanaa, this weapon could technically reach southern and even central Israel.

Other missiles.

Also on display were a wide selection of shorter-range (250-700 km) solid-propellant missiles. The Karrar appears to be a locally manufactured version of Iran's Fateh-110, while the Tankil (Ravager) stems from Iran's Khalij-e Fars (300 km), with a shorter and probably wider body to improve flight characteristics and therefore accuracy.

Sea denial systems.

The parade included two other siblings of Iran's Khalij-e Fars electro-optically-guided antiship ballistic missile—the Asef (300 km range) and Falaq (200 km)—with imaging nose seekers in their nose that enable them to track a moving maritime target in its terminal phase. Also on display were a range of lower-tier but important Qods cruise missiles of the type fielded by Iran's Islamic Revolutionary Guard Corps (IRGC), as well as al-Mandab-1 antiship missiles (a copy of the Chinese C-801) and various sea mines and explosive drone boats, all of which fill out the Houthis' antiaccess/area-denial (A2AD) capability in the strategic Bab al-Mandab Strait.
Indoctrinating a New Generation of Fighters
The parade also attempted to impress adversaries with a show of manpower. The Houthi-controlled SABA news agency claimed that "around 35,000 from various military formations participated in the military parade, from the war and naval colleges, the aviation college, the air force, land and navy, air and coastal defense, special forces, military police, and al-Fath brigades" (the latter being a newer body with no pre-Houthi history). Indeed, the Houthis are militarizing the population on a scale hitherto unseen in Yemen, which hardly suggests a readiness to accept peace.
General Mobilization Authority (GMA)

. This new arm of the Defense Ministry has mobilized an estimated 130,000 recruits from the poorer segments of society, for whom even the minimal salary of around $30 per month is preferable to complete poverty.

The Houthi Jihad Preparation Official

(aka the Official of the Central Committee for Recruitment and Mobilization). This post operates under the GMA's formal cover and is held by GMA chief Abdul Rahim al-Humran. Under his direction, various Houthi governorate supervisors, "neighborhood affairs managers," and "neighborhood sheikhs" comb households for military-age males and maintain an updated military human resources system.

Houthi Basij Logistics and Support Brigades.

This is a parallel mobilization reserve force run by the Jihad Preparation Official and akin to Iran's Basij forces. These brigades are being developed by Qasim al-Humran (aka Abu Kawthar), who previously oversaw the Ministry of Youth and Sports.

Child soldiers.

As analyst Gregory Johnsen

recently noted

, "it is the Houthis who are—by far—the biggest producers of child soldiers in Yemen." Citing the UN Panel of Experts on Yemen, he wrote that even during the ceasefire, the Houthis have continued "with the indoctrination, recruitment and, in some instances, military training of children," using tools such as militarized summer camps, popular radio chants, and textbooks and public posters that glamorize child "martyrs."
In other words, the Houthis are replicating IRGC and Hezbollah methods of militarizing their society and creating the infrastructure for permanent mobilization. More than ever, the Houthi military is an ideologically brainwashed force: its "Spiritual Guidance Department" has now been active for almost a decade, and its younger soldiers were just small children when the Houthis seized Sanaa in 2014. Many likely cannot remember a time before Houthi propaganda, which to this day is headlined by the slogan "Death to America, Death to Israel, Curse the Jews, Victory to Islam." Tellingly, this slogan was printed on the side of the aging, U.S.-made Yemeni jet that the Houthis flew over their parade, one of many weapons systems bearing those words.
Implications for U.S. Policy
Ending the Yemen war is important to U.S. policymakers, not just to stop a destructive conflict, but also to remove a major bilateral complication at a moment when Washington and Riyadh are discussing the potential conditions for an Israeli normalization deal and deeper U.S.-Saudi defense commitments. If a more comprehensive and binding bilateral security agreement emerges, the United States and Saudi Arabia must both be prepared to develop a broad deterrent and threat reduction strategy that can prevent further expansion of Houthi missile, drone, antishipping, and ground warfare capabilities.
In addition to ensuring a fair peace deal in Yemen, this means taking concrete steps to enforce the UN arms embargo and prevent destabilizing shifts in the military balance of power that could restart the war. These include:
Enhancing maritime intercept operations.

Now that the Houthis are claiming to field a medium-range ballistic missile capable of reaching Israel, authorities must contend with the likelihood that guidance systems, engines, and large liquid-fuel tanks are still being transferred to them despite the embargo. Yet any estimate of Houthi missile capability and sustainability will depend on what percentage of those weapons are produced in Yemen.

Sanctioning Houthi leaders

for a wider range of violations, from missile/drone proliferation to "jihad preparation" efforts and the mobilization of child soldiers.

Sharing U.S. intelligence with Israel

in support of efforts to diminish any long-range missile capabilities in Houthi-held Yemen. For instance, industrial sabotage operations could target materiel such as liquid-fuel systems and storage, while other efforts could focus on Iranian and Hezbollah missile technicians.

Seeking a UN block on direct air freight and passenger flights

between Yemen and Lebanon, Iran, Syria, and Iraq.
Michael Knights is the Bernstein Fellow at The Washington Institute and cofounder of its Militia Spotlight platform. Farzin Nadimi is a senior fellow with the Institute, specializing in the military and security affairs of the Persian Gulf region.