Would Russia Ever Help Syria Break Away From Iranian Influence?
Also published in
19FortyFive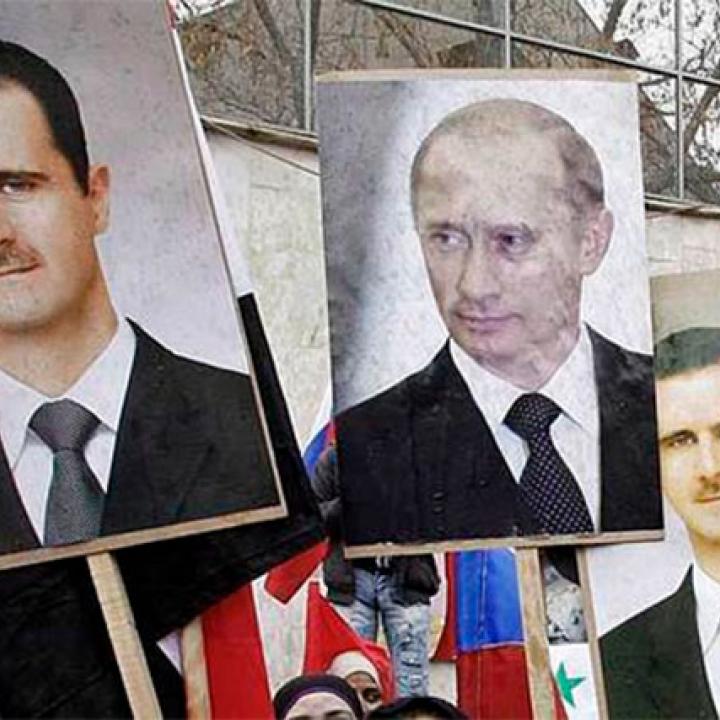 Israel seems to hope that differences between Moscow and Tehran will emerge with greater clarity as the fighting ends, but this view reflects wishful thinking more than reality.
During the Syrian Civil War, President Bashar al-Assad relied on assistance from Russia, Iran, and Hezbollah to shore up his regime. Today, it is clear they largely won. As Assad reconsolidates control over Syria, many in Israel hope that Syria might extricate itself from Iranian influence. Is this realistic?
Iran's nuclear and broader regional hegemonic activities remain a priority for both the US and Israel. Israeli Defense Minister Benny Gantz emphasized the need to halt Iranian aggression during his latest meeting with Secretary of State Antony Blinken and Defense Secretary Lloyd Austin on December 9. In both Jerusalem and Washington, many hope that Russia might push Assad away from Iran in order to solidify its own interests.
Specifically, Israeli officials believe Russia can help deter Iranian aggression by limiting the forces Tehran deploys in Syria. Most recently, former national security advisor Meir Ben-Shabbat said, "[T]here is a shared view between us and the Russians, beyond what's publicly exposed...The Russians are striving for regional stability, particularly in Syria. I believe they would agree that Iran is the force challenging that stability."
This belief originates in Moscow's Syria intervention in September 2015. Once Russia entered the Syrian theater, Moscow took control of Syrian skies and the Israel Defense Forces (IDF) often had to forewarn if not seek Russia's permission to conduct airstrikes against Iran-backed targets in Syria. Israeli officials interpreted Russia's willingness to allow such strikes as a sign that Moscow favors Jerusalem's concerns over Tehran's interests in Syria.
Israeli officials may be misunderstanding Moscow's motivations, however. Moscow accepted Israeli strikes not out of sympathy but rather because it has a genuine interest to ensure that no actor in Syria becomes powerful enough to challenge Russia. The Israeli strikes were simply useful to keep Iranian ambitions in check.
The Israeli leadership has often read too much into this. Moscow's actions showed repeatedly that Russia had neither the ability nor desire to limit Iranian-backed forces in Syria. First, neither Putin nor other senior Russian officials have given any public indication that they will limit Iranian forces in Syria. Second, in private, Russian analysts close to the Kremlin tend to speak with admiration and respect about Iran and Persian civilization, an attitude they do not extend to Arab states with the exception perhaps of Egypt. Third, Russia's entire Syria intervention depended on Iran doing the heavy lifting. This is a major component of how Putin kept the Russian intervention limited and inexpensive. Fourth, Russia-Iran convergence to stymie American influence allowed both to put tactical differences aside. Finally, such attitudes misread the fact that when Russian officials demand foreign forces leave Syria, they consider both the Russian and Iranian presence legitimate based on Assad's invitation.
Israeli officials have yet to spell out how precisely Russia will limit Iran-backed forces in Syria in a meaningful way. It is one thing to look the other way at Israeli airstrikes despite Moscow's pro forma condemnation; it is another to commit military forces to limit them. There is no indication Putin wants to risk a clash with Iran.
The hope that differences between Russia and Iran will emerge with greater clarity as fighting ends is misplaced and reflects wishful thinking more than reality. Putin repeatedly shows that he prefers to compartmentalize and work with all actors, even when they have conflicting interests. This certainly has been the case with Russia's relationship with Turkey. Iranian tentacles are entrenched too deep in Syria, and Assad owes not only Putin but also Tehran his survival. Putin has no mechanism to disentangle Iran from Syria in a way that makes a real difference. Assad is as likely if not more inclined to keep Russian engagement in Syria limited and confined to Kremlin's narrow interests. It is understandable that, from the perspective of the Israeli government, it is better to have Russia in Syria than Iran, but the fact of the matter is, Russia and Iran are integral parts of the same strategic set.
Anna Borshchevskaya is a senior fellow at The Washington Institute and author of the new book Putin's War in Syria: Russian Foreign Policy and the Price of America's Absence. This article was originally published on the 19FortyFive website.