Will Turkey Ratify Sweden and Finland's NATO Accession?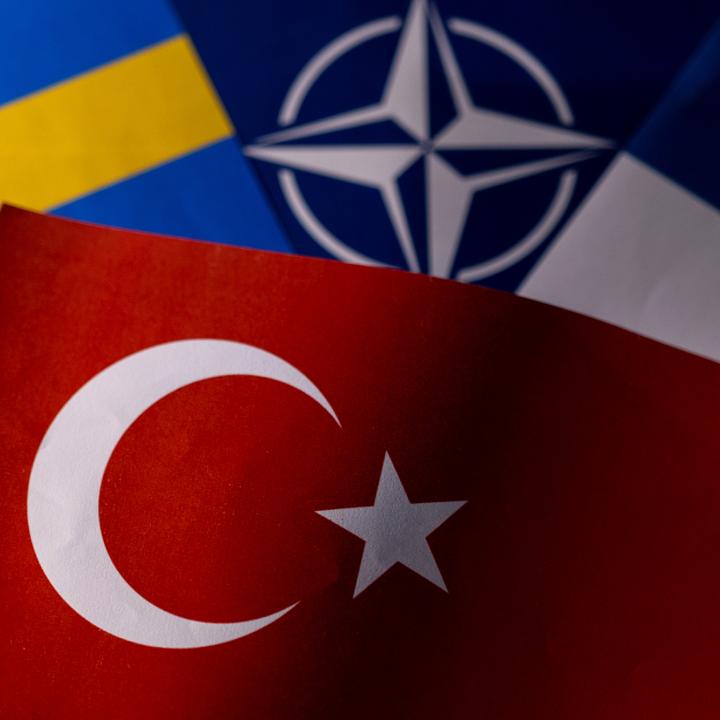 Although Ankara will likely approve the Nordic expansion down the road, hurdles remain for Sweden, and Russia may play the spoiler's role unless Washington facilitates the process.
The Russian invasion of Ukraine in February 2022 pushed Sweden and Finland—two countries that historically have been militarily non-aligned—to seek NATO membership in May. The NATO member with the most concerns about their accession has been Turkey. Ankara cites what it considers their lax attitude toward three entities: the Kurdistan Workers Party (PKK), designated as a terrorist organization by NATO members, including the United States; the Democratic Union Party (PYD), the PKK's Syrian offshoot; and FETO (Ankara's name for the Fethullah Gulen movement).
While twenty-eight of the thirty NATO members have ratified Sweden and Finland's accession, Turkey and Hungary have so far held out. European officials appear relatively sure that Hungary's legislature will eventually assent, leaving Turkey—and, in particular, President Recep Tayyip Erdogan, whose blessing will be required for the Turkish legislature to act—the chief obstacle in the path of NATO's historic Nordic expansion. This has left Swedish, Finnish, NATO, and U.S. officials scrambling to understand and satisfy Ankara's demands in time for NATO's July 2023 summit.
What Turkey Wants in Return
Top Turkish, Swedish, and Finnish diplomats signed a trilateral memorandum in June during the Madrid NATO summit to address Turkish concerns. In the memorandum, Sweden and Finland pledge not to provide support to the PYD or its military branch, the People's Defense Units (YPG), or FETO, and reaffirm that they consider the PKK a terrorist organization. In addition, they affirm that they are strengthening their national laws against terrorism and public incitement, and that they do not have any arms embargoes against Turkey and will freely export arms to NATO partners. Furthermore, the memorandum commits Sweden and Finland to the following steps:
establishing a "joint, structured dialogue and cooperation mechanism" for counterterrorism and counter-organized crime cooperation;

fighting terrorism in accordance with NATO policy and strengthening their domestic legislation as needed to this end;

considering Turkey's pending deportation requests and establishing "necessary bilateral legal frameworks" to facilitate extradition;

investigating and halting PKK financing and recruitment activities;

fighting disinformation that benefits terrorist groups;

ensuring that no regulatory obstacles prevent them from exporting arms to Turkey or other NATO allies;

supporting Turkey's involvement in the EU's Common Security and Defense Policy and participation in the EU's Permanent Structured Cooperation (PESCO) project on military mobility.
Despite the three parties' agreement on these points, questions remain regarding how far Helsinki and Stockholm must go—or are willing to go—in order to satisfy Turkey's president. While Erdogan has signaled that Ankara is content with the progress made by Finland, which has few Kurdish citizens or ties to Kurdish groups, Turkish-Swedish negotiations have been more fraught. Sweden has a sizeable Kurdish diaspora, constituting around 1 percent of its population of nearly ten million citizens, and has historically had a broad view of free speech protections, both of which complicate any effort to satisfy Turkish expectations. In addition, Swedish NGOs are known to engage with the PYD/YPG, and left-wing parties in Sweden have traditionally had the support of those Kurdish voters who sympathize with various Kurdish movements.
Following Sweden's September 11 election and the formation of a new right-wing government, some reports have suggested that Ankara finally believes Stockholm is making progress toward satisfying its demands. Nevertheless, Turkey's parliament is unlikely to put Swedish NATO accession to a ratification vote until (1) Sweden's new counterterrorism law goes into effect in early 2023; (2) Sweden increases cooperation with Turkey regarding the PKK, such as by obstructing the organization's fundraising ability on its soil; (3) Stockholm demonstrates how far it is willing to go to enforce the anti-incitement provisions of the Madrid memorandum (e.g., by cracking down on the display of PKK flags and other symbols at demonstrations or limiting pro-PKK rallies); and (4) Stockholm and Ankara reach agreement on any individuals to be deported to Turkey.
Other Factors
Three other factors loom large in Ankara's decisionmaking on NATO accession:
The proposed F-16 sale.

Both Turkish elites and the wider population attach great importance to Ankara's request for new F-16 fighter jets from Washington to upgrade the country's existing fleet, but the sale remains stalled for now. Erdogan may view his ability to veto NATO enlargement as leverage to ensure the purchase goes through.

Relations with Russia.

President Vladimir Putin may seek to prevent or delay Ankara's approval of NATO enlargement through steps such as providing generous loans and large financial flows to Turkey, whose economy has been suffering from high inflation (currently over 80 percent) for nearly a year now. Some analysts expected the country's economy to collapse before this past summer, but that did not happen thanks in large part to financial assistance from Russia—including a lump-sum wire transfer of $5 billion for construction of the Akkuyu nuclear power station in southern Turkey, which is being built by Russia's Rosatom. Russian cash has trickled down across the country, providing a sense of relief, allowing Turkish banks to roll over foreign debt, and subsequently preventing an economic meltdown. Similar cash injections providing an economic lifeline in the coming months could influence Erdogan.

Turkish elections.

According to the Turkish constitution, the country's next parliamentary and presidential elections have to be held together before June 18, 2023. However, analysts agree that Erdogan may opt for snap elections in mid-May—specifically on May 14, the anniversary of Turkey's first free and fair elections in 1950—casting himself as the representative of the common voter against undemocratic forces. Erdogan is aware that Turkey and Europe enjoy a love-hate relationship. He is also aware that businesses loyal to him control around 90 percent of the Turkish media, so he can spin any Swedish concessions to Ankara—such as potential extraditions, Stockholm's disengaging from the PYD/YPG, or the new Swedish counterterrorism law that is resulting in crackdowns on PKK networks in Sweden—as a personal diplomatic victory and an emotional vindication for the historical Ottoman defeat at Vienna. Such a victory narrative would certainly boost Erdogan's popularity in the polls. In order to achieve the maximum political boost, he may prefer to delay a vote on Nordic accession until a few weeks before the elections.
Conclusion
Sweden and Finland's decision to seek NATO membership represents a major change in national security strategy for both countries, precipitated by Russia's brazen invasion of Ukraine. Yet in taking steps to deter Russia, Stockholm and Helsinki have perhaps unexpectedly found themselves in a delicate diplomatic dance with Turkey, a NATO gatekeeper for both capitals. Securing Ankara's assent to their membership will require a shift in mindset, since members of an alliance like NATO must take their allies' perceived threats seriously and coordinate closely to address them. It will also require a heightened sensitivity to Ankara and Erdogan's concerns, especially in the run-up to Turkish elections in May and the NATO summit in July.
The effort invested will be worthwhile, however, since the need for close Nordic-Turkish cooperation against Moscow will not dissipate when Sweden and Finland become NATO members. In fact, Turkey and Sweden are historical allies against Russia, including through coordinated military campaigns stretching back to the eighteenth century, when the Ottomans gave asylum to Sweden's King Charles XII after he lost his army in war with Russia.
Washington will likely prefer to steer clear of Swedish-Finnish-Turkish negotiations, aware that freighting these talks with the baggage of the U.S.-Turkish relationship is unlikely to make them easier. Nevertheless, there are several steps the Biden administration can take that may prove helpful:
Provide advice to Stockholm and Helsinki for dealing with Ankara on matters of counterterrorism and arms exports.

Urge Helsinki to continue navigating the membership process together with Stockholm, largely in order to disabuse Ankara of its recently floated notion that it can ratify Finnish membership while withholding a decision on Sweden's, thus prolonging the process and extending Turkish leverage.

Privately make clear to Turkey that failure to ratify Finnish and Swedish membership in a timely manner will complicate U.S.-Turkish relations.

Ensure that the U.S. F-16 sale proceeds in advance of next year's Turkish elections. If necessary, the White House could send the sale request to Congress and force a vote, in which case the only way legislators could block it would be if both chambers vote against it—something that has not happened in recent memory when the executive and legislative branches interact on foreign arms sales.
Soner Cagaptay is the Beyer Family Fellow and director of the Turkish Research Program at The Washington Institute, and author of A Sultan in Autumn: Erdogan Faces Turkey's Uncontainable Forces. Michael Singh is the Institute's managing director and Lane-Swig Senior Fellow, and interim head of its Diane and Guilford Glazer Foundation Program on Great Power Competition and the Middle East. Sude Akgundogdu is a research assistant in the Institute's Turkish Research Program.