Why a Houthi Leader Is Buried in Hezbollah's Cemetery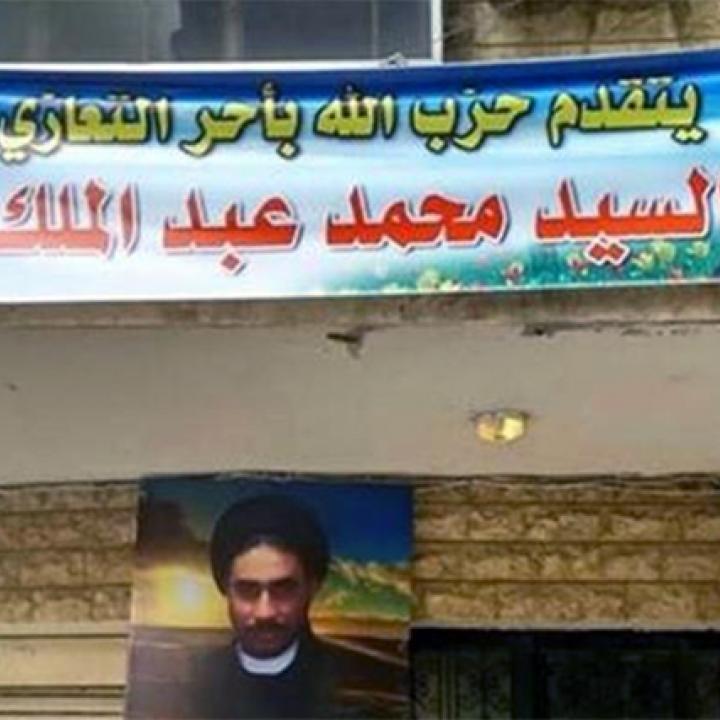 Mohammed Abdel Malik al-Shami's life and death highlight the ongoing challenge posed by Iran's destabilizing posture throughout the region, including in Yemen.
Last week, a senior Yemeni Houthi official was buried in Beirut. Mohammed Abdel Malik al-Shami, the spiritual leader of the Houthis, had been critically wounded in the March 20 Islamic State suicide bombing of Al Hashahush mosque in Sanaa. He was airlifted to Tehran for medical treatment, but eventually succumbed to his injuries. On April 13, Shami was interred at Hezbollah's heroes graveyard in Dahyia, where he will spend eternity in the company of erstwhile military commander Imad Mugniyeh and Hadi Nasrallah, the slain son of the organization's secretary general.
At first glance, Shami's journey from Yemen to the Lebanese Shiite militia's equivalent of Arlington National Cemetery would seem odd. While the Houthis are Zaydi Muslims -- a nominally Shiite branch of Islam -- Lebanon is far from home, and unlike Najaf and Karbala, Iraq, Beirut has little religious burial appeal for Shiites. But to Hezbollah and Iran, Shami was a towering figure, deserving in death of a spot among the pantheon of Shiite martyrs serving the theocratic regime in Tehran.
Shami's life and death highlight the ongoing challenge posed by the aggressive and destabilizing regional posture of Iran. The problems for Washington -- and its local Sunni allies in the Middle East -- are likely to be exacerbated should the nuclear deal be concluded.
In many ways, Shami's story is the archetype for Iranian-style regional "resistance." It all started seventeen years ago when Shami moved to Syria to study at one of Iranian Supreme Leader Ayatollah Khameini's religious schools. On his return to Yemen, he joined Ansar Allah, the Houthi militia, eventually rising to prominence as the Houthi leader's special envoy to Iran, Lebanon, Syria, and Iraq.
According to press reports, Shami's mission was to proselytize with an eye toward establishing a Shiite state in Yemen. To this end, he established a university of Shiite jurisprudence in Sanaa, and special Shiite elementary schools throughout Yemen affiliated with Lebanon's Mustafa schools. The Lebanese schools were founded in 1974 by Naim Qassem, Hezbollah's current deputy secretary general.
But Shami and the Houthis' ties with Hezbollah and Iran extended well beyond education. Although Zaydis, who comprise about 35 percent of Yemenis, are quite different from Shiites -- many scholars say they are closer to Sunni Muslims in doctrine and practice -- the Houthis identify closely with, and openly declare their allegiance to the clerical establishment in Iran. Houthis call their philosophy "pure Shia," and the group's clerics have compared their leader Hussein al-Houthi to Hezbollah Secretary General Hassan Nasrallah.
In 2009, the Houthis launched an offensive against Saudi Arabia, seizing a parcel of the kingdom's territory. At the time, press reports -- and Yemeni officials -- indicated that "high ranking officials" from Iran's Revolutionary Guard Corps and Hezbollah advisers were helping the Houthis coordinate military operations. Then-CENTCOM Commander Gen. David Petraeus also suggested an Iranian role in the conflict.
However, the Obama administration was reluctant to condemn the increasingly apparent and pernicious role of Iran and Hezbollah in Yemen. Amidst tense nuclear negotiations with Tehran, the White House was hesitant to underscore Tehran's destabilizing initiatives around the region. Gen. James Mattis, who headed CENTCOM from 2010-2013, reportedly advocated for a more robust U.S. strategy to counter Iran's inroads into Yemen, but his views gained little traction.
Now that Iranian assistance has helped the Houthis conquer Sanaa, sack the provisional capital of Aden, and drive the democratically elected Sunni president Abd Rabbo Mansour Hadi into exile, the administration has finally started to call out Tehran. On April 14, Gerald Feierstein, a senior official in the State Department's Near East Bureau, testified to Congress that "Iran provides financial support, weapons, training, and intelligence to the Houthis."
Today, the Obama White House is providing some logistical and intelligence support to the Saudi-led air campaign against the Houthis, and has deployed naval forces to the Red Sea to help enforce the United Nations arms embargo on Yemen. But the administration is doing little to constrain Tehran's other territorial and political expansion in Syria, Iraq, and Lebanon.
Regrettably, there is sparse evidence to suggest that Tehran will move away from its revolutionary expansionist policies in the coming years. More likely, with all the additional cash available to Iran due to relaxed sanctions, the regime's regional influence -- in the words of Hassan Nasrallah -- "will obviously increase." Should Iran continue along its current trajectory, the swelling of the ranks of martyrs serving Iran's cause in Hezbollah's Beirut graveyard will come as little consolation for Washington.
David Schenker is the Aufzien Fellow and director of the Program on Arab Politics at The Washington Institute.