Who Is Mohammad Reza Fallahzadeh, the New Deputy Commander of Iran's Qods Force?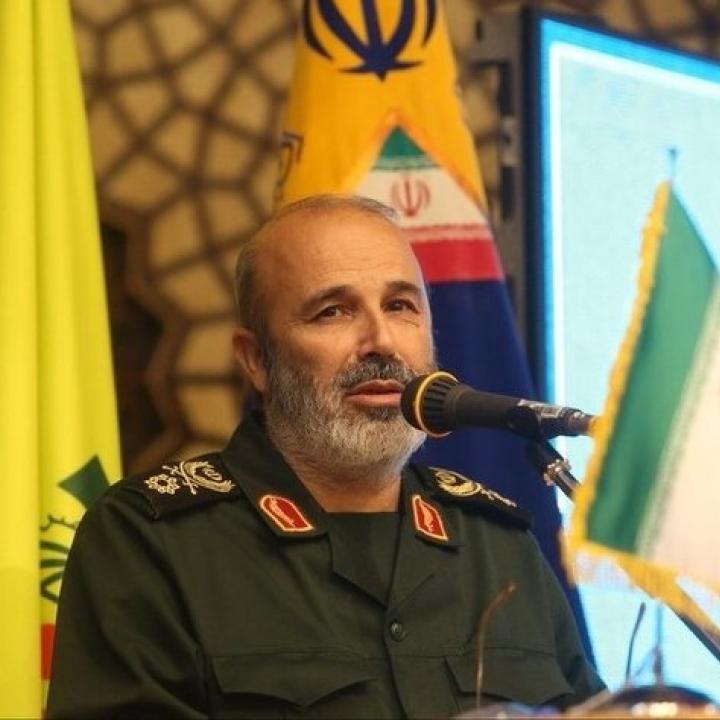 A closer look at the general's service in Syria, his political and military connections, and his potential influence on how the Qods Force carries out future operations abroad.
Following the sudden passing of Mohammad Hossein-Zadeh Hejazi, the deputy commander of Iran's Islamic Revolutionary Guard Corps-Qods Force (IRGC-QF), Supreme Leader Ali Khamenei appointed Brig. Gen. Mohammad Reza Fallahzadeh as his replacement on April 19. Who is Fallahzadeh, why was he named as second-in-command of such a crucial tool in Tehran's foreign policy, and how might his appointment affect the organization?
Also known as Abu Baqer, Fallahzadeh was born in Yazd province in 1962 or 1963 and hails from a family of Iran-Iraq War veterans. One brother, Mohammad Baqer, was killed in combat in 1987; another relative, Asghar, currently serves in the Qods Force and may be Fallahzadeh's brother as well.
Next to nothing is known about his service in the Iran-Iraq War, perhaps due to his junior position at the time. Information about his activities since then is rather scarce as well, however. The official statement announcing his appointment included a few sentences noting his previous roles as a provincial IRGC chief in Isfahan (where he commanded the 33rd al-Mahdi Division), Fars (19th Fajr Division), and Yazd, but no information is available regarding his performance in those positions.
Much like his military career, Fallahzadeh's political arc after the Iran-Iraq War seems to resemble that of his peers. In 2007, he was named governor of his native Yazd province, making him one of many IRGC commanders who became political appointees under President Mahmoud Ahmadinejad. Fallahzadeh himself was accused of replacing professional civil servants in the province with IRGC colleagues, and for spending more time promoting his career in Tehran than serving the local community. English-language coverage of his tenure mainly focused on delegations from Ghana, France, and Japan visiting Yazd to explore investment opportunities, none of which materialized. When President Hassan Rouhani dismissed Fallahzadeh in 2013, his replacement purged IRGC officers from the provincial administration and reinstated the civil servants.
Fallahzadeh then returned to the IRGC, at first in a managerial capacity: he was appointed chief of Karbala Roads and Urban Development, a subsidiary of Khatam al-Anbia Construction Headquarters, Iran's largest contractor. Within months, however, he was removed from this position and deployed to Syria as a military commander. This may indicate that his managerial skills were lacking, otherwise he would likely have been assigned to help oversee Khatam al-Anbia's construction work in Syria.
In any case, the deployment allegedly resulted in him becoming "one of five main Guard commanders in charge of the 2014-2016 battle of Aleppo." Pro-regime websites have released photos to document his past presence in Syria following his new appointment this week. The reasons behind his sudden move to a commanding position in that conflict are uncertain. Fallahzadeh has admitted that he had no previous relationship with the late Qasem Soleimani, who was Qods Force chief at the time; they met only once, and briefly, in 1984. More likely, the move was supported by Maj. Gen. Mohammad Ali Jafari, head of the IRGC at the time and a fellow Yazd native.
There may have been a structural explanation as well: as Qods Force casualties in Syria increased, the IRGC began to deploy regular forces there to reduce the burden on its special operations branch. Indeed, the first group of Iranian nationals taken prisoner by the rebel Free Syrian Army included many provincial IRGC commanders with no previous military experience abroad. Wider analysis of Iranian casualties in Syria shows a similar trend: members of the IRGC Ground Forces feature prominently among the combat fatalities. This trend essentially transformed the entire IRGC into an expeditionary force and brought the likes of Fallahzadeh to foreign missions.
Whatever the reasons behind his service in Syria, it was cut short when he was wounded in combat in April 2016. While hospitalized in Tehran, he was visited by Soleimani and two other prominent figures: Mohammad Saleh Jokar, a fellow IRGC veteran who represented Yazd in parliament at the time, and Ayatollah Muhammad Taqi Mesbah-Yazdi, a politico-religious figure from Yazd who shared his past allegiance to Ahmadinejad. By January 2017, he had recovered and was sent to the Syria peace talks in Astana, Kazakhstan, as an advisor to then-deputy foreign minister Hossein Jaberi Ansari.
Based on Fallahzadeh's performance in Aleppo, Soleimani recommended his promotion to brigadier general and appointed him as Qods Force chief of staff in early 2019. Khamenei praised Fallahzadeh at the promotion ceremony, though this did not signify any particular closeness between the two men: they had only met once, when Khamenei visited Yazd.
Since that appointment, Fallahzadeh has made widely reported visits to public events and has been featured in five major television interviews since October 2020 alone. Most of the interviews combined discussion of Soleimani's spirituality with detailed accounts of tactical operations in small Syrian villages. These appearances likely arose for one of two reasons: (1) the IRGC may have arranged them as an information campaign to groom Fallahzadeh for his current position in response to Hejazi's gradually deteriorating health (though the circumstances of the late general's illness and death are not yet known); or (2) they may have been Fallahzadeh's way of trying to emulate Soleimani, whose numerous media appearances after 2003 transformed the Qods Force from a secretive special operations branch to an agent of popular mobilization across the Middle East.
In the former case, Fallahzadeh's media exposure will likely decrease in the coming weeks in accordance with the leadership's desire to turn the clock back to when the organization operated in the shadows and its commanders had much less exposure to assassination—a goal espoused by both Hejazi and the current commander of the Qods Force, Brig. Gen. Esmail Qaani. In the latter case, if Fallahzadeh continues the self-promotional tour, he may find himself at odds with Qaani and incapable of filling the boots of Soleimani, whose charisma and eloquence far exceeded what Fallahzadeh has shown in his appearances so far.
Ali Alfoneh is a senior fellow at the Arab Gulf States Institute in Washington.