What Biden and Lapid Have in Common
Also published in
Times of Israel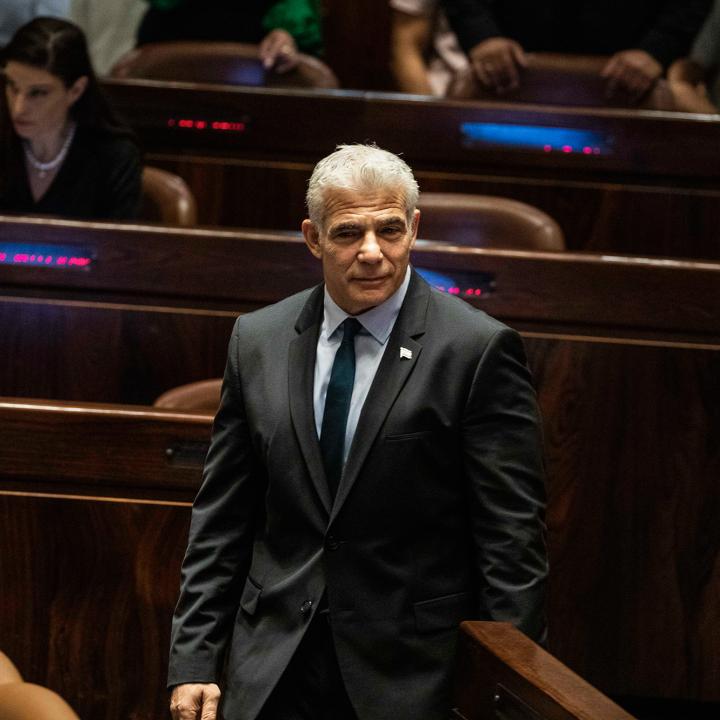 Their political temperaments and policy priorities are a good match, but this chemistry does not guarantee progress on Iranian and Palestinian issues during an election year.
Much of the public attention to US President Joe Biden's trip to the Mideast in the coming days will be focused on the Saudi Arabian leg, given energy concerns and a very troubled bilateral relationship; however, his stop in Israel will also be key. It is the first time that Biden will sit with Yair Lapid since the latter's recent ascension as caretaker prime minister. They are likely to establish a strong rapport because, among other factors, they are in sync regarding each other's political temperament and policy priorities.
Though Lapid is a caretaker prime minister, he is aiming for a term of his own, via the November election. Moreover, he may stay on as caretaker prime minister for quite a bit longer, given the real possibility that no government is formed (the November elections will be Israel's fifth in three and a half years; it has not been able to form a stable coalition). Under Israeli law, a caretaker has the same executive authority as all other prime ministers.
Biden and Lapid have only had one meeting. Then-finance minister Lapid visited the US in 2013 when Biden was Barack Obama's vice president. The meeting lasted longer than usual, as the US government was shut down at the time. And that is not the only reason to believe the upcoming visit will go well; the two have a lot in common.
Biden and Lapid are of different ages (79 and 58 respectively) and backgrounds (lifetime politician and talk show host turned politician), but they each hold the political center in their own countries. In this polarized era, that is no small feat. Furthermore, both are dealing with populist predecessors who want to return to power: Donald Trump in the United States and Benjamin Netanyahu in Israel.
Biden is proud of the bipartisan coalitions he was able to form during his many decades as a senator and subsequently as vice president. For his part, Lapid was the true architect of Israel's current "Change Coalition," the most ethnically and ideologically diverse coalition in Israeli history. It was no small feat to bring the Israeli right, center, and left, plus an Islamist party, together under one umbrella, but this coalition of eight parties was Israel's answer to populism. To that end, although he had the mandate to form a government, Lapid ceded the premiership in a rotation with Naftali Bennett after the March 2021 election. Their partnership was one of utmost civility and even friendship.
Biden and Lapid also share key policy priorities, which will likely strengthen their connection. Biden has stressed the US role of leading a club of democracies, while, as foreign minister, Lapid went out of his way to distance Israel from those eastern European countries whose governments have moved away from liberal democracy. In his first speech after becoming premier this past weekend, Lapid declared, "We believe that Israel must be a liberal democracy," adding, "Nobody can be denied fundamental rights: respect, liberty, freedom of employment, and the right to personal security."
Lapid views Israel's association with Western liberal democracies as a key source of its strength. While Israel took criticism for tempering its opposition to Moscow's invasion of Ukraine, due to concerns that Russia could restrict Israeli actions against Iran in Syria, Lapid was the first Israeli minister to publicly and explicitly condemn Russia for "war crimes." The White House took favorable notice.
If Biden is happy with how Lapid is positioning Israel, Lapid will appreciate how Biden has framed his upcoming visit. At a press conference after the NATO summit last week, Biden downplayed the oil angle of the visit and instead stated that a key objective of his trip is to "deepen Israel's integration in the region," terming it "good for peace and good for Israeli security."
Lapid and all Israeli leaders are rooting for Biden's success when it comes to first steps between Israel and Saudi Arabia—namely enabling overflights of Israeli aircraft and enabling Israeli Arabs to fly directly to Mecca for the annual pilgrimage. US officials suggest that Biden is likely to mention other developments, such as a regional air defense system under CENTCOM that enables Arabs and Israelis to take first steps towards sharing radar in order to detect missiles or drones coming from Iran or its proxies.
Beyond liberal democracy and regional integration, Biden and Lapid also share an aversion to airing dirty laundry in public, for reasons both of principle and politics. Biden appreciates it when Lapid publicly tempers his criticism of the Iran nuclear negotiations, and Lapid values keeping US criticism of the Palestinian issue and settlements behind closed doors. Both of them see submerging public differences as a way to avert fissures between the progressive wing of the Democratic Party and Israel.
Yet it may be easier to keep criticism within bounds than it will be to actually chart a way forward on both issues during a political season for both leaders: midterms for Biden and elections for Lapid. The new prime minister sees the current negotiations with Iran as fundamentally inadequate, believing that the US and allies need to expand their sights to a much larger set of issues to negotiate, given the scope of the Iranian nuclear and regional challenge. Lapid agrees with Biden on gradualist movement on the Palestinians, but he confines progress to economic measures, at least during the election season.
It is undoubtedly a source of frustration among some in the Biden administration that the US has not articulated a political horizon for the Palestinians, or pressed Israel for more visible signs of Palestinian state-building. So far, Lapid is showing no signs of even meeting PA President Mahmoud Abbas. After all, Lapid is functioning not just as a party leader, but as the head of a bloc of parties from right to left that he wants to keep intact during the election campaign.
An obvious question is whether the Biden visit that seems destined for success will help Lapid's standing in the election. The answer is complex. On the one hand, it never hurts in Israel to get along with Israel's patron, the US. On the other, the election will include attacks from Netanyahu claiming that Lapid's friendship comes at a price of not speaking "truth to power" by not publicly decrying the flaws of the possible nuclear deal.
Biden will obviously stay far away from any explicit endorsement for Lapid's election, in order to avert political backlash along the Netanyahu lines. Yet, Biden's appeal will likely be clear, if subtle, in demonstrating that the two can work together because they are like-minded. That may be enough to signal to the Israeli public that good ties can extend beyond November.
David Makovsky is the Ziegler Distinguished Fellow in The Washington Institute's Koret Project on Arab-Israel Relations and creator of the podcast Decision Points. This article was originally published on the Times of Israel website.