The U.S. Designation of Kataib Hezbollah's Abu Fadak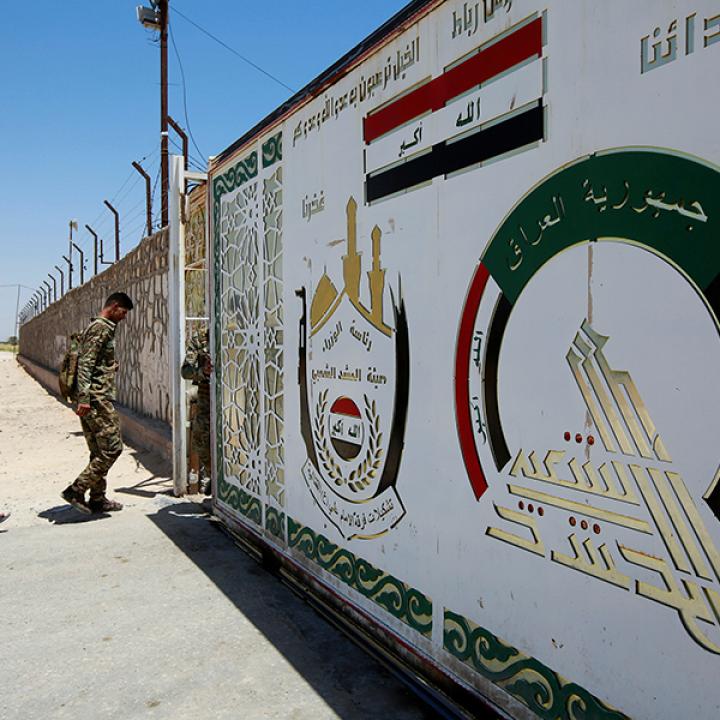 The latest sanctions against a senior leader in the Iranian-backed terrorist militia are a reminder that such figures cannot slip onto the political spectrum merely by changing their job title.
On January 13, the U.S. Treasury Department's Office of Foreign Assets Control announced new sanctions on Abdul-Aziz al-Mohammadawi (usually known as Abu Fadak, sometimes Abu Hamid), the acting deputy chairman of Iraq's Popular Mobilization Forces (PMF). He was designated for terrorist activities under Executive Order 13224. In 2012, then-vice president Joe Biden promised, "If you attack innocent Americans, we will follow you to the end of the earth." Abu Fadak is guilty of doing just that, and designating him shows that the United States will not let its most determined adversaries sidestep accountability just by joining the security forces of the Iraqi state.
Abu Fadak's Rising Profile
There is no doubt in any official's mind—in Iraq or elsewhere—that Abu Fadak meets the criteria for designation as a terrorist, and the coming days will undoubtedly see him accept the designation as a badge of honor. Kataib Hezbollah (KH), the powerful Iranian-backed militia whose ranks he joined years ago, has admitted that he played a leading role in launching rockets against U.S. targets, training Bahraini terrorists, and fighting in Syria under the command of Iran's Islamic Revolutionary Guard Corps-Qods Force (IRGC-QF). Many of these activities were conducted after the PMF become a formal part of the Iraqi armed forces in 2014, and he pursued them without authorization from the nation's commander-in-chief.
A member of the Iran-backed Badr Corps since the late 1980s, he undertook acts of terrorism against the U.S.-led coalition from 2004 onward. He was also one of KH's first members, developing a close rapport with IRGC-QF commander Qasem Soleimani (killed last year) and Imad Mughniyah, the head of Lebanese Hezbollah's Islamic Jihad Organization (killed in 2008). After KH leader Abu Mahdi al-Muhandis died alongside Soleimani in a January 2020 U.S. strike, the IRGC-QF and its Iraqi proxies sought to build up Abu Fadak as his successor, seeing him as a publicly recognizable coordinator for Tehran's network of fasail (armed groups).
The problem is that Abu Fadak is trouble-prone, uncharismatic, and often undermined by rivals inside and outside the fasail. On course to become the leader of KH a few years back, his cover as a legitimate state security official was blown in 2017 when the group tried and failed to ransom a large group of Qatari royals it had kidnapped. And when nominated last February to replace Muhandis as PMF deputy chairman, he had to fight off a challenge from internal rivals and was rejected by the Atabat, the four "shrine units" that left the PMF and pledged loyalty to Grand Ayatollah Ali al-Sistani and the Iraqi state.
Abu Fadak has also directly threatened the most senior representative of the Iraqi government. When authorities detained KH members on June 25, 2020, for preparing rocket attacks against the U.S. embassy, he led a column of around 150 fighters in heavily armed trucks to the prime minister's residence inside the Baghdad International Zone to demand that the suspects be released to their custody. Since then, the IRGC-QF and the fasail have tried to sell him as a powerful leader, but with little success. He is afraid of public speaking, struggles to build relationships beyond his immediate circle, and is constantly beset by other fasail leaders such as Qais al-Khazali (who heads the militia Asaib Ahl al-Haq) and KH secretary-general Ahmad Mohsen Faraj al-Hamidawi (also known as Abu Hussein, Abu Zalata, Abu Zaid).
Implications for U.S. Policy
Like the January 8 designation of PMF civilian head Faleh al-Fayyad for human rights violations, the decision to sanction Abu Fadak is uncontroversial and backed by ample evidence. The reason the Trump administration used some of its remaining time in office to complete this designation is because IRGC-QF and the fasail have forged ahead with their uphill battle to make Abu Fadak "the next Muhandis." The U.S. government rightly does not want a known terrorist with American and Iraqi blood on his hands to slip onto the political spectrum, where many other senior fasail members are trying to ensconce themselves as well.
Indeed, further designations are likely. Amid the announcement of Abu Fadak's designation, a senior State Department official delivered an ominous warning on background: "[The United States] is considering support for terrorism sanctions against senior politicians who are enabling and protecting the [Iran-backed] militias. [These militias] are killing peaceful protestors, stealing from the Iraqi people, and taking orders from the Qods Force. This behavior is destroying Iraq and has to stop."
As long as Abu Fadak retains his role as acting deputy chair of the PMF—a role that has not been legalized by prime ministerial order or parliamentary ratification—the new sanctions will serve as a reminder that a U.S.-designated terrorist is the operational head of an Iraqi security agency with a state-provided annual budget of $2.5 billion. A U.S.-designated human rights abuser—Faleh al-Fayyad—is the civilian head of the same institution. If this status quo persists, the Iraqi state may become legally liable for future attacks against Americans, Britons, or other foreigners. In the meantime, the designation allows the incoming Biden administration, at no extra effort, to maintain pressure on a fasail actor operating in plain sight, while Sistani, the Atabat, and other Iraqis who oppose Iran's proxies take steps to undermine Kataib Hezbollah and other terrorist groups inside the government.
Michael Knights, the Bernstein Fellow with The Washington Institute, has profiled Iran-backed militias and politicians in Iraq since 2003.