Tunisians of the Iraq Jihad and How That Set the Stage for the Syrian Jihad
Also published in
The ISIS Blog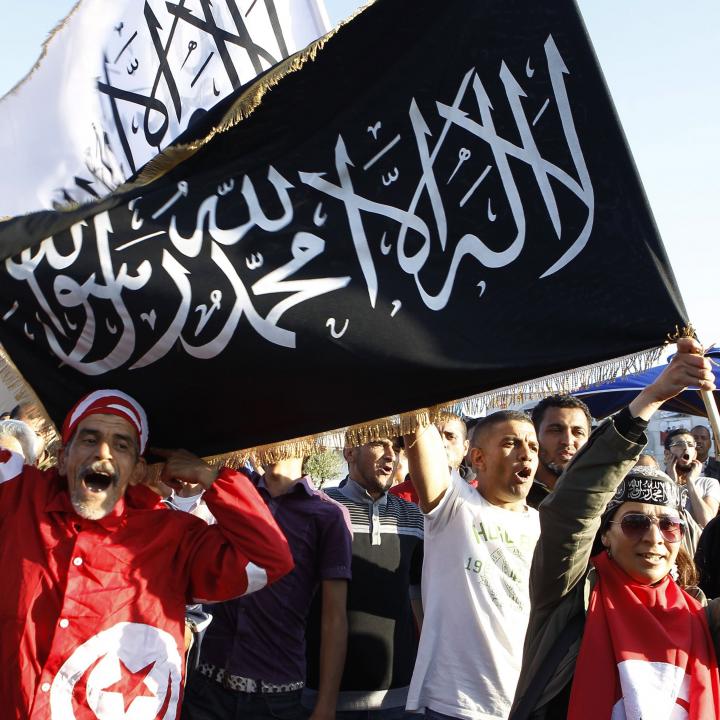 The disproportionate role of Tunisians in both campaigns can be traced to a wide array of factors, including travel routes, prison experiences, battlefield leadership, and propaganda patterns back home.
Nestled into the ISIS Reader: Milestone Texts of the Islamic State Movement is a brief mention of a Tunisian that went by kunya Abu Usamah al-Tunisi. Based on primary source research for my own book, Your Sons Are at Your Service: Tunisia's Missionaries of Jihad, Abu Usamah came to Iraq at the latest in early 2004 and fought in the Battles of Fallujah where his close relationship with both Abu Mus'ab al-Zarqawi and Abu Hamzah al-Muhajir led to his rise in the organization: first as the military leader of Baghdad's southern belt and later as the leader of Majlis Shura al-Mujahidin (MSM)/the Islamic State of Iraq's (ISI) entire foreign fighter operation. His closeness to al-Zarqawi and al-Muhajir might also help explain why Abu Usamah appeared as one of the masked individuals in the video that showed the beheading of the American Nicholas Berg in May 2004. More importantly, the fact that Tunisians held high-level positions, especially ones related to foreign fighting, helps explain why so many Tunisians would later become connected to these networks that helped recruit people to fight in Iraq, Libya, and Syria after 2011. Abu Usamah would eventually be killed in a U.S. airstrike in the city of Musayyib, in Babil Province, on September 25, 2007, along with a number of other senior ISI leaders.
Although many Tunisians partook in jihadism prior to the Iraq war, the war inspired a new generation and cadre of individuals. For example, Hasan al-Brik, who would become Ansar al-Sharia in Tunisia's (AST) head of dawa after the 2011 Tunisian revolution, traveled to Iraq in 2003. Like many others, he did not actually make it into Iraq, but rather took charge of a safe house in Syria where individuals were vetted before travelling to Iraq. For the Tunisians who survived, many, including al-Brik, would be arrested in Syria (and elsewhere) and rendered back to Tunisia to be placed into its prison system. Tunisia's prisons in the seven to eight years before the revolution would be crucial for bringing together the first generation of Tunisian jihadis associated with Afghanistan and Europe-based networks and the second generation more associated with Iraq and the GSPC/AQIM networks. This prison exchange between the first and second generations of Tunisian jihadis would provide AST's base for activities after the 2011 revolution and later the foreign fighter mobilization to Iraq, Libya, and Syria to either join Ansar al-Sharia in Libya, Jabhat al-Nusrah, or the Islamic State.
My book provides a lot of details on the Tunisians that joined the Iraq jihad, around 5,000 words in all. Due to that length and the focus of the ISIS Reader on primary sources, this post will highlight some details based strictly on research derived on this network from primary sources. However, if you want the entire picture, chapter four of my book gets into the entire history and story in full.
The jihadi magazine Majallat Minbar Suriya al-Islami relayed in its third issue in October 2005 that 1,000 Tunisians had been arrested attempting to travel to Iraq. Moreover, Samir Ben Amor, a Tunisian attorney who defended arrested jihadis, said that from 2005–2007, 600 Tunisians were arrested attempting to make it to Iraq. This number does not include Tunisians based outside Tunisia or those who were not arrested prior to 2005. This could suggest that the true pool of individuals would be somewhere between 1,600 and 2,500 for that entire time frame—arrested ahead of making it to Iraq and those that made it. These numbers would illustrate the strength of Tunisia's foreign fighter population, especially considering that between 4,000 and 5,000 foreign fighters were involved in the Iraq jihad, according to Thomas Hegghammer. It could also suggest that there were more individuals that went or were arrested attempting to go to Iraq than was originally believed or the way researchers and governments count foreign fighters now is more expansive than maybe a more limited understanding from 2002-2009 when individuals only counted those that made it to the battlefield. Nevertheless, these statistics make it less surprising then that so many Tunisians were observed joining the Syrian jihad after 2011.
Many of the Tunisians that joined Jama'at al-Tawhid wa-l-Jihad (JTWJ)/al-Qaeda in Iraq (AQI)/MSM/ISI were facilitators/recruiters, but a number of others were fighters, suicide bombers, and even leaders. The facilitator/recruiter role provides an important insight into why so many Tunisians have fought in Syria since 2011. In particular, the highly-connected nature of their Tunisian brethren allows for easier access to the networks that provide logistics to those wanting to join the fight. Beyond identifying names of those killed, MSM published martyrdom notices with stories on the background of individuals and their activities in Iraq prior to their deaths.
For example, in April 2006, MSM released a notice about Abu Ibrahim al-Tunisi, a commander who had previously fought in Bosnia and Afghanistan. While in Afghanistan, he allegedly managed guest houses on behalf of Usamah Bin Ladin, fought against the Northern Alliance alongside the Taliban, and defended Qandahar, Jalalabad, and Kabul after the U.S. invasion until he fled to Turkey with al-Hajj Banan al-Turki and later joined the Iraq jihad. Abu Ibrahim first served as head of the security branch in Rawa until he was promoted to head of the security branch of al-Anbar Province and military commander for al-Qa'im, where he oversaw the sniper, intelligence, security, and anti-aircraft units. The latter town, located on the border with Syria, was an important passageway for the smuggling of foreign fighters and other illegal activities originating in the town of Albu Kamal on the Syrian side of the border. Albu Kamal likewise served as a stopping point for foreigners travelling from Damascus to Iraq. Abu Ibrahim planned and commanded a number of battles, including the Operation of the Martyr Shaykh Abu Muhammad al-Lubnani and the first and second operations to conquer Husaybah. He would eventually be killed in a U.S. airstrike during the battles of al-Qa'im, in its sub-district of al-Karabilah.
A number of other Tunisians, such as Abu Basir al-Tunisi, fought with and were leaders in the MSM/ISI battalion Katibat Umm al-Mu'minin 'A'ishah. Two of the most prominent Tunisians in this battalion who both went by the name of Abu Usamah al-Tunisi were killed in July 2006 and September 2007 respectively. The first came to Iraq in 2004 and eventually became a commander in Katibat Umm al-Mu'minin 'A'ishah. He led the Battle of Abu Anas al-Shami, commanded the al-Fatah assault, and participated in the Sunni Revenge Battles and Anti-Terrorism Assaults. He was killed by U.S. airstrikes in al-Yusufiyah, a town 20 miles south of Baghdad. The other Abu Usamah was the one mentioned at the beginning of this post.
Another important Tunisian within MSM/ISI was Yusri Bin Fakhr al-Tariqi (Abu Qudamah al-Tunisi and Ziyad al-Saba'). Although he was not a leader like those mentioned above, he would become a symbol for AST of the oppression at the hands of the Shia-led regime in Iraq while al-Tariqi was in an Iraqi prison prior to his execution on November 16, 2011. Al-Tariqi would arrive in Iraq in November 2003 at the age of nineteen, the youngest among the group with which he travelled. He would operate in Mosul until mid-2004 when he moved to Samarra with other operatives to plan the infamous February 2006 bombing of the Shi'a Marqad al-Imamayn 'Ali al-Hadi wa-l-Hassan al-Askari Shrine. This attack was an important catalyst in the overt civil war between Sunnis and Shi'a inside Iraq. The ensuing sectarianism had been a goal of al-Zarqawi's so that Sunnis would have no choice, but to seek security with MSM. Al-Tariqi, following his later arrest, would claim that "the shrines of the al-Askari imams were chosen because of their religious importance and their geographical location, and the choice was meant to cause sectarian division among the people." Besides that attack, al-Tariqi would be alleged to have been involved in the assassination of Iraqi journalist Atwar Bahjat. He would eventually be captured alive in June 2006 during a battle in Baqubah, about 50 miles northeast of Baghdad, where all his fellow brethren were killed. He then moved around a number of prisons before being forced into solitary confinement at al-Kazimiyah prison until his death.
Beyond Tunisians that took on leadership positions as commanders, fighters, or foot soldiers, Tunisians also played an important role in the logistics and facilitation network for AQI/MSM/ISI. A key individual was Abu 'Umar al-Tunisi. His name continuously appeared in the Sinjar Documents as a major facilitator of individuals through Syria into Iraq. This suggests he was a key middleman between the recruitment and logistics networks in the Arab world and Western Europe and the operatives on the ground inside Iraq. According to the U.S. military, in May 2008, special operations officers arrested Abu 'Umar in western Ninawa province. It was later learned that Abu 'Umar's real name was Tariq bin al-Tahar bin al-Falih al-Awni al-Harzi, and that he was still recruiting and facilitating the travel of foreign fighters to the jihadi group in 2013, after its reemergence as the Islamic State. This suggests he was released from prison or was broken out of prison sometime after his arrest by U.S. forces.
By December 2007, according to the head of ISI at the time, Abu 'Umar al-Baghdadi, there were only 200 foreign fighters left in the country. This is a large drop-off from the hundreds who had been going there every month. This continued to fall from 90 per month in mid-2007, to 50 per month in early 2008, to ten per month in early 2009. This interlude did not last forever. While many stopped paying attention to Iraq due to the tactical successes of the tribal awakening and the surge, ISI began to rebuild its enterprise in early to mid-2009, about 12–18 months after it was at its lowest points. Part of this could have been related to ISI preparations for the U.S. to begin its withdrawal at the end of June 2009 as part of President George W. Bush's U.S.–Iraq Status of Forces Agreement with Iraqi Prime Minister Nouri al-Maliki, signed in mid-December 2008. One of the key indications that the ISI was rebuilding its infrastructure was the rising numbers of foreign fighters on a per month basis. By mid-2009, the number of foreign fighters per month had risen to 20 and continued to increase to 30–40 in late 2009 and possibly as high as 250 by late fall 2010.
Unlike networks that had been based out of Damascus and Aleppo, one of the revamped foreign fighter networks began to operate out of Homs under the leadership of a group of Tunisians and Algerians. Another network facilitated individuals through al-Hasakah, a northeastern Syrian governorate, to go to Mosul, Iraq, which ISI used as a base to rebuild its operations after the tribal awakening and surge. Some of the individuals known to have gone through the second route were Tunisians who would be involved in some of the deadliest attacks in 2009, including the April 10 truck bombing at the gates of U.S. Forward Operating Base Marez in Mosul, which left five soldiers dead. The group of Tunisians had left Tunisia in mid-October 2008 and travelled via Libya with the assistance of the aforementioned network in Syria; they arrived in Iraq in March 2009. The group also received assistance from an Iraqi living in Canada named Faruq Khalil Muhammad 'Isa, as well as ISI's new head of foreign fighter operations, Sa'd Uwayyid 'Ubayd Mu'jil al-Shammari (better known as Abu Khalaf). The members of this Tunisian-Iraqi network would be arrested over the next few months by Iraqi forces.
During this time, ISI began republishing martyrdom stories for its fighters. One of them included an interview in late August 2010 with the alleged mother of Usamah (Abu 'Abd al-Rahman al-Tunisi and Abu Sa'd al-Tunisi), known as the "Sniper of Baghdad' for killing U.S. soldiers. According to Lorenzo Vidino, the interview was likely done by Usamah's sister who became radicalized following her brother's death and was henceforth active on the jihadi forums under the handle Swissgirl99. Before arriving in Iraq in September 2005, his family moved from Tunisia to Switzerland in 2000, where he had a difficult time adjusting to the different culture since his family was very conservative and religious. According to Swiss security officials, "[he] spent hours online reading jihadist propaganda." He died sometime in 2006 in an attack on the Counter-Terrorism Headquarters in the al-Jihad neighborhood of Baghdad, though an exact date is unknown.
In the interview, his mother discussed her son's piety, his dislike of their move to Europe when he was a teenager, and his decision to join ISI. She concluded the interview by praising Abu Bakr al-Baghdadi, the successor to Abu 'Umar al-Baghdadi, and exclaiming that she "will meet [him], with God's help, in the shade of the Caliphate, in the land of the Caliphate [i.e. Iraq], God willing." Her words in some ways foreshadowed what was to come in the following years.
It is no surprise that one of the first Tunisian-related jihadi incidents following the 2011 Tunisian revolution resulted in the arrest of a group of Tunisians and Libyans in Egypt attempting to fight in Iraq with ISI on January 25, 2011. Therefore, irrespective of the revolution, it is likely that Tunisians would have continued their involvement in foreign fighting and jihadism. The only difference is that there was instead a wider pool of foreign fighter recruits as a result of the societal opening spurred by the revolution. Consequently, some of the prisoners released following the revolution would eventually return to fighting and join jihadi groups in Syria.
While most researchers recognize that jihadi networks and groups began recruiting individuals to join up for the Syrian jihad in 2012, recruitment to fight in Iraq was ongoing ahead of this, which is an underappreciated dynamic. As a result, efforts to join ISI in Iraq were easily adjusted to instead join up with ISI's front group in Syria at the time Jabhat al-Nusra (JN). And because most attempting to join up with ISI in Iraq usually traveled via Turkey and Syria, going to Syria took one less step, making it less of a risk, but also allowed the same exact recruitment, facilitation, and logistics networks to take advantage of the historic opportunity that Syria would bring as a result of the Bashar al-Assad regime's vicious response to the original peaceful uprising.
This is relevant because before the focus of the global jihadi community was on Syria, AST and its leader Abu 'Iyadh al-Tunisi was legitimizing joining up with ISI in 2011. In a December 2011 interview, Abu 'Iyadh provides a clear response to participation in the Iraq jihad: "Can anyone prevent someone from fighting for the sake of God? So if you come to me and say 'I want to go to Iraq,' I will not prevent you because if I do I will be sinful because you want to realize one of the obligations, which is supporting Muslims and fighting the enemies of our religion." Moreover, later in the interview, Abu 'Iyadh drops any pretensions and overtly calls for jihad in Iraq:
"Jihad actually just now began in Iraq because the Americans left behind their bags to the Persians and the rawafidh to control Iraq...You say to me that the American occupation ended? And I say to you that this occupation left the enemies of the umma such as the Majus [Iran] and the rawafidh selling the umma to the West. My brother, jihad is necessary now, and it is necessary that [then Iraqi Prime Minister Nouri] al-Maliki and his cronies be eradicated from the face of the earth, and the mujahidin in Iraq should escalate their attacks...We ask God to help our brothers to succeed."
This excitement for jihad and Tunisians' involvement in it did not wane over time. In February 2013, Abu 'Iyadh exclaimed in an interview with Mosaique FM journalist Nasr al-Din Bin Hadid that "Tunisians can be found everywhere in the land of jihad. The ways of going are easy and we don't stop our people from leaving." Furthermore, this author's own experience at AST mosques saw members of the group doing special du'at (blessings) after the normal prayers for the "mujahidin in Bilad al-Sham (Greater Syria)," which is the norm in AST's mosques. Such a ritual illustrates that support was encouraged. It is no surprise that AST's official Facebook page at the time posted content in support of groups like JN and later ISIS. AST's official media outlet released a video as a gift for the leader of JN, Abu Muhammad al-Jawlani. Likewise, AST posted pictures from children of AST members who had written notes congratulating JN on its battlefield successes. Finally, when former AST members died fighting in the Syrian jihad, AST's official Facebook page would glamorize their martyrdoms.
Based on just primary sources, a lot can be ascertained about the development of networks and rationales for fighting in Iraq and then later Syria. If one is interested in more details on Tunisian involvement in the Iraq jihad as well as the Tunisian jihadi network following the Arab uprisings, alongside other details related to the movement historically and contemporarily, my book Your Sons Are at Your Service: Tunisia's Missionaries of Jihad provides detailed accounts over a forty year period.
Aaron Y. Zelin is the Richard Borow Fellow at The Washington Institute, a visiting research scholar in the Department of Politics at Brandeis University, and an associate fellow at the Global Network on Extremism and Technology. This article was originally published on the ISIS Blog, and parts of it were excerpted from his book Your Sons Are at Your Service, Copyright 2020 Columbia University Press, all rights reserved.