Interviews & Presentations
Timeline of Tunisia's Constitutional Crisis and the U.S. Response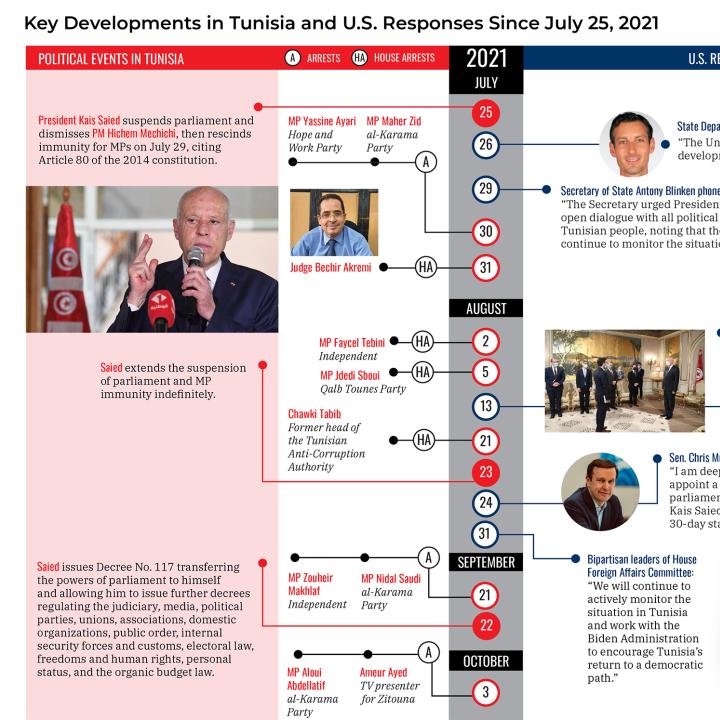 An infographic illustrating President Saied's controversial political moves since summer 2021 and the steps U.S. officials have taken to discourage authoritarian backsliding.
This timeline traces Tunisian president Kais Saied's efforts to consolidate power after suspending parliament on July 25, 2021, and the corresponding responses by the Biden administration and Congress. As the year proceeded, he continued to centralize institutions and arrest critics despite growing U.S. criticism and steps to curtail assistance.
Saied is now poised to win a constitutional referendum on July 25 that would transform Tunisia from a parliamentary democracy to a presidential system with few limits placed on the executive branch. The Biden administration is still struggling to influence his actions, with private outreach, public criticism, and aid suspensions having no meaningful impact so far. U.S. officials have also tried to avoid alienating Tunisians who support Saied's stated efforts to fight corruption and improve the economy. A comprehensive U.S. response to the referendum should include an honest assessment of its conduct, concerns over the constitution itself, and steps Saeid should take to begin easing Tunisia's authoritarian trajectory, such as releasing political opponents.
To view the 2021-22 timeline, expand the image below or download a printable PDF version at the top of the page.
Or view Part 2 of this timeline, covering July 2022-August 2023.