Time for G8 to Make Hezbollah Statement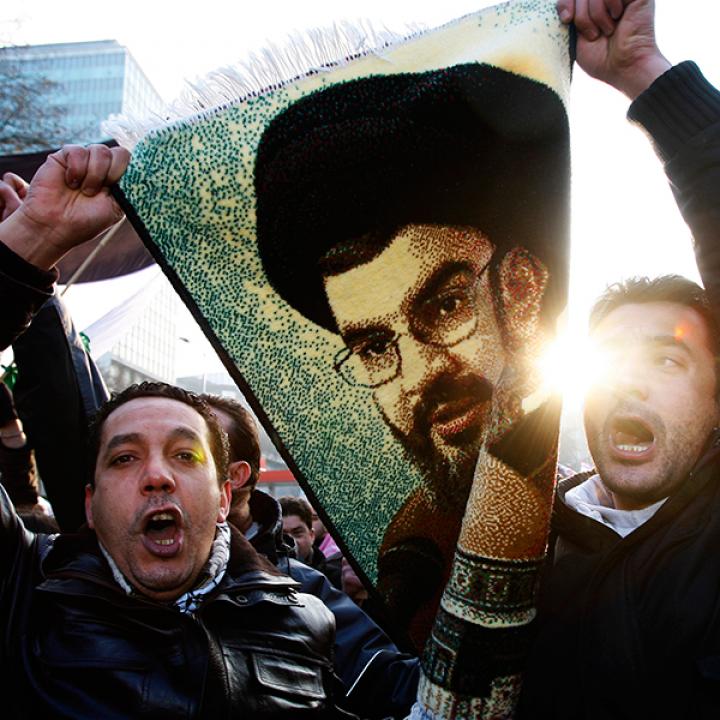 A G8 statement against Hezbollah would shine a spotlight on the group's widespread terrorist and criminal activities in a way few other multilateral agencies could.
The Group of Eight is holding its annual summit in Northern Ireland under the presidency of the United Kingdom. While the summit is slated to focus on trade, tax, transparency issues and of course Syria, British Prime Minister David Cameron staked out several months ago a particular focus on counterterrorism for the G8 under the U.K. presidency. But with Hezbollah plotting attacks targeting civilians around the world from Europe to Asia, and in light of its military support for the brutal al-Assad regime in Syria, London should press for a G8 condemnation of Hezbollah at the meeting.
Speaking at the World Economic Forum in Davos last January, Cameron stated that among Britain's top priorities for the G8 agenda this year was tackling the threat of extremism and terrorist violence. "I'll put my cards on the table," Cameron said in Davos. "I believe we are in the midst of a long struggle against murderous terrorists and a poisonous ideology that supports them."
While his remarks at the time were specific to al Qaeda and its franchises, recent events from Bulgaria to Syria and from Cyprus to Thailand have exposed the extent to which Iran and Hezbollah have been frenetically plotting acts of terrorism and violent extremism around the world. According to the U.S. State Department, "Iran and Hezbollah's terrorist activity has reached a tempo unseen since the 1990s, with attacks plotted in Southeast Asia, Europe, and Africa." Indeed, the increase in Hezbollah activities over the past few months led the Gulf Cooperation Council to designate Hezbollah as a terrorist organization. Meanwhile, European Union member states are now considering an EU ban of Hezbollah's military wing, at the U.K.'s request, in the wake of the bombing of a busload of Israeli tourists in Burgas, Bulgaria last July and the conviction in March of a European Hezbollah operative who conducted surveillance for a similar plot targeting Israeli tourists in Cyprus.
While hard evidence linking Hezbollah to the Burgas plot has been slow in coming (and, since it reportedly is based on intelligence material, may never be made public), the arrests of alleged Hezbollah operatives in Thailand, Cyprus, and most recently in Nigeria have authorities on edge. The cases in Thailand and Nigeria are ongoing, but the conviction of Hossam Yaacoub in Cyprus provides unique insight into Hezbollah's international terrorist activities. A dual Swedish-Lebanese citizen, Yaacoub was reportedly recruited by Hezbollah in March 2007 and slowly groomed as a terrorist operative. Trained over several years in everything from the use of small arms to counter-surveillance and bomb-making, Yaacoub was first used as a Hezbollah courier and delivered packages to and from Hezbollah operatives in Turkey, France and the Netherlands. Finally, in 2009, Hezbollah sent Yaacoub on his first mission to Cyprus so he could create a cover story that would justify subsequent trips. Over several subsequent trips Yaacoub would collect intelligence on a variety of places, from a specific parking lot located between a police station and a hospital to specific hotels. He was reportedly told to look for kosher restaurants catering to Jewish customers and ultimately took careful surveillance notes as Israeli tourists deplaned and boarded buses to their hotels.
Yaacoub confirmed his Hezbollah affiliation to Cypriot police, but insisted his surveillance of Israeli tourists was nothing out of the ordinary. "I don't believe that the missions I executed in Cyprus were connected with the preparation of a terrorist attack in Cyprus," reportedly Yaacoub told police. "It was just collecting information about the Jews, and this is what my organization is doing everywhere in the world."
Such an attitude reflects precisely the kind of "poisonous ideology" Cameron called on the G8 to counter under the British presidency. And while the G8 suspended its Counterterrorism Action Group in 2011 (well intentioned when it was launched with fanfare in 2003, it failed to live up to expectations), the group still has powerful tools at its disposal should it choose to take a principled stand on Hezbollah.
First there is the G8's Roma-Lyon Group on Counterterrorism and Counter-crime, which last met in January in Washington. The group aims to better align G8 counterterrorism and anti-crime policies, making it a particularly useful venue for a discussion of Hezbollah, a group engaged both in international terrorism and transnational organized crime as recently underscored by several Hezbollah cases involving drug-running, money-laundering and a host of other crimes.
More recently, when G8 foreign ministers met in London in April, they "reiterated their absolute condemnation of terrorism in all its forms and manifestations." This week, the G8 meeting in Northern Ireland presents the group with an opportunity to act on this pledge by calling world attention to the growing threat from Hezbollah. A statement by the G8 carries significant weight, and would shine a spotlight on Hezbollah's illicit activities in a way few other multilateral groups could.
"To defeat this menace we've got to be tough," Cameron warned his colleagues in Davos several months ago. "This is the argument I'll be making at the G8." This week, Cameron has an opportunity to do just that: Be tough and issue a statement deploring Hezbollah's international terrorism and transnational crime.
Matthew Levitt directs The Washington Institute's Stein Program on Counterterrorism and Intelligence and is author of the forthcoming book Hezbollah: The Global Footprint of Lebanon's Party of God.