Tentative Transition:
Civil-Military Relations in Turkey Since the July 15 Uprising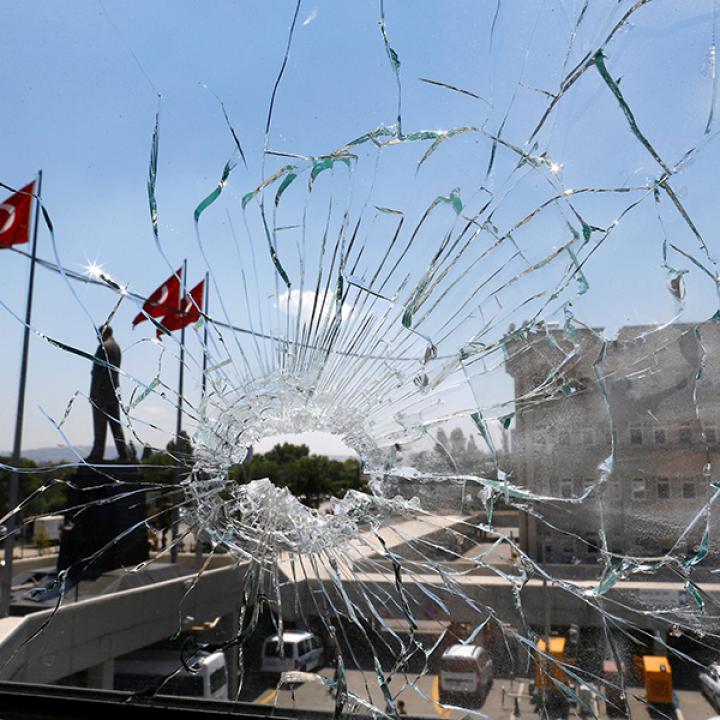 On July 15, 2016, Turkey survived a harsh test to its democracy when it pacified a coup attempt led by the ultrasecretive Gulenist movement. But the episode raised more questions than it resolved. Looking back, how had the Gulenists infiltrated the highest military ranks, thereby allowing the uprising to go as far as it did? And, into the future, how could the military be reshaped so as to guard against future uprisings? In the ensuing twenty-one months, the Turkish government has issued numerous executive decrees aimed at both restructuring state institutions and ridding the bureaucracy, through mass purges, of alleged Gulenists. But this campaign, carried out under a long-running presidential state of emergency, has lacked much-needed inclusiveness.
In this new study, security analyst Metin Gurcan meticulously explains how fending off a future coup attempt will require not only transfer of power from the Turkish military to civilian elites but also diffusion of political power among the executive branch, parliament, and civil society. This task will be trickier still in light of Turkey's transition from a parliamentary model to an executive presidency.
THE AUTHOR
METIN GURCAN is a Turkish security analyst and a columnist for Al-Monitor. A former research fellow in Oxford University's Changing Character of War (CCW) program, he has been published extensively in Turkish and foreign academic journals on the changing nature of warfare, terrorism, Turkish civil-military relations, military history, and Turkish foreign policy. He is the author of What Went Wrong in Afghanistan? Understanding Counter-Insurgency in Tribalized Rural Muslim Environments (Helion & Company, 2016).