Team Melli vs. Team USA: Iran's Game of Contradictions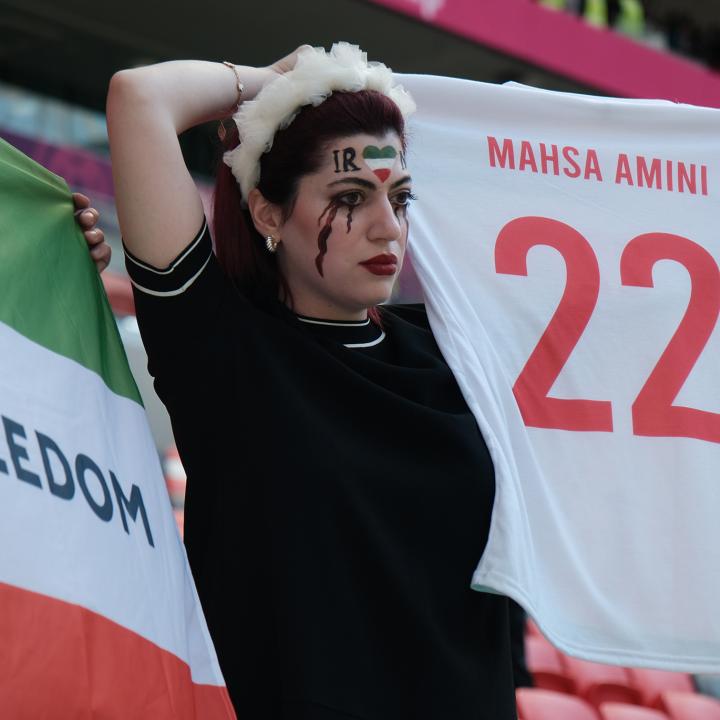 The regime's often-hypocritical handling of this year's World Cup comes to a head with a matchup against the United States, and a political victory seems unattainable regardless of the results on the field.
In the lead-up to their politically charged World Cup match against the United States, Iranians throughout the world have been divided on how to approach the event. Some prefer to keep the sport and the national team depoliticized, while others refuse to support a squad they view as "the government's team." Either way, the regime's handling of the tournament in Qatar and associated sentiment back home remains a mishmash of heavy-handed tactics, allegations of manipulation, and embarrassing ideological contradictions.
Perhaps the most glaring of these contradictions can be found in Tehran's efforts to portray the team as a national asset whose success should be attributed to the unified efforts of all Iranian citizens—propaganda that has been put forth in parallel with a comprehensive campaign to antagonize and vilify large portions of the populace who are deemed unsupportive of a sports team at a time when more important matters are shaking the country. Many of these people have been cast as traitors who serve Iran's enemies, even as Tehran tries to use the tournament as a nationalist rallying point and distraction. Meanwhile, the opposition has been bolder than ever in systematically disproving the government's claims, arguing that support for the national team would only benefit the totalitarian regime by blurring the sharp boundaries between its domestic advocates and opponents.
Specific propaganda initiatives that have proven counterproductive include the regime's reaction when Iran defeated Wales in its second group-stage game. Afterward, police appeared on major streets in Tehran and other big cities with their imposing anti-riot equipment close at hand. Yet they tried to give off a celebratory air by playing music and dancing in their trucks. For the many Iranians who witnessed such scenes in person or on television, these displays likely came across as ham-fisted and hypocritical, highlighting the regime's lack of common sense and detachment from the people who have watched weeks of brutal violence unfold on these same streets. The hypocrisy is even more glaring when one recalls that such displays of dancing in public are usually illegal in the Islamic Republic. Many Iranians no doubt remember that the late Ayatollah Ruhollah Khomeini used to justify similar ideological contradictions by noting that the people should resort to "drinking wine and telling lies" if required to preserve the regime's interests.
Incidents in Qatar have brought negative attention as well. Some spectators have reportedly been barred from stadiums for carrying political slogans or flags associated with the protests. And on November 27, BBC Persian reported on a leaked audio file in which a deputy commander in Iran's Basij militia allegedly explained how Tehran planned to keep Qatari stadiums under surveillance in order to track anti-regime activists. He also claimed that "the Ministry of Information has sent a list to Qatar to cancel the tickets of spectators who were not approved by the government. He says that Qatar also promised to cooperate."
Elsewhere, the U.S.-government-funded Persian-language outlet Radio Farda recently reported that hackers had leaked messages between Iran's Islamic Revolutionary Guard Corps (IRGC) and the national football team. According to these alleged leaks, team management promised to adhere to orders from Iran's state security apparatus and avoid any political complications for the regime, both during the tournament and while conducting interviews with Persian media outlets based in foreign countries. The hacked documents also allegedly show that security officials instructed members of Iran's parliament to plan punitive actions against any team members who engage in anti-regime gestures in solidarity with protesters.
Ironically, in its early days, Iran's revolutionary regime was known for its paranoid attitude toward sports, especially football, which it called a deceptive Western invention to disorient and divide Muslims by splitting their loyalties between separate nations. Yet this policy changed significantly under Supreme Leader Ali Khamenei, for several reasons.
First, state ideology lost much of its public appeal after the Islamic Republic's traumatic first decade, which was marked by years of war with Iraq and growing disillusionment with claims of utopia. The leadership's answer to this erosion was to follow the established pattern of totalitarian regimes: that is, drastically changing their attitude toward nationalism by placing it at the center of propaganda; engineering public opinion and mass behavior by identifying the regime with Iran; and justifying suppression of domestic opponents as enemies of Iran.
Second, the postwar regime found it irresistible to exploit the lucrative economic benefits of sports, especially football. Ignoring the ideological about-face, the state made developing football one of its top priorities in order to maintain control over team finances and activities. Management of Iran's major sport clubs was essentially handed to the IRGC and state security agencies, guaranteeing the government's exclusive ownership and securing the sport's political neutrality by keeping it away from potential misuse by enemies. Today, more than 90 percent of Iranian football business is owned and directly managed by IRGC elements, while the country's football federation is headed by former IRGC commander Mehdi Taj.
Similarly, Iranian press coverage during this year's World Cup has overwhelmingly followed the Khamenei mouthpiece Kayhan newspaper in exhorting the people to support their team and recognize the "foreign enemy's conspiracy" to betray their patriotic sentiment and their holy homeland's future. Kayhan has also taken pains to undersell the size and significance of the "unsupportive" camp, casting them as naive people who have lost their dignity and autonomy to external powers. In addition, the paper has intensified its anti-Israel propaganda to distract readers from domestic controversy and convince them that the regime is preoccupied with much more serious challenges than "mere" street protests. For instance, the November 28 paper included an editorial titled "World Cup: An Exhibition of Nations' Hatred Toward Israel," which focused on the tournament's supposed displays of "increasing animosity between Muslims and Israel." Given this sentiment, the article claimed that the Qatar World Cup's real slogan should be "Freedom for Palestine."
Implications of the U.S. Match
Despite the multifaceted mobilization described above, Iran's match against the United States is not a timely one for the regime or the Iranian people. This is the last group-stage contest for both teams, and given the pregame standings, winning outright is the only surefire way to propel either squad to the knockout stages. Under normal circumstances, such a dramatic competitive moment would unify all Iranian fans in fervent prayer for victory, while the prospect of knocking the "Great Satan" out of the tournament would be a propaganda dream for the regime. Instead, millions of Iranians are reluctantly boycotting the team in order to protect the democratic protest movement, while the regime is likely riddled with anxiety over how to appropriately hold potential national celebrations in streets still occupied by anti-regime demonstrators. For now, its media organs have resorted to psyop-like tactics such as attempting to antagonize the U.S. national coach with irrelevant policy questions during the pregame press conference (e.g., asking why the U.S. Navy's 5th Fleet remains in the Persian Gulf).
As for Washington's response, the Biden administration has thus far remained largely quiet about the match, while U.S. national team officials have distanced themselves from individual acts of protest against Tehran (e.g., the recent controversy over team-affiliated social media posts that altered Iran's flag). Traditionally, however, American policymakers have usually treated sporting contests with Iran as opportunities for cultural diplomacy, so the administration should carefully consider whether and how it addresses each potential scenario—from a U.S. victory, to an Iranian victory, to a less definitive outcome in which other matches determine which nation moves on in the tournament.
Mehdi Khalaji is the Libitzky Family Fellow at The Washington Institute.