A Second Palestinian Front:
Relative Quiet, Restlessness, and Waiting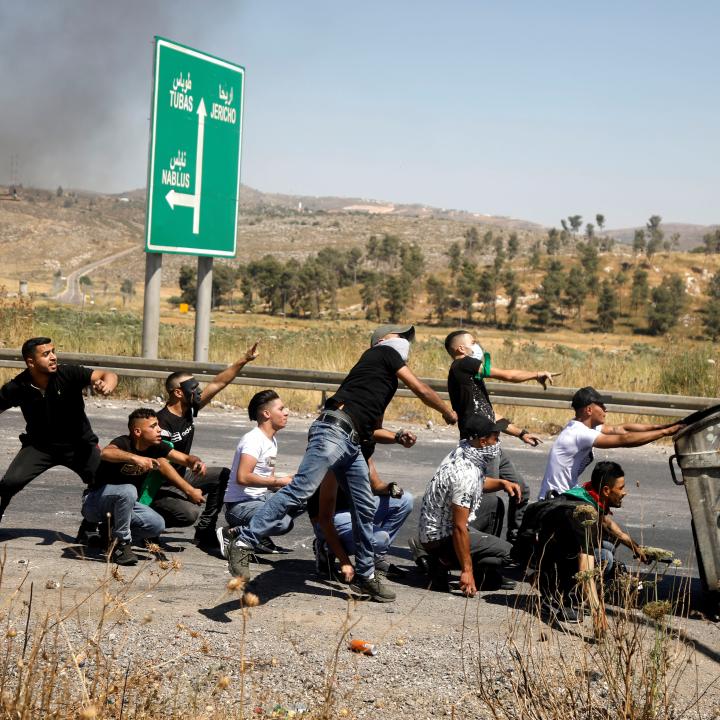 Palestinian residents of the West Bank and East Jerusalem, along with Arab Israelis, have not yet taken up Hamas's call to join the fight, but amid increasing tensions, all sides must work diligently to preserve the fragile calm.
When Hamas launched its massive attack on Israel on October 7, the head of the group's military-terrorist operations, Muhammad Deif, called on Hezbollah to join the campaign and appealed to Arab Israelis, East Jerusalem Arabs, and West Bank Palestinians to exploit the shock of the moment to set fire to their respective areas. "We have decided to put an end to the Israeli violations in al-Aqsa and begin an operation called al-Aqsa Flood," said Deif, referring to the mosque in Jerusalem's Old City. "Today, our people are reclaiming the revolution and returning to the project of establishing the state."
Since then, attention has focused on Hezbollah, which—most likely on the orders of its Iranian sponsors—has so far preferred brinkmanship to all-out escalation. The situation is more complicated in the West Bank and East Jerusalem and among Arab Israelis. Although Deif's call largely fell on deaf ears in these communities, they are torn between criticism of Hamas's obscene violence and identification with the residents of the Gaza Strip. They are also deeply anxious about how Israel would react if they did lend support to Hamas. For Israel, the key question is whether this will change, especially in the wake of an anticipated Israel Defense Forces (IDF) ground incursion into Gaza. Given Israel's experience during Operation Guardian of the Walls in May 2021—when Hamas successfully united these Arab communities in a multifront campaign that sparked violent protests throughout the West Bank, mass riots in Jerusalem, and acts of terrorism in mixed Jewish-Arab cities in Israel—the fear of violence emerging from these communities is legitimate. Yet in assessing whether they might join the war against Israel, one must examine each of them individually.
"Whispering Embers" in the West Bank

 
Palestinian terrorist incidents in the West Bank, although receiving relatively little media coverage, have increased significantly since the Hamas attack. Indeed, in the two weeks following the operation, attacks rose threefold relative to the period preceding the Hamas operation—amounting to more than ninety significant terrorist attacks since October 7. This follows two years of steady escalation in the West Bank, with attacks conducted by a long list of groups that have grown increasingly proficient and entrenched, especially in areas lacking effective governance, such as refugee camps, particularly in the northern West Bank. This increase also appears to reflect a redoubled effort by Hamas—operating from previously secure locations in Gaza and Lebanon—to direct attacks in the West Bank.
Since October 7, the West Bank has also seen a spike in protests in support of Gaza. This peaked following the tragedy at al-Ahli Arab Hospital—in which hundreds were killed by what appears to have been an errant Palestinian Islamic Jihad rocket—when demonstrators in various cities tried to reach Palestinian Authority government buildings but were repelled and ultimately dispersed by PA security forces. Numerous friction points in the territories also saw violent clashes with Israeli security forces, who arrested more than a thousand Palestinians, including about five hundred Hamas operatives, and confiscated dozens of weapons. These clashes have resulted in the death of 106 Palestinians since October 7.
The PA, for its part, understands the magnitude of the moment and the sensitive situation in the West Bank. It has, in turn, adopted a strategy founded on allowing public protests as a release valve for Palestinian grievances but also on preventing such protests from turning violent for fear such a development would reflect a loss of PA control and play into Hamas's hands. This effort to ride the political tiger is evident in PA chairman Mahmoud Abbas's belated, weak, and painfully balanced statements, which earned both derision from local Palestinians and criticism from Western capitals.
The PA and its main party, Fatah, appear to be paying a high price for their passive stance. Recognizing this, some Fatah members have made relatively favorable statements directed toward not only Gaza civilians but also Hamas. At a gut level, however, the older Fatah generation remembers Hamas violence against its members when the Islamist party took control of Gaza in 2007. Under conditions of less suffering in the West Bank, the Fatah leadership might have seen the crushing of Hamas as a kind of redemption. But the reality now playing out makes matters more complicated.
The main player here, one must underline, is the West Bank Palestinian public, which has long remained on the fence—disinclined to take part in widespread violence, such as a new intifada, largely because they are not convinced it will be useful or effective. This perception, common since the end of the second intifada, is apparently a powerful reason why the local population has generally not responded to Deif's call to unite with Gazans in violent protests against Israel. It is nevertheless worth remembering that the younger generation does not remember the second intifada on a personal level. Indeed, most polls show that the local population has deep reservations about the Palestinian Authority and the Fatah party, yet does not view Hamas as the solution either.
An array of drivers could end West Bank quiescence, especially dramatically rising casualties following an IDF entry into Gaza, or else a stunning Israeli military failure there. The broader Palestinian picture includes a deepening sense of political futility; rising discontent about PA corruption; and worsening personal insecurity, whether due to IDF activity, heightened violence by extreme right-wing Jews living in the West Bank, or radical Jewish sympathizers from the other side of the Green Line, who may have an interest in inflaming tensions with local Palestinians at this sensitive moment.
East Jerusalem: Defenders of al-Aqsa
Hamas cast its October 7 attack as a defense of al-Aqsa Mosque, but East Jerusalemites have so far generally refrained from joining the campaign. (Exceptions include clashes in recent days between several dozen young Palestinians and Israeli police officers in the Old City after police restricted entry to Friday prayers at al-Aqsa to worshippers age sixty—and in some cases seventy—or above.) This reluctance by East Jerusalemites to respond to Hamas's call apparently reflects a mix of hesitancy to identify with Hamas brutality and a fear of the consequences they would incur the "day after" a Hamas defeat in Gaza.
As time passes, however, tensions in East Jerusalem have increased. Police have been deployed en masse throughout the city since the beginning of the war and concrete slabs have been placed at the entrances to Arab neighborhoods to facilitate their closure if necessary. Residents fear going to work because of the mood in the Jewish public, families have reported difficulties obtaining food and moving around, and murmurs have hinted at the potential economic collapse of the community. The situation is particularly grave in gray zone neighborhoods, such as Kafr Aqab, where the Palestinian side of the separation barrier still lies within the city's municipal boundaries. Since the fighting began, the Qalandia crossing—which connects those neighborhoods to the rest of Jerusalem—has been closed.
For several years, East Jerusalem residents have experienced restiveness, instability, and general difficulty given their incomplete functional integration into Israeli society. In turn, more have embraced their identity as "defenders of al-Aqsa," even as they enjoy the health and social welfare advantages of Israeli residency. This underlying psychological shift has taken violent form when triggered by Israeli actions perceived as attempts to change the status quo on al-Haram al-Sharif/the Temple Mount—whether by government actors or extremist groups—or as a result of punitive measures against residents, such as house demolitions. The "usual suspects" in Jerusalem violence tend to be youths (often with criminal backgrounds but no organizational affiliation) along with well-organized squads of Hamas activists trying to instigate trouble and execute severe terrorist attacks such as assassinations, abductions, shootings, and even suicide bombings.
Over the past year, Hamas has attempted to incite the young population of East Jerusalem through social networks as well as direct appeals by movement leaders. These messages deal with a range of topics, from the close connection between the Gaza Strip and Jerusalem to Israel's neglect of East Jerusalemites to the need to save al-Aqsa as the "Day of Liberation" approaches. Hamas makes a special point of activating sensitive areas of grievance, alienation, and identity (e.g., asking whether East Jerusalemites are "Palestinians" or "non-citizen residents of Israel"). Such efforts come in the context of a long-neglected East Jerusalem caught between the indifference of two major players—the state of Israel, which focuses on investing in the area's Jewish neighborhoods, and the PA, which discourages East Jerusalem residents from participating in municipal elections. Whereas voting would recognize Israel's unification of the city, the failure to do so denies local Arabs their rightful share of representation and influence in the city's governance.
The impact of October 7 on East Jerusalemite sentiments remains to be measured. In recent years, polls by both The Washington Institute and the Ramallah-based Palestinian Center for Policy and Survey Research (PSR) have demonstrated growing East Jerusalemite skepticism toward PA governance and an increased concern about the loss of Israeli services and infrastructure were they to join a Palestinian state. According to PSR polling from 2022, more than one-third (37%) of East Jerusalem Palestinians say that in the context of a permanent two-state solution, they would prefer to be citizens of Israel rather than a Palestinian state. On a deeper level, July 2023 Washington Institute polling demonstrated another growing trend toward support for coexistence: 63% of East Jerusalemites—and 72% of respondents 18 to 34 years old—agreed with the statement "I hope someday we can be friends with Israelis, since we are all human beings after all."
The Dilemma of Arab Israelis
The October 7 attack came at arguably the peak moment of receptivity to Hamas's message among Arabs living in Israel, with their trust in the Israeli state, government, and institutions at an unprecedented low. Among this critical community, which constitutes nearly 20 percent of the country's population, there is an acute feeling of despair over the shocking increase in intra-Arab violence, crime, and economic distress—deep socioeconomic problems toward which many believe the state of Israel has been callous.
Still, in contrast to their behavior during Operation Guardian of the Walls in 2021, Arab Israelis have not yet responded to Deif's call and have not opened another front in the Hamas war. To the contrary, some Arab Israelis took part in the fighting against Hamas, both as IDF enlistees and in rescuing Jews on kibbutzim, suffering injuries and even losing their lives; many more expressed solidarity with Israel and extended their support to residents forced to evacuate communities near Gaza. In this context, the conduct of the Southern Branch Islamic Movement in Israel is particularly important—it strongly condemned Hamas's actions several times and even worked with Muslim Brotherhood elements around the world to work for the release of the abductees. To be sure, some Arab Israelis did express solidarity with Hamas and even its October 7 massacre, with the Israeli police arresting sixty individuals and universities suspending or expelling another forty. But those views seem to be restricted to a minority, worrying but relatively small. In fact, a recent survey showed that some 80% of Arab Israelis opposed the Hamas attacks, with around 5% offering their support.
But not all the news is rosy on this front. Even as most Arab Israelis reject Hamas barbarity, tensions continue to grow between the Jewish and Arab communities in Israel. On the one hand, the Jewish public still fears that Arab Israelis will someday join the Hamas-led campaign, as they did during the intercommunal riots of 2021; on the other hand, anger is building up within the Arab Israeli community over the imposition of security controls that prevent many from traveling to and from work, especially construction sites, thus harming their economic situation and daily routine but most of all undermining their status as Israeli citizens. With a decisive trigger, today's approach from Arab Israelis—generally seeing themselves as part of the larger Israeli body politic despite deep-seated complaints about bias and discrimination—could morph into a confrontational posture aligned with Hamas.
Conclusion
Fortunately, for now, Hamas has failed to open a second front in its war against Israel. The Arab communities residing in the West Bank, East Jerusalem, and Israel have thus far avoided a repeat of the violent rioting of 2021, with their restraint reflecting a mix of revulsion at the extreme nature of the Hamas attack and fear that Israel will impose a steep price should they resort to violence. But the situation could change for the worse, animated by built-up resentments linked to the social, economic, and political problems facing these populations as well as identity-related challenges. Such dynamics could prove combustible when mixed with the current high sensitivity of Jewish Israelis to statements or actions that could signal a threat to "coexistence." The bloody Hamas-Israel struggle is not likely to end soon, presenting all sides with the increasingly difficult task of preserving the functional if uneasy dynamic between Arabs and Jews in each of these areas.
Neomi Neumann is a visiting fellow at The Washington Institute and former head of the research unit at the Israel Security Agency.