Saudi King-in-Waiting Comes to America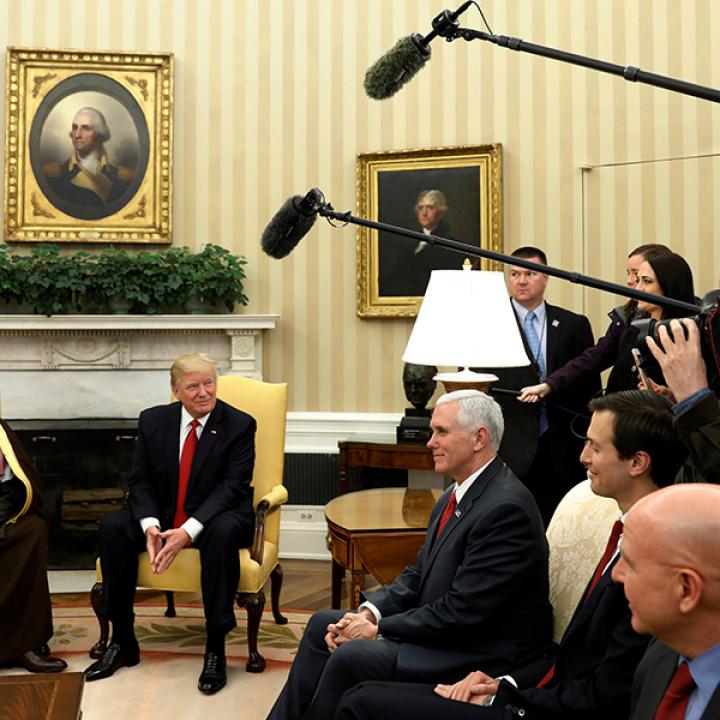 Iran will likely dominate the crown prince's Washington conversations with President Trump and other officials.
Crown Prince Muhammad bin Salman, the thirty-two-year-old de facto leader of Saudi Arabia, is expected to tour the United States for more than two weeks during his latest visit, with planned stops in Washington, New York, Boston, Seattle, Silicon Valley, Los Angeles, and Houston. Yet while his engagements outside the capital will focus on attracting technology and investments for his radical Vision 2030 reform plan, his March 20 White House meeting and other Washington conversations will be dominated by potentially awkward exchanges on how to stabilize the Middle East. And from his perspective, the agenda for those conversations is Iran, Iran, and Iran.
MbS, as the prince is often called, sees the clerical regime in Tehran as a political and religious challenge to Riyadh's traditional leadership role in the Arab and Muslim worlds. Although that view shares a measure of rhetorical agreement with the Trump administration's statements, the two governments are divided on many policy details.
Yemen. Victory has proven elusive in the Saudi-led campaign to push Iranian-backed Houthi tribesmen out of Yemen's capital and reinstate the internationally recognized government. Worse still, Iran's relatively limited involvement is having increasingly potent militarily effects as the three-year war drags on. Successful Houthi measures such as long-range missile strikes and naval drone attacks have been facilitated by specialist teams of Iranian advisors and given Tehran a testing ground for its battle tactics.
In the absence of decisive Saudi military success, the United States tried to create a diplomatic option by using Omani mediation to split the Houthis from Iran—a back channel that has reportedly been revived of late. Meanwhile, Congress has expressed growing concern about the war's humanitarian consequences, particularly the coalition's use of American munitions and intelligence support.
Qatar. Since June 2017, Saudi Arabia and the United Arab Emirates have been leading a blockade of Qatar, citing a long list of sometimes implausible grievances that include interference in their internal affairs, support for terrorism, and closeness to Iran. President Trump backed this move at first, but the administration recently adopted a more neutral stance, hosting a Strategic Dialogue with Qatari officials and launching a new effort to resolve the dispute. In addition to meeting with MbS, the president will soon host Crown Prince Muhammad bin Zayed of Abu Dhabi and Emir Tamim bin Hamad al-Thani of Qatar. Such efforts likely stem at least in part from the fact that Qatar hosts al-Udeid Air Base, home to thousands of American troops and daily U.S. air sorties bound for Afghanistan and Syria.
Washington's efforts to calm the rhetorical differences seem to be working. No further reports have surfaced of Saudi aircraft being involved in claimed air traffic infringements between the Qatar disputants, and Riyadh recently restored its liaison officer responsible for coordinating with U.S. and Qatari authorities at al-Udeid (though the UAE rejected a similar U.S. request).
Iran. Riyadh has shared its concerns about Iran with other Gulf states and Israel, including the regime's subversive tactics in potential new battlegrounds such as Bahrain and the kingdom's own Shia-majority, oil-rich Eastern Province. Tehran's nuclear ambitions also remain a focus, since the Obama administration's nuclear deal did not ameliorate Saudi fears.
At the same time, the kingdom has reiterated its own interest in building civil nuclear power reactors, for which a U.S.-led consortium is bidding. Yet it wants the right to enrich uranium and reprocess spent fuel, both of which carry proliferation risks. In a rare public display of difference with Riyadh, Israeli prime minister Binyamin Netanyahu has spoken out against allowing Riyadh to acquire such technology, while MbS warned in a recent 60 Minutes interview that if Iran develops a nuclear weapon, the kingdom "will follow suit as soon as possible."
Middle East peace. Washington is expected to announce a new plan for Israeli-Palestinian peacemaking soon, and gaining Saudi support for it is deemed crucial. Unlike his predecessors, MbS does not seem to view the peace process as a major obstacle to developing relations with Israel, which appears to be part of his vision for transforming the kingdom into a modern, high-tech state.
Syria. The White House meeting may clarify whether Riyadh has really promised $4 billion to aid reconstruction in areas of Syria where the U.S. military is currently deployed. Details on how such money should be spent are also lacking.
Radical Islam. After decades of being blamed for spreading extreme strains of Islam across the world, Saudi Arabia is now halting such efforts abroad while trying to revert to what MbS describes as "moderate Islam" at home. This is arguably his single most important policy change, and the United States should encourage it, even if skeptics doubt the speed and degree of success.
Apart from meeting with President Trump, MbS is also scheduled to have separate dinners with Vice President Pence, National Security Advisor H. R. McMaster, and, reportedly senior advisor Jared Kushner. Given the potential for imminent changes to the president's inner circle, it may be illuminating to see who else is included, or excluded, from these meetings.
Few doubt that MbS is the future of Saudi Arabia, but concerns persist about his style and the speed of his ambitious reforms. For example, a planned initial public offering for part of the state oil giant Saudi Aramco has been postponed yet again, suggesting he may be overreaching. A revealing portrait of his leadership could emerge during his visits with the financial sector and high-tech community. Unlike President Trump behind the closed doors of the White House, American executives may not be willing to tell MbS to his face that they have doubts about investing in Saudi Arabia every time he orders the arrest of businessmen and even fellow princes.
Simon Henderson is the Baker Fellow and director of the Gulf and Energy Policy Program at The Washington Institute.