Saudi Dealmaking to Top Biden and Netanyahu's New York Agenda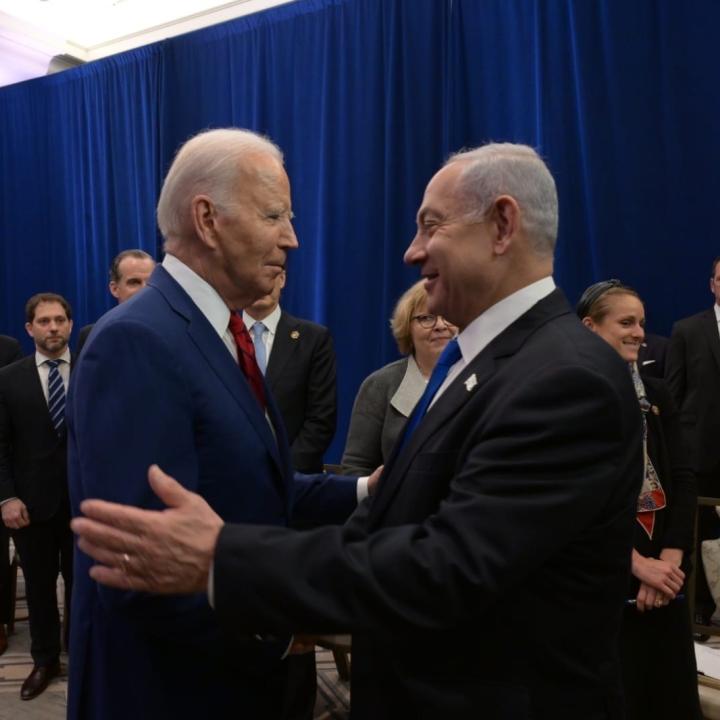 The long-delayed meeting should clarify the contours and possible requirements for normalization with Riyadh, though Israel's ongoing domestic turmoil and policy toward the Palestinians may necessitate some difficult political choices.
On September 20, Israeli prime minister Binyamin Netanyahu will meet with President Biden on the sidelines of the UN General Assembly in New York. The White House had previously refrained from scheduling an in-person meeting with the prime minister since he established a new government last December, creating a great deal of anticipation and speculation about the substance of their talks, which are expected to focus on a potential deal with Saudi Arabia.
Why the Delay?
Biden administration officials are deeply uncomfortable with the trajectory of the Netanyahu government's expansionist policy in the West Bank and its unpopular judicial overhaul, which the White House views as a threat to Israel's democratic character. Biden often prefers to resolve issues behind the scenes, and officials have privately told the author that he was upset by the outcome of recent conversations with Netanyahu. The prime minister was said to have indicated that he would compromise on the judicial issue during a phone call with the president, only for the Knesset to pass legislation in July sharply curtailing judicial oversight of government decisions and appointments.
Against this backdrop, it is no surprise that the meeting is being held in New York instead of the Oval Office, after the administration debated whether Netanyahu should be accorded the status of a White House visit. In remarks on September 15, National Security Advisor Jake Sullivan implicitly invoked the judicial issue when stating that the two leaders would "discuss a range of bilateral and regional issues focused on the shared democratic values between the United States and Israel."
Israeli opposition and media figures have routinely cited Netanyahu's failure to secure a meeting with Biden as evidence that the bilateral relationship is suffering under his tenure. Tomorrow's talks will be held 265 days after Netanyahu took office—the longest such gap since June 1964, when the Kennedy assassination delayed a meeting with Israel's new leader for nearly a year. Meanwhile, many Israelis living in the United States are demonstrating against Biden's imminent meeting to express displeasure with Netanyahu's judicial moves.
Iran in the Background?
Iran is unlikely to dominate the meeting as it has during past U.S.-Israeli talks. Yet it could serve as context for the presumed main discussion on Saudi Arabia. As Sullivan put it last week, the two leaders are meeting to formulate "a vision for a more stable and prosperous and integrated region, as well as to compare notes on effectively countering and deterring Iran."
These notes will no doubt be informed by Iran's September 16 decision to expel around one-third of the international inspectors assigned to monitor its nuclear facilities, reinforcing Netanyahu's skepticism toward Tehran's nuclear goals and underscoring the need for regional powers to join ranks. According to some observers, however, Netanyahu may calculate that being too vocal on Iran at this juncture would raise tensions, increase the risk for potential Israeli action, and thereby impede Washington's ability to pursue a deal with Saudi Arabia.
Saudi "Megadeal" Likely to Dominate the Discussion
The centerpiece of the meeting will be the White House's combined efforts to forge a U.S.-Saudi defense treaty and Israeli-Saudi normalization. Questions about the viability of this nascent "megadeal" abound, whether pertaining to specific Saudi demands, political realities in Israel, or the challenge of passing such initiatives in the U.S. Senate.
Defining a "significant component" for the Palestinians. On September 15, Secretary of State Antony Blinken noted that "normalization between Israel and Saudi Arabia" would be "a transformative event in the Middle East and well beyond." Yet he added that any such breakthrough needs to have a significant Palestinian dimension: "It could not be and would not be a substitute for Israel and the Palestinians also resolving their differences and indeed, in our judgment, continuing to move toward and ultimately achieving a two-state solution. And it's clear from my own conversations, for example, with Saudi leadership that any agreement that might be reached between Israel and Saudi Arabia when it comes to normalization would need to include a significant component for the Palestinians."
What will that "significant component" look like? Israeli officials privately say that any demands for West Bank land transfers could bring down the government and therefore should not be considered. There are even serious doubts about whether Netanyahu's government can make declarative commitments to the two-state solution. Yet Saudi and U.S. officials feel they cannot let this opportunity pass, since the allure of a deal with Riyadh gives them rare leverage on the Palestinian issue that will not be easily replicated in the future.
Officials close to Netanyahu concede that Blinken is correct: a Palestinian component to the deal is unavoidable, as Riyadh cannot be seen in the Arab and Muslim worlds as giving short shrift to the Palestinian issue. Even so, there are serious doubts that the current Israeli government can make the necessary concessions on the Palestinian issue and remain intact. Biden and Netanyahu will need to determine whether viable middle ground exists or, if not, whether the prime minister needs to consider political change at home to achieve a breakthrough.
Saudi civil nuclear capability. Another reported part of the megadeal would see Saudi Arabia develop a civil nuclear program, including domestic uranium enrichment under U.S. oversight. The latter concession would constitute a step back from America's traditional posture of preventing the proliferation of enrichment capabilities by inserting "gold standard" provisions in its nuclear cooperation agreements—indeed, other countries in the Middle East would no doubt cite it as a precedent when claiming their own rights to domestic enrichment. Many experts are also concerned that Saudi Arabia could expel foreign monitors down the road and convert its civilian nuclear facilities into military ones. Taken together, such developments could fuel a regional arms race, which has thus far been avoided despite Iranian enrichment. While Netanyahu's circle appears relatively unconcerned by this, professionals in Israel's national security community have raised the alarm.
U.S.-Israel defense treaty. Netanyahu reportedly believes that a defense treaty with Washington would deter Iran from attacking Israel, and he is expected to frame this agreement as a companion to a potential U.S.-Saudi defense treaty. Traditionally, the Israeli security establishment has opposed such a treaty on the grounds that it could tie Israel's hands in terms of self-defense, but an agreement narrowly focused on unconventional and existential threats could shape how the establishment reacts. In Washington, however, Biden administration officials have expressed concern that treaty talks would distract from the already complex process of negotiating the megadeal.
Senate approval. De facto Saudi leader Crown Prince Muhammad bin Salman is believed to be seeking a formal defense treaty with the United States, one that includes a commitment to mutual defense if either party is attacked, along the lines of America's treaties with Japan and South Korea. Such an agreement requires a two-thirds majority vote in the Senate (i.e., sixty-seven votes)—a number that would entail a broad bipartisan coalition, which has become a tall order in the current climate of profound polarization. Biden would need to sell the deal's broader benefits for the United States, such as marginalizing China in the Middle East, enabling greater coordination on oil prices, strengthening the coalition against Iran, and facilitating Israeli-Saudi normalization.
Yet even many Democrats may be reluctant to approve such a deal. Their hesitation stems not just from the historical tension between the party and the Saudis, but also from concerns that the deal might permanently preclude a satisfactory Israeli-Palestinian solution. In addition, some Democrats worry about rewarding an Israeli government whose controversial judicial changes are threatening the country's economy, social cohesion, and democracy. Key senators might therefore create an implicit linkage between halting the judicial overhaul and advancing a deal with the Saudis—a linkage that Israeli opponents of the overhaul might cheer. Indeed, many Israeli protesters fear that a deal with Saudi Arabia would cement Netanyahu's hold on power and lock in an autocratic future for their country.
On the Republican side of the aisle, it is unclear how many senators would be willing to support a Biden-led initiative with the presidential election a year away. At the same time, some have speculated that Biden views Netanyahu's traditionally close ties with Republicans as a potential aid in winning key votes if a deal makes it to the Senate.
Conclusion
The enormous potential of the Saudi deal has left Biden and Netanyahu with little choice but to meet and discuss core questions, despite their differences on Israel's domestic turmoil and Palestinian policy. Passing a formal defense treaty with Saudi Arabia would necessitate a broad-based strategy to reach the required two-thirds threshold in the Senate. Biden will likely cast this as a "Nixon goes to China" moment, arguing that only someone from the center-left of the U.S. political spectrum can achieve such a breakthrough, since a Republican administration could not muster enough Democratic support. As such, Netanyahu needs Biden in order to achieve Saudi normalization. Yet this dependence runs both ways—Netanyahu has apparently intimated in private that Biden needs his support among Republicans to pass a deal. In any case, advancing the various components of the envisioned megadeal and securing a Senate supermajority will necessitate vigorous yet careful diplomacy from all involved.
David Makovsky is the Ziegler Distinguished Fellow at The Washington Institute and director of its Koret Project on Arab-Israel Relations.