Saudi Arabia's 'Anti-Corruption' Purge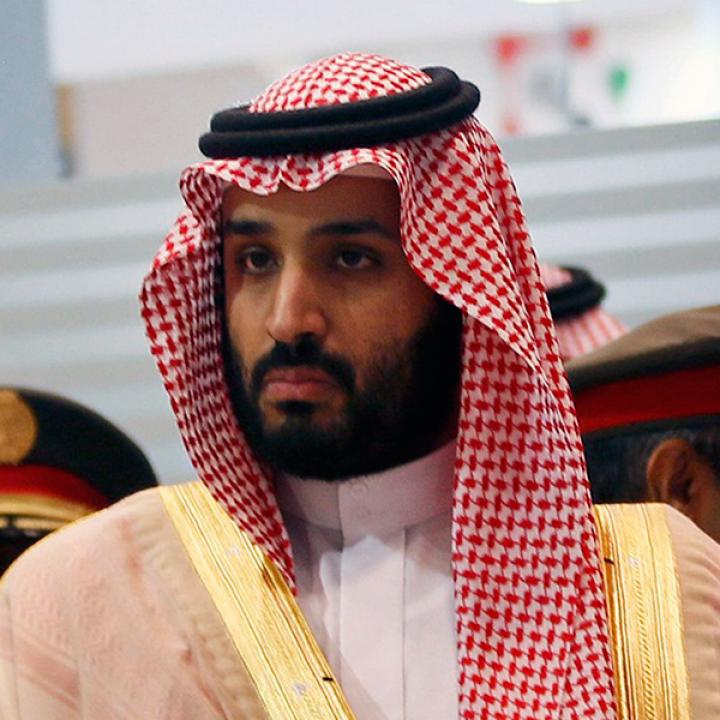 The shocking spate of high-profile arrests will strengthen the crown prince's political position, but the shakeup raises new concerns about the speed and style of change in the kingdom.
On November 4, news emerged out of Saudi Arabia regarding the unprecedented arrest of eleven princes and dozens of former ministers and business tycoons on charges of corruption. The headliner is billionaire international businessman Prince Alwaleed bin Talal, accused of unspecified money-laundering charges, but the most important political change was the arrest of Prince Mitab bin Abdullah, son of the late king and head of the Saudi Arabian National Guard. Both are nephews of King Salman and older cousins of thirty-two-year-old Crown Prince Muhammad bin Salman, known as MbS.
Mitab's demise had been widely anticipated -- King Abdullah once tried to position him for the throne, and the National Guard is a well-placed and significant military force for either preventing or orchestrating coups, so he was always a perceived threat to MbS's ascension. Predicting when and how the crown prince would use his father's authority to marginalize his cousin was difficult, but the ruthlessness of the move is typical of his style.
Full details on the arrests have not been released, but other significant royals detained in the luxurious Riyadh Ritz-Carlton hotel, which has been requisitioned by the Saudi government, apparently include:
Prince Turki bin Abdullah, a younger brother of Mitab, former governor of Riyadh, and former air force pilot.
Prince Turki bin Nasser, former head of the General Authority of Meteorology and Environmental Protection.
Prince Fahd bin Abdullah bin Muhammad, former deputy defense minister.
Non-royals include the following:
Khaled al-Tuwaijiri, former head of King Abdullah's court and his closest confidant during the last months of his life.
Adel Fakeih, minister of economy and planning, closely associated with MbS's economic reforms.
Ibrahim al-Assaf, a former finance minister who advised King Salman during last month's meeting with Russian president Vladimir Putin.
Walid al-Ibrahim, business tycoon, related by marriage to the late King Fahd.
 THE BUSINESS OF CORRUPTION
Defining corruption in Saudi Arabia is a challenge because royal family members have used their positions to facilitate business for decades. Foreign companies need a Saudi partner to operate in the kingdom, and partners with royal connections are often more useful than those without, even when the former take a percentage at every turn.
Indeed, the challenge for many foreign companies is to ensure that extra contract payments to senior princes percolate down to lower-level officials to keep relationships working smoothly. Technically, foreign laws can impede this practice, but there are ways around them. As it is, the Saudi side pays for what may be termed "bribes." The size of these payments is not decisive in awarding an official contract -- the deal is won, and the amount set aside for facilitating payments is included in the final figure, which is paid by the Saudi government. If such payments are restricted on the headline contract, they can come via related service agreements. A revealing U.S. State Department cable on royals in the Saudi military indicated that princes often declined promotion in order to retain command of bases at which they could receive extra funds
On top of this, a portion of all Saudi oil income is directed toward the royal family's thousands of members. Complicated formulas based on proximity to the ruling line and numbers of offspring result in generous monthly stipends. Meanwhile, financial lapses that would not be overlooked among ordinary citizens (e.g., delinquent utility bills) seldom have bad consequences for royals.
EXPLAINING THE UNCERTAINTIES
The weekend's developments in Riyadh will likely be followed by further administrative changes, perhaps with MbS replacing his eighty-one-year-old father as prime minister or even as king. Whatever the case, the government needs to provide a detailed official explanation of what is happening. The powers of the new Supreme Anti-Corruption Committee -- which is headed by MbS and includes the attorney-general and head of state security, among others -- appear very broad, so the international business community needs to know the procedures for dealing with those detained. Will their assets be frozen or placed under the control of Saudi authorities? Prince Alwaleed is a significant shareholder in Citicorp, so who controls his interest now? Will there be trials of the accused? What will the range of punishments be? King Salman held a telephone call with President Trump on November 4 regarding a weekend missile strike from Yemen and other matters, but it is unclear whether they discussed the anti-corruption moves.
Riyadh has issued a great deal of rhetoric about creating a more conducive environment for new foreign investment per MbS's "Vision 2030" economic plan, but the weekend purge may dampen investor enthusiasm, at least until the anti-corruption cases are resolved. Foreign business contacts of those arrested will likely be reluctant to visit the kingdom anytime soon -- ironically, the Ritz-Carlton where the detainees are being held hosted a huge investment conference just last month.
The abruptness of the action may also cast a shadow over the plan to hold an initial public offering for 5 percent of Saudi Aramco's shares, which are wholly owned by the Saudi government. The New York Stock Exchange remains an obvious location for that move, but MbS's apparent unpredictability may deter investors.
Finally, the arrests are further evidence that the pace of planned change in the kingdom is extraordinary. New investment projects, including the $500 billion plan to build a megacity called NEOM in the northwest, envisage a high-tech country at the leading edge of robotic technology. And on social issues, MbS has announced plans to allow women to drive beginning next year. Although launching an anti-corruption campaign may help him outflank some of his rivals and continue implementing such plans as he sees fit, he must still produce results in order to show the nation that his style and leadership is the best way forward.
Simon Henderson is the Baker Fellow and director of the Gulf and Energy Policy Program at The Washington Institute.