Russia's Cooperation on the Iran Deal Is No Favor to Washington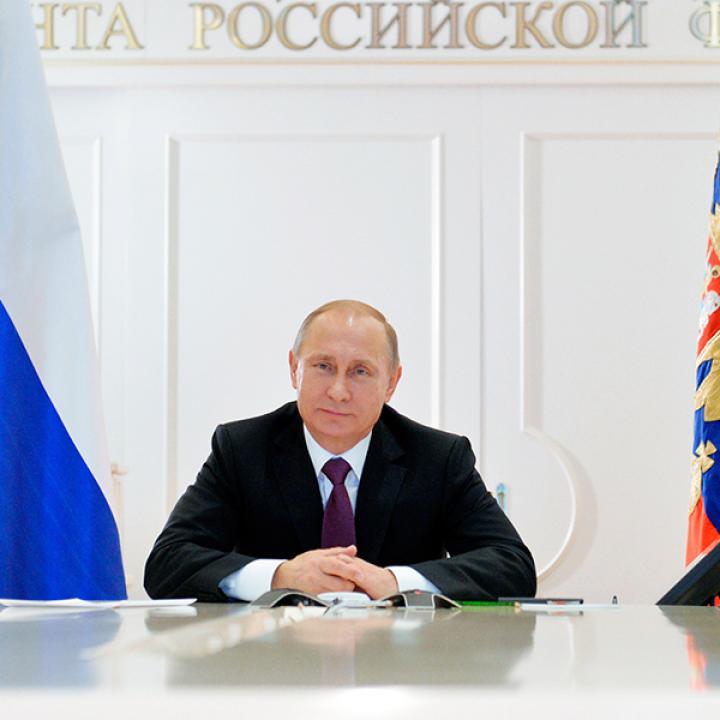 Moscow only agreed to the nuclear deal out of self-interest, and the JCPOA has allowed Russia to expand ties with Iran while positioning itself as a regional counterweight to the West.
July 14 will mark one year since the announcement of the Joint Comprehensive Plan of Action (JCPOA), the nuclear agreement with Iran. This article is part of a series of PolicyWatches assessing how the deal has affected various U.S. interests, to be released in the days leading up to the anniversary.
"We are certain that the world heaved a sigh of relief today," Russian president Vladimir Putin said in a statement issued July 14, 2015, when the JCPOA was signed following eighteen months of intense negotiations. At the time, he praised the deal and emphasized Moscow's role in the process: "The Russian negotiating team and nuclear experts have made a significant...contribution to the drafting of the comprehensive arrangements, which made it possible to align the different, often opposing views." The next day, the Russian Foreign Ministry tweeted that the deal was "based on the approach articulated by President Vladimir Putin."
U.S. officials often point to Moscow's role in the negotiations as proof that outreach to the Kremlin can lead to helpful Russian diplomatic action. Yet Putin did not facilitate the P5+1 nuclear deal out of any interest in genuine cooperation with the West or international security. Moscow had long opposed the tough sanctions that brought Iran to the negotiating table, consistently working to dilute them for years. And when Putin finally did support the nuclear sanctions, he extracted concessions in exchange (e.g., as the Washington Post reported in May 2010, the United States lifted sanctions against "four Russian entities involved in illicit weapons trade with Iran and Syria since 1999"). Indeed, the Russians backed the deal solely because it benefited them on a number of fronts, particularly in their geostrategic goal of countering Western influence in the Middle East. As a result, Moscow's growing alliance with Iran now requires closer scrutiny, as CENTCOM chief Gen. Lloyd Austin warned the Senate in March.
Security, Economic, and Political Benefits
A nuclear Iran was never in Russia's interest -- from North Korea to Iraq, the Kremlin has long supported international efforts to block nuclear proliferation, so it hardly needed convincing about the threat from Iran. As Paul Schwartz of the Center for Strategic & International Studies wrote in June 2015, out of all the P5+1 members, Russia was the most vulnerable to possible nuclear attack from Iran, since Tehran had recently developed Shahab-3A ballistic missiles with a range of up to 2,000 kilometers that could easily reach Western Russia.
On the economic front, Moscow has sought to expand trade ties with Iran for some time, as well as economic cooperation in general. Senior Russian officials often complained that the nuclear sanctions hurt such trade; now that the sanctions have been lifted, "Russian companies are broadly gearing up to get back into Iran," according to a February report in the New York Times. Tangible progress on this front has been slow but significant. In October, Moscow announced plans to offer a $5 billion credit line to Iran. And according to the Russian state news agency TASS, Deputy Finance Minister Sergey Storchak noted last month that Moscow will issue two loans to Iran totaling approximately 2.5 billion euros, pending the cabinet's permission. Other Russian press reports have indicated that Moscow will host a business forum titled "Russia-Iran: Strategic Dialogue of Great Powers" in August.
In addition, diplomatic relations between the two countries have grown to an unprecedented level, particularly regarding cooperation on Syria. In 2015 and again this year, senior Russian and Iranian diplomats have held multiple meetings and telephone conversations. Iranian defense minister Hossein Dehghan met with his counterpart Sergei Shoigu in Moscow this April during the 5th Moscow Conference on International Security, where both countries announced that they would be increasing their military cooperation. And last month, Shoigu traveled to Tehran for the second time; his previous trip, in January 2015, was the first such visit by a Russian defense minister in fifteen years.
Advanced Weapons Sales
In April 2015, only days after the P5+1 and Iran agreed on the framework for the nuclear deal, Putin lifted the ban on S-300 missile sales to Tehran. Previously, Moscow had frozen an $800 million contract for these potent antiaircraft weapons following intense lobbying from the United States and Israel. Yet according to Russian and Iranian officials, the first tranche of S-300 components arrived in Iran this April, and Moscow will reportedly complete the deliveries by year's end.
In recent years, Moscow has used the S-300 and its more advanced successor, the S-400, to project power throughout post-Soviet airspace. Yet Foreign Minister Sergei Lavrov claimed in April 2015 that the S-300s intended for Iran were "purely" defensive weapons that "will not put at risk the security of any state in the region, including Israel." One year later, Rep. Steve Chabot (R-OH) sent an inquiry to the White House about why the U.S. government was not sanctioning Russia's S-300 transfers to Iran. According to the Washington Free Beacon, he wrote, "These systems would significantly bolster Iran's offensive capabilities and introduce new obstacles to our efforts to eliminate the threat of an Iranian nuclear weapon." Yet establishing a legal basis for such sanctions could be complicated given that no UN resolutions on Iran have specifically banned air-defense systems.
Tehran has also expressed interest in obtaining other Russian weapons. When Dehghan visited Moscow in February, he reportedly planned to spend $8 billion on a variety of systems. According to the Moscow Times the Iranians were most interested in the Su-30 multirole fighter, "which would drastically outperform anything else in their arsenal." While no firm commitments have been announced as of yet, the nuclear deal made it possible for senior Iranian officials to begin the conversation with Moscow.
Larger Geostrategic Considerations
Putin's top priority is restoring Russia as a great power that stands as a counterweight and equal to the West -- one that plays a critical role in all major international decisions. Seen through this prism, a pro-Western Iran would be the worst possible outcome for Moscow. As the late Russian Middle East expert Georgy Mirsky wrote in April 2015, "Several years ago, I heard from the lips of one [Ministry of Internal Affairs] employee such reasoning: 'For us, a pro-American Iran is worse than a nuclear Iran.'"
The Iran deal fits within this calculus. First, it strengthens Iran, which helps preserve a balance of power in the Middle East while enabling the region's various conflicts to continue -- conflicts from which Moscow benefits. The deal also removes the stain of UN Security Council condemnation, allowing Putin to cooperate much more overtly with Tehran on Syria while at the same time giving him flexibility to present himself as an alternative to Iran in the region.
Such thinking necessitates a Russian alliance with Iran no matter the many differences between the two countries and the complicated history they share. Since Moscow launched its Syria intervention last November, Stephen Blank of the American Foreign Policy Council has repeatedly noted how Putin is working to create a Shiite alliance in the Middle East that would force the West to treat Russia as a power to be reckoned with there. Although Putin reaches out to every Middle Eastern state, his support for the Assad regime in Syria and other regional actions indicate an increasingly pro-Shiite policy tilt, even though the majority of Russia's own sizable Muslim population is Sunni.
In line with this tilt, Putin called for Iran's admission into the Shanghai Cooperation Organization last month. And in previous years, Tehran reportedly indicated an interest in joining the Russia-led Eurasian Union, which Putin envisions as a counterbalance to the European Union. While such efforts are perhaps only talk at this point, they suggest a desire to make Russia's ties with Iran stronger than with any Arab state. Furthermore, Middle East experts and officials in Moscow claim to see Iran as a potentially "secular" force to counter Sunni Islamist extremism.
Conclusion
Reflecting on the year since the signing of the JCPOA, it is clear that the agreement allowed Russia and Iran to expand their ties on a number of fronts. Russian arms transfer in particular raise serious concerns about international security and Western interests in the Middle East. Although the two countries are historical competitors, for the moment an alliance with Iran fits well within Putin's larger objectives of dividing the West and opposing its regional policies -- all milestones on his road to true "great power" status. This remains Putin's number-one goal, and he believes an alliance with Iran will help him accomplish it.
Anna Borshchevskaya is the Ira Weiner Fellow at The Washington Institute.