Russian S-300 Missiles to Iran: Groundhog Day or Game-Changer?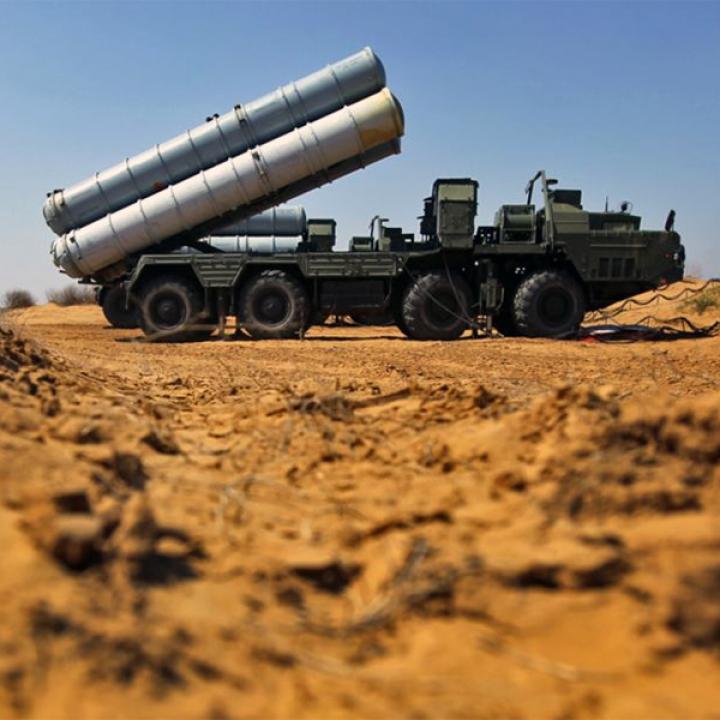 Potential military action against Iran would be much more risky if the regime does in fact acquire the advanced S-300 antiaircraft missiles, but Moscow and Tehran have significant obstacles to overcome before that occurs.
One of the early consequences of the nuclear agreement with Iran has been revived negotiations over the sale of Russian S-300 surface-to-air missiles (SAMs) to the Islamic Republic. Their transfer would have far-reaching military implications, but appears far from certain.
BACKGROUND
Iran has long been trying to acquire the S-300 to bolster its air defenses and protect its nuclear infrastructure. Tehran and Moscow originally signed an $800 million contract for the S-300 in December 2007 after a long and apparently fraught eight-year negotiation. Following the adoption of UN Security Council Resolution 1929 in June 2010 -- which banned the transfer of most arms to Iran, but not SAMs -- Russia announced three months later that it would not fulfill the contract, returning Iran's $166.8 million down payment. In response, Tehran sought punitive damages for the canceled sale, bringing a $4 billion claim against Russia's state-owned arms export company Rosoboronexport to the Court of Conciliation and Arbitration, a Geneva-based arm of the Organization for Security and Co-operation in Europe.
At the apparent request of the United States and Israel, Moscow agreed to extend the UNSCR ban to the S-300 in order to pressure Iran to curb its nuclear program. Russia's cancelation of the deal was likely facilitated by several prior Israeli decisions -- to end military cooperation with the Republic of Georgia in response to Russian requests (August 2008), to sell advanced unmanned aerial vehicles to Moscow (April 2009), and to conclude a military cooperation agreement with Russia (September 2010) -- as well as by President Obama's decision to cancel the extension of NATO's missile shield to Poland and the Czech Republic (September 2009). Yet after Washington announced the framework nuclear agreement with Iran this April, the office of President Vladimir Putin published a decree lifting the ban on S-300 transfers. Russian and Iranian officials have since confirmed that the transfer would occur by the year's end or in early 2016.
If the deal goes forward, it is not clear which missile variant will be involved, as the S-300 is actually a family of SAMs produced by two different design bureaus. Russian officials have further confused matters by implying that because the version Iran originally purchased is no longer in production (the Almaz S-300PMU-1/2, known in the West as the SA-10 Grumble/SA-20 Gargoyle), Moscow would either have to update obsolete models previously retired by its military or substitute a less-suitable system (in terms of Iran's military needs) that Tehran reportedly does not want: the Antey-2500 (known in the West as the SA-12A Gladiator and SA-12 Giant). All of the S-300 variants in question are export versions of more advanced Russian systems.
MILITARY IMPLICATIONS
The transfer of updated S-300s would be a potential game-changer, since Iran's current air defenses are relatively weak and plagued by coverage and capability gaps. Its ground-based systems consist mainly of older antiaircraft artillery and obsolete SAMs that the United States has previously faced in combat (SA-2s, SA-5s, HQ-7s/Crotales, Rapiers, and I-HAWKs, plus small numbers of modern Russian Tor-M1s/SA-15s and Pantsir-S1s/SA-22s). It also has perhaps 250 operational fighter aircraft (F-4s, F-5s, Chinese F-7s, F-14s, and MiG-29s).
The S-300, which entered Soviet service in 1980, was developed as a strategic SAM to counter low-altitude threats, including cruise missiles, though it can engage high-altitude threats as well. Later models can reportedly counter short- and medium-range ballistic missiles. It is capable of fully-automated operation (a significant advantage, especially for less sophisticated users), and can engage multiple targets simultaneously at altitudes from 30 to 90,000 feet, and at ranges of 2 to 120 miles. The missile is considered roughly comparable to the U.S. Patriot PAC-2, though it is not believed to have seen combat.
The S-300 would represent a significant upgrade in Iran's capabilities, though much would depend on the model sent, numbers involved, and the technical and tactical proficiency of the crews. Operationally, it would force an attacker to divert assets to air defense suppression and away from the primary mission (such as striking nuclear installations). And it would provide Iran, for the first time, with the ability to intercept cruise missiles (such as the Tomahawk) and short- and medium-range ballistic missiles (such as the Israeli Jericho and Saudi CSS-2 and CSS-5). Tehran might also decide to transfer some S-300s to Syria, much as Damascus gave Tehran a number of Pantsir-S1/SA-22 SAMs that it received in 2007 (though in that case, Iran had provided the funds for Syria's original purchase).
Several factors would mitigate the impact of an S-300 transfer, however. The United States and Israel are on good terms with several S-300 users (Greece, Slovakia, and Ukraine), so their intelligence services are probably familiar with its capabilities and vulnerabilities. Indeed, the United States reportedly obtained S-300 components from Belarus and the Ukraine in the 1990s for technical exploitation. In addition, Iran's S-300s would be integrated into an air defense network with numerous weak links, leaving the missiles vulnerable. Yet while U.S. and Israeli forces are capable of dealing with S-300s, the presence of such a system would make any air operation (e.g., a preventive strike on Iran's nuclear infrastructure) much more complicated, risky, and perhaps costly. The missiles might also embolden Tehran to take greater risks in a variety of areas, in the belief that more advanced SAMs would increase the price of retaliation for adversaries.
RUSSIA'S STRATEGIC CALCULUS
Moscow's decision on whether to complete the S-300 deal will be influenced by strategic, policy, and military-technical considerations. First, Russia's relations with Iran are different from its relations with most other countries. The two share a maritime border in the Caspian Sea, and each has the ability to harm the other's vital interests. Moreover, their bilateral ties are strongly affected by the state of their relations with the United States. When U.S.-Russian relations are good, Moscow has agreed to refrain from supplying the S-300 and other weapons to Iran. In periods of tension (e.g., in 2013 over Syria, and in late 2014/early 2015 over Ukraine), Russian announcements or press reports regarding plans to supply the S-300 tend to surface.
As Tehran entertains new opportunities for cooperation with Europe and perhaps the United States in the wake of the nuclear deal, Moscow will need to formulate a new strategy in order to protect its position in Iran. The revival of the S-300 deal may be a signal that Russia can undermine Western interests through arms transfers if its own vital interests are not respected. The move may also be a reminder that Russia is the only country willing and able to meet Iran's military needs. Indeed, media reports indicate that the two countries are discussing other weapons deals, though it is unclear whether these talks are serious or just a means of enhancing their leverage in the S-300 negotiations.
While Moscow and Tehran share strategic interests, such as common opposition to American policies in the region, they are also strategic rivals in a number of areas, including competition for natural gas markets and for influence in the Caucasus and Central Asia. Russia has benefitted from sanctions on Iran that have precluded the latter from challenging Moscow's position in key arenas, while isolation from the West has forced Tehran to adopt a somewhat conciliatory posture toward Russia, lacking other partnership options among the great powers. This "no war, no peace" situation between the West and Iran has been compatible with Russia's interests. At the same time, Moscow has sought to avoid tensions with Tehran that could undermine its security interests.
With sanctions set to be lifted, and Russia unable to compete with Europe in Iran's civilian markets, Moscow may look to arms sales as its main opportunity (especially since most EU states still have qualms about selling weapons to Iran). In doing so, however, it will need to balance its interests in Iran against its interests in cultivating the Sunni Arab states that see the Islamic Republic as the primary regional threat. Russia has already sold arms to Egypt, Kuwait, and the United Arab Emirates; in September 2014, it reportedly agreed to a $3.5 billion weapons deal with Cairo. In addition, it is cultivating relations with a number of key U.S. regional allies who are troubled by Washington's recent policies, such as Egypt and Saudi Arabia. Therefore, despite announcing the resumption of the S-300 deal, Moscow may fear that transferring the missiles to Iran could harm its prospects with key Sunni Arab actors.
Other potential obstacles are technical or contractual. The upgrade of former Russian army S-300s would likely take time, pushing the delivery date to 2016 or beyond. And if Iran eventually settles for the Antey-2500, it will have to wait in line, as Egypt has reportedly signed its own contract for this system. Moreover, attempts to finalize a contract with Iran have run into problems. Russia has insisted that the lawsuit against Rosoboronexport be withdrawn before the contract is signed, while Iran has stated that it will not do so until the missiles are delivered. Differences over terms have reportedly delayed the signing as well, much as they did more than a decade ago. A source close to Russia's Defense Ministry recently described the impasse bluntly: "The Iranians are trying to squeeze juice out of us...[They are] trying to get technology access, technology transfer, a good price, good terms of delivery, and they are pressing us by pointing out that we already cheated on them twice. They are also trying to leverage us by saying we need them as a market for civilian technologies such as the Sukhoi Superjet-100 and Tupolev Tu-204 passenger planes, so they are trying to get as much out of us as they can" (Defense News, August 29, 2015).
Ironically, the continued delays may suit Russia just fine. Moscow views Iran with a mixture of deep distrust (due in large part to its ability to threaten Russian interests in the Caucasus and Central Asia) and exasperation (due to the difficulty of previous S-300 negotiations), so the Kremlin seems content to use the prospective S-300 sale as leverage over the United States and Israel (e.g., pressuring them to refrain from arms transfers to Ukraine). From a political perspective, the possibility of a sale is more valuable to Russia than a done deal, so it may have an interest in encouraging Tehran's propensity to string negotiations out.
CONCLUSION
The transfer of S-300s to Iran seems far from a foregone conclusion, and Russia's latest bid to resurrect negotiations over the missile system may simply be another attempt to use threatened arms transfers to achieve other goals. Although the deal may go through eventually, it seems unlikely to happen quickly. U.S. and allied consideration for Moscow's vital interests in various arenas may be the best way to further delay the deal, which continues to face significant military-technical and strategic obstacles -- not least Tehran's tendency to exasperate potential partners by overplaying its hand in negotiations.
Michael Eisenstadt is the Kahn Fellow and director of the Military and Security Studies Program at The Washington Institute. Brenda Shaffer is an adjunct professor at the Center for Eurasian, Russian, and East European Studies at Georgetown University and a nonresident senior fellow at the Atlantic Council's Global Energy Center.
Sources used for this article include:
"Haggling Irked Russians," Iran Times International, October 29, 2010.
Steven J. Zaloga, Soviet Air Defense Missiles (Coulsdon: Janes Information Group, 1989), pp. 110-116, 291-297.
Steven J. Zaloga "'Grumble': Guardian of the Skies -- Parts 1 and 2," Jane's Intelligence Review 9, nos. 3-4 (March-April 1997).
Matthew Bodner, "Underwhelming Business Results at MAKS Air Show," Defense News, August 29, 2015.