Russia Has the Edge in Managed Competition with Turkey
Also published in
Oxford Analytica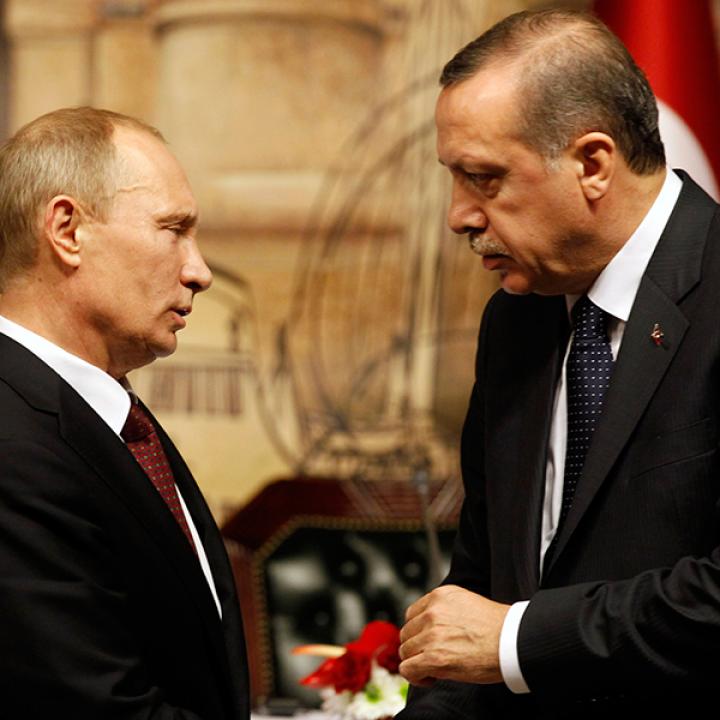 Although Moscow and Ankara are pursuing different aims in Syria, Libya, and the South Caucasus, they have managed to avoid direct confrontation.
Russia and Turkey are active in three geopolitical flashpoints: Syria, Libya and the Azerbaijani-Armenian conflict. They have backed opposing sides in the Syrian and Libyan conflicts and pursued different objectives there and in Nagorno-Karabakh, in the hope that conflict trends would benefit either one or the other external power. Despite this, they have avoided direct confrontation through ad-hoc coordination.
What Next
Turkish entrenchment in Azerbaijan is an unspoken challenge to Moscow. Even so, the relationship remains balanced in Moscow's favour at least for the short term, thanks to its multiple levers of control across different theatres which Ankara cannot match. Rather than tackle Turkey head on, it is easier and cheaper for Moscow to put pressure on Turkey in one theatre when it behaves disruptively in another.
Subsidiary Impacts
Connectivity between different theatres may grow: Turkish gains in one conflict zone will elicit Russian pressure in another.

Instability could be mitigated if Western states played a more active role but this is an uncertain prospect.

Moscow will leverage the US and more broadly Western absence from key flashpoints.
Analysis
In Syria and then Libya, Russia and Turkey picked different sides and backed proxy forces. Most recently, in Nagorno-Karabakh, Turkey stepped inside Russia's traditional sphere of influence to help Azerbaijan change facts on the ground.
Despite confrontational behaviour in these conflicts, Moscow and Ankara reiterate that relations are good and that they understand one another's aims and interests. Such statements are hard to reconcile with their actions.
Many Moving Parts
Rather than seek equilibrium for the common good, both states watch for advantages to be seized in battlegrounds where they have pieces in play. Moscow often seems to come out ahead. To take some Syrian examples:
A March 2020 ceasefire agreement secured by Presidents Vladimir Putin and Recep Tayyip Erdogan improved Russia's position by creating a security corridor along the strategically important M4 highway, blocking Turkish proxy advances.

In October, Russian aircraft killed dozens of Turkish-backed rebel fighters from the Faylaq al-Sham group in Idlib, in apparent violation of the truce. This may have been indirect retribution for Turkish involvement in Karabakh, or even a warning following reports that Idlib rebels had flown to Azerbaijan as mercenaries.

In December, Russia deployed military police to guard the town of Ain Issa from Turkish proxy forces trying to evict Kurdish combatants from the area.
The latter incident highlights one of several Russian advantages that Turkey cannot match: a long-standing relationship with the Kurds which Moscow can choose to mobilise (or not) as circumstances dictate. In late August, Russia hosted a delegation of Syrian Kurds including some linked to the People's Protection Units, which Turkey has designated a terrorist organisation owing to its links with the outlawed Kurdistan Workers' Party (PKK), which retains an office in Moscow.
Vying Interests in Libya
Turkey appeared to gain the asymmetric advantage it lacked in Syria by intervening in Libya in support of Prime Minister Fayez Serraj's internationally recognised government in Tripoli. The military value of Turkish assistance was evident when Tripoli's armed forces broke the siege of the capital in June 2020 and drove eastern commander Khalifa Haftar back as far as Sirte.
Russia's limited military involvement (it has no regular armed forces in the country) meant that the reversed fortunes of its ally Haftar were not a fatal blow to its broader political and security engagement. Moscow reached out to other eastern leaders and also pursued ties with the Serraj government: it is not wholly wedded to Haftar or ultimately the side he represents.
Moscow can exploit unresolved conflict to increase its strategic presence, primarily through the Wagner private military company. Wagner's presence at key bases in central Libya prevented a total rout of Haftar's forces and stopped the conflict moving eastwards. The Russian combatant presence not only dissuaded Tripoli forces from advancing, it also prevented local armed groups (for example, tribes affiliated with the Petroleum Facilities Guard) from switching allegiances. Even with a limited presence, Russia can exert significant influence.
The Kremlin denies knowledge of Wagner's activities, still less its combat role in support of Haftar. The US Department of Defense, by contrast, said in July that Russia was in breach of UN Security Council rules by providing military equipment and combatants for front-line service. It said Russian military cargo aircraft were supplying Wagner, which had air defence systems, light armoured vehicles and other equipment that "demonstrates an intent toward sustained offensive combat action capabilities." Also last year, US Africa Command reported that MiG-29 and Su-24 combat jets, flown from Russia and repainted on a stopover in Syria, had been deployed and used in Libya.
Peace in Karabakh, Russian-Style
Turkey's backing of the Azerbaijani offensive against Armenian-controlled Karabakh, traditionally a Russian sphere of influence, destabilised a conflict mostly dormant since 1994 and further complicated its relationship with Moscow. From mid-2020, Ankara ramped up defence deliveries to Azerbaijan and the two countries conducted wargames that, in retrospect, looked like practice for the impending offensive.
The end result was an Azerbaijani victory that changed the balance of power in Karabakh beyond recognition. This was achieved in part thanks to Turkish unmanned aerial vehicles whose vision and targeting ability overwhelmed the advantages of Armenian troops defending difficult mountain terrain. Putin forced the government in Yerevan, Moscow's long-standing ally, not only to accept the Azerbaijani military gains but to cede all territory outside Karabakh that Armenian forces have held since 1994.
Even so, Russia's apparent losses are not unmitigated:
Putin ended the conflict through his unique capacity to talk to both sides.

Russian, not Turkish, troops have deployed to keep the peace. Turkey gains a presence at a military monitoring station, but no say.

Russian action contrasts with the hesitancy of other external powers, and the purpose of further Russian-US-French mediation now looks uncertain.

Armenians are chafing at what many see as a Russian betrayal, but blame also is falling on Prime Minister Nikol Pashinyan, whose liberal values and ascent to power in a 2018 revolution were never liked in Moscow.
In sum, Russia has asserted its role as rule-maker and enforcer in the South Caucasus, and Turkey is not invited to share in that success. Still, Turkey's enhanced relationship with Azerbaijan must still be cause for longer-term concern in Moscow, which harboured hopes of drawing Baku into the Eurasian Economic Union and the Collective Security Treaty Organisation.
Outlook
Outside zones of geopolitical competition, many factors are skewed in Russia's favour:
Turkish exports to Russia in recent years have hovered in the USD3-4bn range, contrasting with imports of USD20-23bn.

The TurkStream pipeline carrying Russian gas to southern Europe binds Ankara to Moscow.

Moscow can slow or shut down the flow of Russian tourists who provide a lifeline for the Turkish economy.

Erdogan's purchase of Moscow's S400 air defence system continues to harm his relationship with Washington and NATO.

Turkey is vulnerable to refugee flows from Syria, which Russia can influence through the conflict.
On balance, Putin holds more cards than Erdogan and will use them to his advantage, especially as long as the West remains mostly disengaged from Syria, Libya and the South Caucasus.
Anna Borshchevskaya is a senior fellow at The Washington Institute and author of the upcoming book Putin's War in Syria: Russian Foreign Policy and the Price of America's Absence. This article was originally published on the Oxford Analytica website.