Resetting U.S. Relations with the Kurdistan Region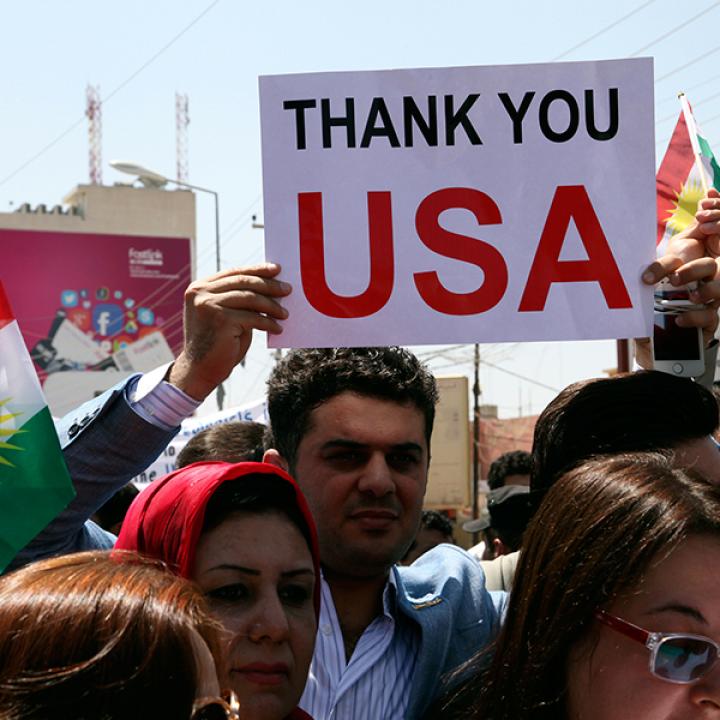 Washington's post-referendum reengagement should focus on getting U.S.-Kurdish relations and Kurdish democracy back on the right track.
On November 1, the Iraqi Joint Operations Command announced the breakdown of negotiations over the insertion of federal security forces along the Iraq-Turkey Pipeline route and the Kurdistan Regional Government's border crossings with Turkey and Syria. Baghdad's renewed military threat to enter these areas on November 3 -- and challenge the Kurds' willingness to defend them -- is the first test of America's relationship with KRG prime minister Nechirvan Barzani, who became the region's chief executive after his uncle Masoud resigned the presidency earlier this week. The manner in which Washington handles the crisis could either underpin or undermine a new generation of leaders in Kurdistan.
WHAT DO THE LEADERSHIP CHANGES REALLY MEAN?
Masoud Barzani stepped down on November 1 and has signaled that he will not run for the presidency again when the KRG holds new elections, which may not occur until June 2018. He took this step in part to remove an obstacle to resuming negotiations with Baghdad, Turkey, Iran, and Washington, some of whom refused to hold talks so long as he remained head of state. On October 29, the KRG parliament passed new legislation (Law Number 2 of 2017) temporarily redistributing the powers of the strong executive presidency among the prime minister, cabinet, parliamentary leadership, and judiciary. Specifically, the law states the following:
Prime Minister Barzani will act as chief executive authority and external representative of the KRG, with the power to call elections and approve the deployment of Iraqi federal security forces inside the KRG, conditional on parliamentary approval.
The KRG cabinet will assume the power of dismantling the parliament under special circumstances, declaring a state of emergency, and issuing executive orders with legislative powers during emergency times (either consulting with parliament or proceeding on its own if the legislature cannot meet).
The parliament's three-person Presidency Council can now fully authorize legislation and appoint judges nominated by the judicial council, both without a presidential signature.
The judicial council can now accept cabinet resignations or ask members to continue their duties until a new cabinet is formed. The council also assumes the authority to sign off on senior bureaucratic appointments.
Any powers not specifically delegated will be suspended until a new president is elected.
The new law is neither permanent nor all-encompassing, however. It will expire after the next presidential election, and even in the short term it leaves two key presidential powers undelegated: the title of commander-in-chief of Peshmerga forces and authority over the National Security Council. The prime minister can nominally promote, appoint, and fire military commanders, but this falls far short of giving Nechirvan Barzani the powers enjoyed by a true head of state. At a moment of military crisis like the current one, lack of clear control over the security forces will only undermine the KRG leadership as it seeks to negotiate a permanent ceasefire with Baghdad.
Moreover, Masoud Barzani is slated to remain at the helm of the Supreme Kurdistan Political Council, which was dubbed the Higher Referendum Council before September's controversial KRG independence vote. Absent a serious effort to reinforce elected and formal state institutions, this nonstate institution could dominate Kurdish politics and governance as it did when pushing for the referendum. Concerns about whether a true transfer of power has occurred are not academic for Baghdad, Ankara, and other international players, who launched their current crackdown on the KRG in response to the referendum's results. Establishing a credible new face for the Kurdish region and a new commander-in-chief for its armed forces will likely determine whether the Kurds face a wider military assault by Baghdad or a successfully negotiated permanent ceasefire.
U.S. INTERESTS AND THE KURDISH LEADERSHIP
On October 30, the State Department commended Barzani's decision not to seek another term as president, noting that the United States looks forward "to actively engaging with the Prime Minister of the Kurdistan Regional Government, Nechirvan Barzani, and the Deputy Prime Minister, Qubad Talabani." The latter comment was not a simple restatement of the KRG's new legal changes. Rather, it was Washington's way of clarifying who it would -- and would not -- be directly dealing with in the immediate future.
U.S. diplomacy in Kurdistan has come under criticism in the past for validating factional leaders in the midst of crises. This includes Masoud Barzani, whose presidency was extended under dubious legality after 2015 and whose political party physically prevented the parliamentary speaker from attending legislative sessions for over two years. The State Department has now set out a new approach, suggesting that the KRG's formal institutions will be given more weight and that party leaders and securocrats will no longer be consulted as prominently by U.S. officials.
The current faceoff at the Faysh Khabur border crossing with Syria is the first real test of this worthy experiment. Washington has a strong interest in preventing clashes between U.S. allies armed primarily with U.S. heavy weapons. Talks were progressing fruitfully between military leaders -- Iraqi chief of staff Gen. Othman al-Ghanimi and acting minister of Peshmerga Karim Sinjari -- before abruptly stopping on November 1.
The negotiations were a promising avenue toward a narrow-scope Joint Security Mechanism for Faysh Khabur and the border, but some Kurdish figures sought to refocus the talks on a broader mechanism for all disputed areas, as well as discuss overarching administrative, legal, budgetary, and energy issues between the KRG and Baghdad. These are all commendable ideas, as the State Department noted on October 20, but the priority right now is to avoid imminent conflict in Faysh Khabur. To meet that goal and lay the foundation for political-level negotiations at some point down the road, the United States should adopt a three-step approach:
Immediate conflict avoidance. A senior Trump administration official should encourage the KRG to return to the initial narrow focus on Faysh Khabur, while also sending unambiguous private messages to unelected Kurdish leaders asking them to stay out of that issue. In addition, the military-to-military dialogue should be broadened to include political representatives of the Iraqi and KRG prime ministers. Washington should also send warnings to Baghdad: first, that no new advances by federal forces will be tolerated, nor will any further armed clashes, whether Baghdad fires first or not; and second, that any such moves will trigger a quiet but painful reduction in the exceptional economic assistance, legal protections (for oil revenues), and IMF support the U.S. government provides to Iraq, and perhaps even jeopardize future security assistance.
Broader Joint Security Mechanism. After the Faysh Khabur issue is resolved, the United States should continue working toward a new Joint Security Mechanism for all the other disputed areas -- ideally before the Islamic State or Iranian-backed militias gain a foothold in the gaps that have formed between Kurdish and federal forces. Administration officials should adopt an approach based on the Iraqi constitution, reminding Baghdad that Washington has scrupulously chastised the Kurds for perceived infractions of constitutional mandates regarding disputed areas and energy policy. While fully recognizing Baghdad's substantive claims to oversee KRG customs and energy functions, the United States should also reiterate the constitutional necessity for fair resolution of disputed areas, asking Turkey to send similar messages of concern. Ankara may react positively once reminded that Iranian-backed militias are gaining too much influence in areas of Turkish interest such as Kirkuk, Tuz Khormatu, and Ninawa.
Good governance. The United States has a strong interest in a stable and democratic KRG, the failure of which would harm Washington's standing in the Middle East given that the Kurdish region is seen as a U.S. creation and ally. Safeguarding this interest means strongly supporting the continued existence of a unitary KRG with its own parliament, ministries, budget, and regional guard forces. In return, the KRG leadership needs to adopt several internal measures: stop delaying the parliamentary and presidential elections; quickly fill the Peshmerga and finance minister positions (since acting ministers are not empowered enough to negotiate with Baghdad on revenue sharing and disputed areas); and amend the temporary presidency transition law to provide the prime minister's office with commander-in-chief authority over all KRG security services.
Michael Knights, a Lafer Fellow with The Washington Institute, has worked in all of Iraq's provinces and spent time embedded with the country's security forces. Bilal Wahab is a Soref Fellow at the Institute.