Qatari Visit to Iran Suggests Possible Policy Breakthroughs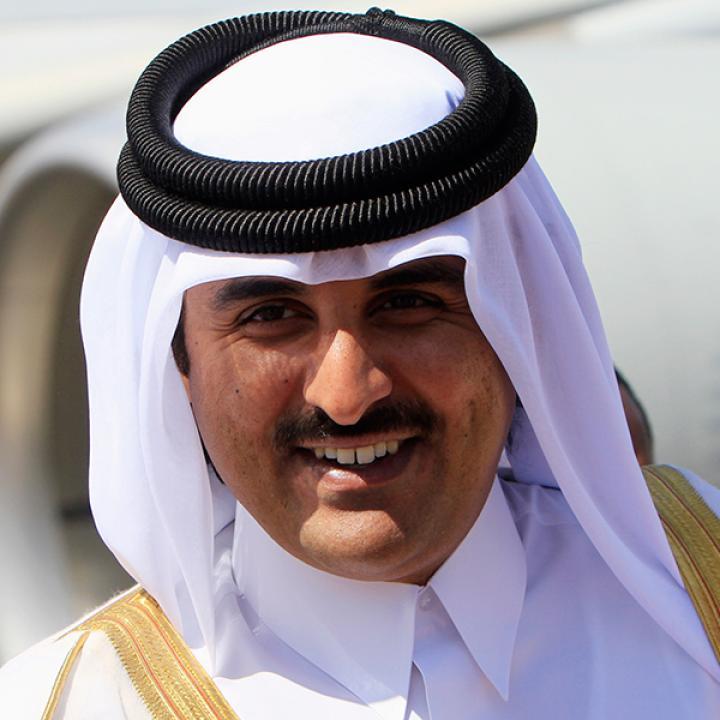 The emir will likely seek a role in reviving the nuclear agreement, as well as Iranian help with accommodating World Cup fans later this year.
According to Iran's official news agency, Emir Tamim bin Hamad al-Thani of Qatar will arrive in Tehran for talks on May 12. From there, he is expected to visit Germany and Britain to discuss energy security issues related to the Ukraine crisis. Despite its small population—around 300,000 citizens—the wealthy Gulf state has outsize diplomatic potential because it owns the world's third-largest gas reserves and is a major exporter of liquefied natural gas, particularly to Asia.
Social media chatter suggests that Doha could become involved in some arrangement to release frozen Iranian funds—the Qatari ambassador in Tehran met with the governor of the Central Bank of Iran just three days ago. Admittedly, the dispute over this issue is only one of several factors that have kept Iran and the United States from reviving the 2015 nuclear agreement, but Qatar is likely coordinating any role with Washington. Fund transfers could also be linked to the release of detained dual nationals—a process in which fellow Gulf state Oman previously played a role. Whether successful or not, Qatar's efforts will likely be appreciated by the Biden administration.
More contentiously, Doha has been negotiating with Iran to secure spare accommodations for soccer fans who will attend November's World Cup. For now, Qatar's limited hotel space will be supplemented by cruise liners moored in port facilities, but one proposed Plan B is the use of Iranian hotels on Kish Island, a thirty-five-minute flight from Doha. The fact that such an option may be needed appears to stem from Qatar's continuing difficulties with neighboring Bahrain and the United Arab Emirates, which joined Saudi Arabia and Egypt in imposing an economic and diplomatic blockade on the country from 2017 until last year. When Qatar's application to host the World Cup was originally conceived, the UAE in particular was imagined as hosting some of the fans; apparently, Doha no longer sees that as viable.
From Emir Tamim's point of view, Qatar's options are constrained by its historically difficult ties with Arab neighbors and the simple geological fact that its giant gas reserves are mainly in the offshore North field, which is contiguous with the South Pars field in Iranian waters. Tehran has been slower in developing its reserves there, so the potential for bilateral disputes over gas rights still looms. Doha counterbalances this risk in part by hosting U.S. forces at al-Udeid Air Base, which has played a crucial role in air operations over Afghanistan, Iraq, and Syria. In March, the United States declared Qatar as a major non-NATO ally.
Whether Tehran regards Doha's ties with Washington as a useful lever in the nuclear negotiations remains to be seen. In January, Emir Tamim met with President Biden in the White House, and photos of that encounter will no doubt be juxtaposed with images of this week's visit with Iranian leaders. At the very least, the emir's trip is a reminder that Qatar sees Iran as a country to be handled rather than confronted.
Simon Henderson is the Baker Fellow and director of the Bernstein Program on Gulf and Energy Policy at The Washington Institute.