Qais al-Khazali's Show of Independence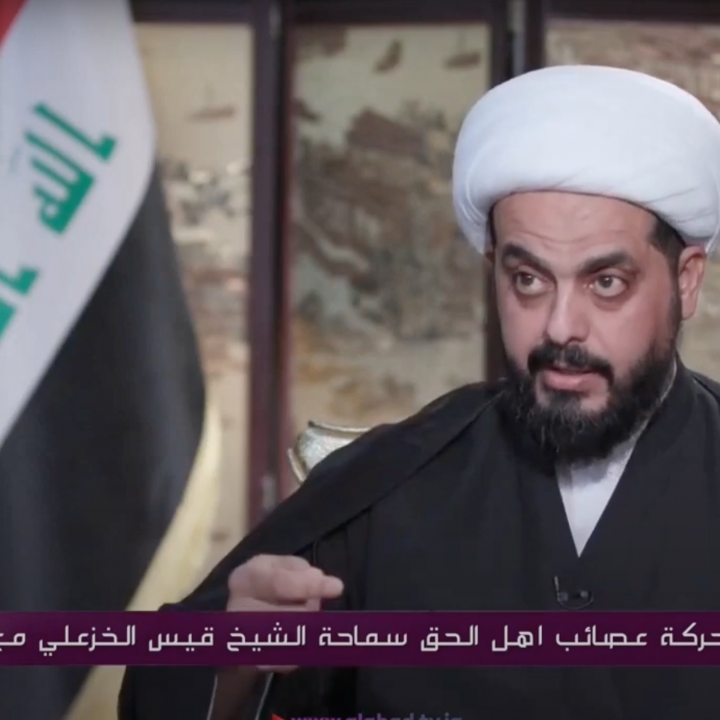 The militia leader is positioning himself as Iran's equal and close partner, aspiring to comparisons with Hassan Nasrallah and Abdul-Malik al-Houthi.
Qais al-Khazali, leader of Asaib Ahl al-Haq (AAH), keeps trying to portray himself as a strategic ally of Iran, not a proxy. He reiterated this view in a June 1 interview: "I have a lot of evidence showing my stance is [based on] national [interest]...If [the Americans] promise to withdraw, we'll accept the result of the negotiations [with the Americans], which will be carried out by a mediator and won't have anything to do with the nuclear negotiations…If Iran was deciding for me, I would've said: 'I'm not able to negotiate, I need to see what Iran wants, what they agree on'" (Figure 1). He also recently claimed to have told Esmail Qaani, the commander of Iran's Qods Force, not to ask him to stop attacks on U.S. forces in Iraq.
Aspiring to Hezbollah/Houthi Status
Khazali seems intent on becoming the leader of an independent Iraqi muqawama (resistance), someone at the same level as Lebanese Hezbollah leader Hassan Nasrallah and Yemeni rebel leader Abdul-Malik al-Houthi. This implies domination over other Iraqi militias; indeed, Khazali often tries to appear as if he is speaking on behalf of all muqawama groups.
Frequent television appearances is one of his strategies to achieve this position. Shortly after his June 1 interview, the influential AAH-affiliated social media channel Sabereen News published a post that asked, "Has Qais al-Khazali become the Iraqi Abdul-Malik al-Houthi?...Have Qais al-Khazali's speeches become similar to those of Abdul-Malik al-Houthi and Sayyed Hassan Nasrallah?" Sabereen then concluded that Khazali's frequent television appearances show he has achieved that status, citing (unknown) research institutes as "proof" (Figure 2). 
In addition, Khazali has compared himself to great men in history who came from humble backgrounds only to change the course of world events. He also gets excited when he is reminded that he is fighting the greatest army in the world—as shown by his tone of voice and facial expression when he mentioned "war between Iraq and the United States'' in his June 1 interview.
Spurring Rivalries Within the Muqawama
Khazali's ambitions have exacerbated sensitivities among other Iraqi groups. Militias such as Kataib Hezbollah (KH) believe they deserve to lead, and not by depicting themselves as equal allies of Iran, but by maintaining the same old narrative emphasizing the Islamic Republic's leadership. For example, when KH spokesman Muhammad Mohi spoke with al-Etejah TV on June 12, he stated: "Our stance is Iraqi, but the stance of the muqawama axis is a unified one…Sometimes Lebanese Hezbollah clashes with Israel without necessarily waiting for Iran's permission...We are not ashamed of being under the rubric of the Islamic Republic, the leader of the Islamic Republic, and the leader of the muqawama axis; this is in fact an honor for us." As noted in a previous Militia Spotlight article, the muqawama coordination committee, known as the Tansiqiya, spoke in the absence of AAH in a May protest that was first advertised as a joint KH-al-Nujaba event and then branded as a Tansiqiya event. 
Iran's Interest in Portraying Looser Control of the Muqawama
Although various developments in recent years may have provided Iraqi militias with more independence, they still remain largely within Iran's orbit. For example, their integration within the Popular Mobilization Forces gave them access to regular revenue and other state benefits, reducing their financial dependence on Iran; the deaths of Qasem Soleimani and Abu Mahdi al-Muhandis further loosened Tehran's grip. Yet such developments do not change the fact that the muqawama are part of an axis that is religiously sanctioned by velayat-e faqih, the doctrine that obligates Khazali and other Shia Muslim commanders to follow Supreme Leader Ali Khamenei's orders at all times. That is the dilemma Khazali is facing: unless he becomes a Shia jurist on Khamenei's level (which is extremely unlikely), he must follow one or be cast out of the muqawama.
This does not mean Tehran will expel him from the axis if he seeks more independence. Controlled independence can actually be very beneficial for Iran because it spares the Qods Force from having to take care of every militia, provide all of their funding, and manage their daily business. It also allows Iran to deny responsibility for acts carried out by these groups. In short, more independent Iraqi militias that are ideologically dependent on the Islamic Republic is the best of both worlds for Tehran, allowing it to negotiate indirectly with the United States in Vienna even as its partners attack U.S. bases in Iraq.