Profile: Kataib Babiliyoun (50th PMF Brigade)
Updated November 27, 2023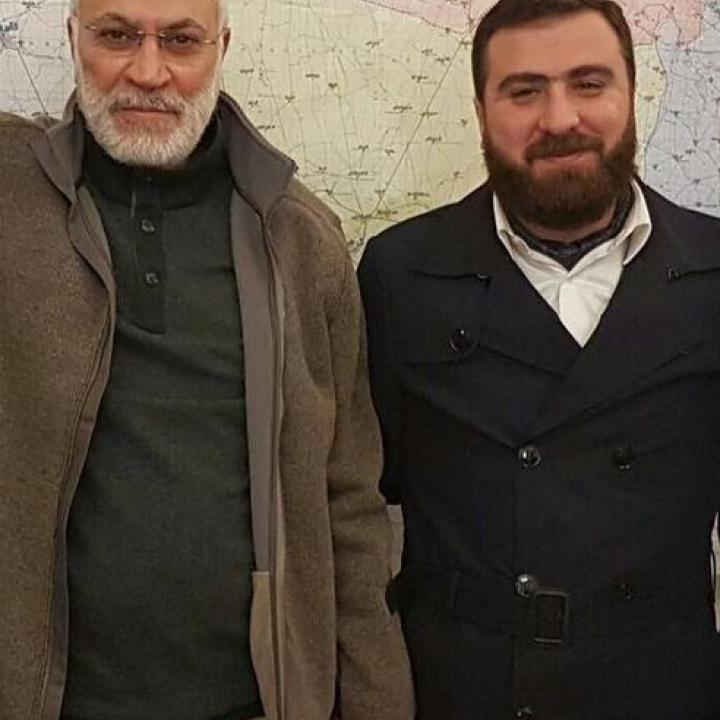 Kataib Babiliyoun pretends to be a local Christian unit, but its members have been recruited from Shia Muslim communities in southern Iraq with the goal of dominating Iraq's strategic Nineveh Plains region.
Name: Kataib Babiliyoun (KB); 50th Brigade of Iraq's Popular Mobilization Forces (PMF) 
Type of movement: Tier 3 fasail (armed group) and  Iraqi government organization. Local auxiliary unit linked to Asaib Ahl al-Haq (AAH). Kinetic military operations against U.S., Kurdish, Turkish, and Iraqi Christian targets.
History and objectives:
Founded by

Chaldean Christian

militiaman Rayan al-Kildani after the battle for the Nineveh Plains in 2017, the brigade

is presented as a local Christian force but has been recruited largely from Shia Muslim communities

in Baghdad's Sadr City, al-Muthanna, and Dhi Qar.

In July 2017, KB members were caught stealing ancient artifacts from the Mar Behnam Monastery and looting nearby homes. In response to the incident, the Iraqi Prime Minister's Office and the PMF command expelled the militia from Hamdaniya district.

Rayan al-Kildani was designated by the U.S. Treasury Department on July 18, 2019, for "serious human rights abuses." The designation notes: "Al-Kildani is the leader of the 50th Brigade militia. In May 2018, a video circulated among Iraqi human rights civil society organizations in which al-Kildani cut off the ear of a handcuffed detainee. The 50th Brigade is reportedly the primary impediment to the return of internally displaced persons to the Nineveh Plain. The 50th Brigade has systematically looted homes in Batnaya, which is struggling to recover from ISIS's brutal rule. The 50th Brigade has reportedly illegally seized and sold agricultural land, and the local population has accused the group of intimidation, extortion, and harassment of women." 
KB's area of control has since been limited to parts of the outer northeastern edge of Mosul city, plus Tal Kayf and Batnaya. Numerous rocket attacks and two drone strikes on Iraqi Kurdistan and U.S. and Turkish forces have originated from the brigade's areas of control in the northwestern Nineveh Plains. Many of these attacks were claimed by Liwa Ahrar al-Iraq (Free People of Iraq Brigade, or LAI). LAI made primary use of longer-range 122 mm rockets and claimed (without evidence) to have used an Iranian-designed Murad-6 (Shahed-136-type delta-wing) drone against the Turkish base at Zilkan.

On March 11, 2023, KB tried to return to Hamdaniya district but was driven away by local citizens and the Nineveh Plains Protection Units.
Chain of command:
KB 

nominally answers to Iraq's prime minister in his role as commander-in-chief of the armed forces, and thereafter to the Joint Operations Command and the PMF command. In reality, however, the brigade has proven to be one of the least controllable units in the Iraqi security forces. It has been ordered to withdraw its checkpoints from parts of the Nineveh Plains on multiple occasions: in July 2017 (under Prime Minister Haider al-Abadi), August 2018 (under Executive Order 1388 issued by Prime Minister Adil Abdulmahdi), and July-August 2019 (again under Abdulmahdi). In response, 

KB leader Rayan al-Kildani

reached out for help to Iran's ambassador in Iraq,

an Islamic Revolutionary Guard Corps (IRGC) officer named Iraj Masjedi, who informed the brigade to ignore the prime minister. In the end, 

KB did not withdraw.

On October 17, 2020, Prime Minister Mustafa al-Kadhimi ordered the Nineveh Operations Command to deploy army forces alongside

KB 

forces at certain checkpoints.

In 2019, Rayan al-Kildani was nominally replaced by his brother Osama al-Kildani (see Figure 2) as the leader of KB. Yet 

Rayan still wields effective command over his brother and the unit.
Affiliate relationships:
Rayan al-Kildani is closely affiliated with U.S.-designated terrorist and human rights abuser Qais al-Khazali and the 

U.S.-designated Foreign Terrorist Organization

AAH. A

 Christian fighter from Baghdad, he originally joined Jaish al-Mahdi (JAM), then moved over to AAH when Khazali left JAM. Kildani is also close to Harakat Hezbollah al-Nujaba leader and U.S.-designated terrorist Akram Kaabi, another transplant from JAM to AAH.

Rayan al-

Kildani is strongly affiliated with Iranian security agencies. He was a supporter of the IRGC-Qods Force commander Qasem Soleimani and PMF deputy chairman Abu Mahdi al-Muhandis, both designated terrorists killed by a U.S. strike in 2020.

Rayan al-

Kildani runs KB's political branch, the Babylon Movement, which controls four of the five seats reserved for Christians in Iraq's parliament. Like the KB rank and file, the voter base for the Babylon Movement is mainly southern Iraqi Shia.
Subordinate elements:
KB operates four regiments, including a small

Kakai sub-unit.

KB 

operates Facebook and Telegram accounts, and leader Rayan al-Kildani is prominent on Twitter, Snapchat, and other platforms. KB 

media is

promoted via numerous accounts affiliated with Iran-aligned militias.